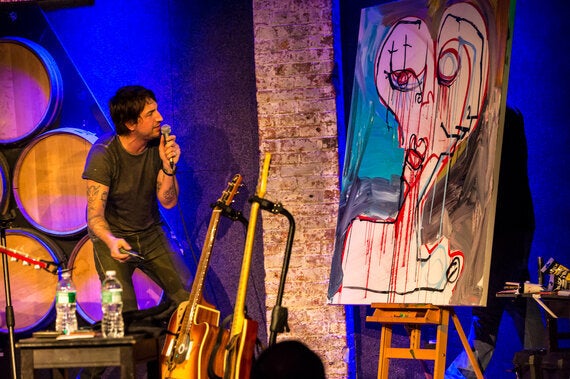 "Maybe there's something over there
Some other world that we don't know about..."
--Lou Reed, "Sword Of Damocles," Magic & Loss (1992)
Six months after Lou Reed's passing, the inevitable musical tributes still pour in. In New York, there had been a bunch of concerts, and now the first recorded releases are available, including Joseph Arthur's simply put, Lou (Vanguard), which he performed in its entirety at Manhattan's City Winery, along with another dozen or so of his own songs.
Arthur is a perfect choice for such a project since he personally knew Reed, who was present for the singer-songwriter's 1996 audition for Peter Gabriel, resulting in a recording contract with the musician's RealWorld label. Lou gave Gabriel his nod of approval back then, and the multitalented (music, painting, poetry - he's rock's James Franco), prolific Arthur since then continually follows his muse, ranking among the best new alt-folk to be heard these days.
The new album (released 13 May) is the brainchild of Bill Bentley, a Reed confidant with whom they worked when both were affiliated with Warner. Bentley, who now handles A&R for indie Vanguard, also played in a band in Texas with the late Sterling Morrison, Lou's former bandmate in the Velvet Underground. I've heard dozens of Reed/Velvet covers, and Arthur's Lou is the one to be heard.
Arthur was intimidated by the prospect of making such an album, and first thought Bentley meant him contribute to a various artists tribute project, to which he would have gladly signed on. Bentley had to do a little arm-twisting to persuade Arthur that he was the right person. Arthur's reticence came from thinking he wasn't worthy of doing justice to Reed's body of work.
Cover versions can be a tedious exercise in futility. There's no point in rehashing a by-the-numbers rendition, and Arthur clearly understood this if one is to judge the results.
He started with "Coney Island Baby," Reed's enduring paean to the "glory of love," and both Arthur and Bentley were satisfied with the meditative, stripped-down results, captured here for posterity.
Where Arthur succeeds throughout Lou is his rethinking of a dozen Reed songs, taking the bare bones of the composition, hearing a missing element and accentuating that new addition.
The best example is "Sword of Damocles," in which Arthur invents a humming melody for the chorus, and its recurrence becomes memorable without getting in the way of the lyrics. At City Winery, Arthur's voice and guitar were accompanied by pianist Reni Lane, who added musical texture and background vocals to the unplugged performances.
Arthur apologized for occasionally consulting lyrics sheets on a music stand in front of him. "Lou's songs were quite wordy," he quipped. So are Arthur's originals for that matter. Arthur plowed through the album's dozen tracks from various phases of Reed's career, interspersed with his own material, all done acoustically. It helps that Arthur has the better voice, and Reed once told me that he always would rather listen to other people sing his songs than himself.
Live, the aforementioned "Coney Island Baby" had a country tinge, much in the same way the Velvets' "Oh Sweet Nuthin," which opens last month's Record Store Day Release on limited vinyl of Hollis Brown Gets Loaded. The record is highly recommended if you still can find a copy. Like Arthur, the American roots band displays an aficionado's infinity for the Velvets' fourth studio album.
I'd be remiss not giving kudos to opening act Arum Rae, who also knows how to cover a song and transform it into something of beauty. Her slow, deliberate electric chord + vocal rendition of John Prine's "Angel from Montgomery" was mesmerizing, and it made you also want to hear Billie Holiday sing it.
Also I have to note the artistic marvel of Arthur, during his musical performance, finishing a painting that started out as a blank canvas. He put his guitar on a loop, armed with the mic in one hand rapping "Travels As Equals" from his 2012 Redemption City album, and paintbrush in the other. Within 6 minutes, he had finished a painting that was available for sale after the show.
This reporter sat with album designer Spencer Drate (who helmed Reed's New York and Magic & Loss) and Sylvia Morales (the former Mrs. Reed from 1980 through the early 1990s), who noted to me that Lou always felt under-appreciated. He had a point, at least as far as his own country.
Uncut a few months ago published a 146-page posthumous "Ultimate Music Guide" that clearly signaled the high esteem Reed is held in the UK, compared to the US, where Rolling Stone put him on a "double cover" with a Latin star and a paltry 9-page feature.
It all goes back to the songs, and honestly how many are better than Reed's "Pale Blue Eyes"?
Related