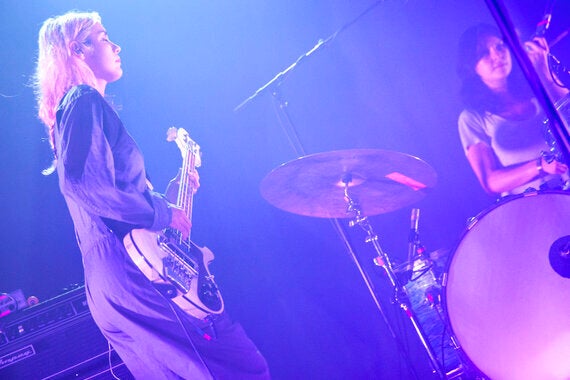 Warpaint's Jenny Lee Lindberg on bass and Stella Mozgawa on drums
All Photos: Emily Korn, iturnmycanonon.com
"When you have all-female acts or female front people, there's a different perception. It's sort of a real shame that if a woman goes onstage with an instrument - a guitar or drums or something - that it's almost a novelty to people, like 'Oh isn't that cute?' The ultimate shame of it is that girls have to work twice as hard to really prove themselves."
The four women who comprise Warpaint certainly work hard. After 10 years as an entity, this Los Angeles-based collective certainly seems to have a telepathic connection on stage.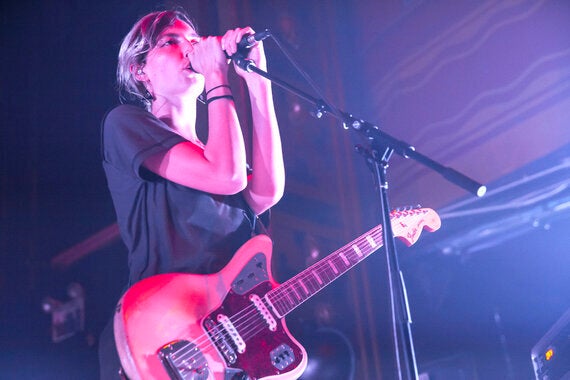 Emily Krokal, guitar/vocals
The guitarists/keyboardists Emily Krokal and Theresa Wayman seamlessly trade off their instruments, while bassist Jenny Lee Lindberg and drummer Stella Mozgawa (who replaced the original drummer in 2009) keep the indie groove going.
They all sing and harmonize, take lead vocals democratically, share songwriting credits, and love their electronic toys (dudes, get your minds out of the gutter), such as sequencers and drum machines. They grew up with rap; Theresa and Emily especially aren't afraid of taking centre stage with the mic.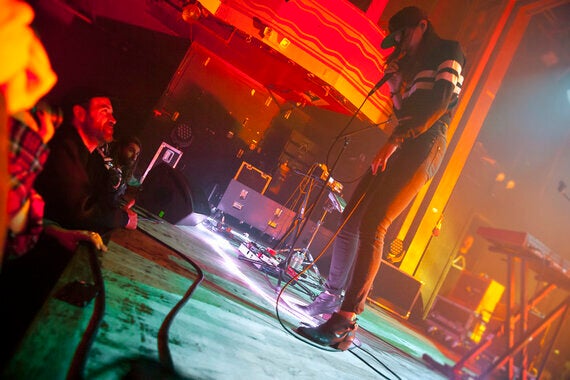 After two full length albums on Rough Trade and before that an independently released EP, the latest being the self-titled Warpaint early this year, they amassed enough of a repertoire to propel a 15-song, 90-minute set. They're critics' darlings.
More alternative than commercial, Warpaint's obvious antecedents (gender-wise) for comparison sake are Britain's The Slits and The Raincoats from three decades ago. Their sound oozes shoegazing, harking back to Joy Division/New Order, Jesus & the Mary Chain and My Bloody Valentine records no doubt in their collections. They don't exude the anger of Riot grrrl.
Warpaint definitely aren't yesterday's Go-Gos or Bangles looking for being at the top of the pops. And interestingly, they slammed their most hooky singles - "Undertow" and "Love Is To Die" -back-to-back in the middle of the set, as opposed to the encores that a calculating band seeking fame might.
The SRO audience, which seem to skew slightly towards hip female without being Lilithish, danced along throughout the atmospheric meandering and guitar noodling that builds to a frenzied state
Check out the radio show they did in August for the taste-setting hometown station KCRW:
Back to White's comment about girls working hard, Warpaint are on tour much of the year, doing festivals this past summer, and heading back to Britain 29 Nov. for six dates.