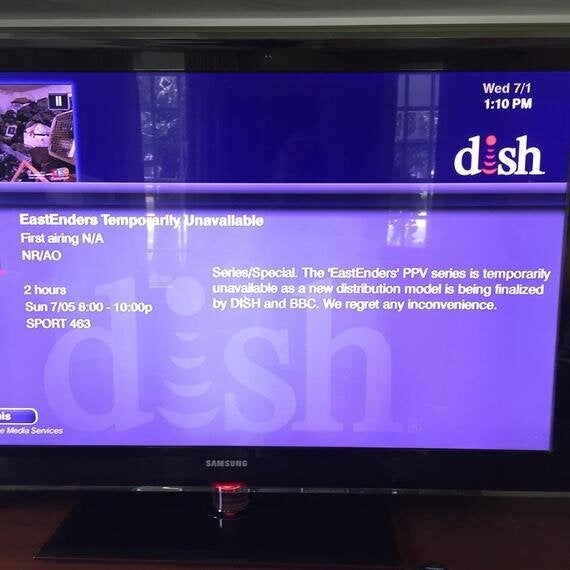 The BBC's inability to promote EastEnders in the US rears its ugly head once again, coming on the heels of the BCC killing the global iPlayer at the end of June.
Last Sunday night, DISH Network viewers who pay monthly US$9.95 to watch weekly four back-to-back episodes were rudely alerted to the news that EastEnders would not be available.
A cryptic statement says DISH and the BBC are working on a "new distribution model." If history is to repeat itself, the news is not good.
In 2011 the BBC announced with much fanfare about it being launched in the US for an $8 monthly fee, but to no avail. A total of 11 countries - including in Western Europe, Canada and Australia - did have the global iPlayer until recently. But it's a moot point since Auntie killed it elsewhere.
In late 2001, the BBC announced a video-on-demand offering for EastEnders that also never launched.
Here's the Walford Gazette's brief chronology of EastEnders' uneasy history in the States.
• late 1987/early 1988 - about 50 public TV stations launch EastEnders, but not nearly 2 years behind the UK episodes (then only twice a week). National PBS is 300+ stations. EastEnders does not become the coveted Masterpiece Theatre must-run powerhouse that and it will enjoy nearly three decades later with Downton Abbey.
• late 1992 - the Walford Gazette launches and there are about 25 public TV stations still carrying EastEnders, but still available in major markets including New York, Los Angeles, and San Francisco, among others.
• 27 September 2003 - BBC America kills EastEnders, claiming poor ratings. The truth is they hadn't promoted it even on their own airwaves in over a year.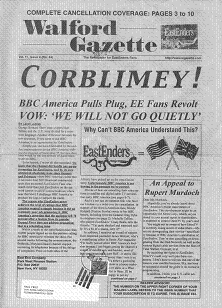 • June 2004 - DISH Network offers a monthly subscription for EastEnders with episodes that run roughly concurrent with BBC-1.
• February 2005 - New York-area fans privately raise nearly $35,000 to reverse a cancellation decision by WLIW (Washington, DC-area do the same thing 2 years later), but other public stations in Philadelphia, southern and northern California, Denver, Seattle, et. al. drop EastEnders permanently.
• July 2015 - about 10 public TV stations still carry EastEnders, but it's a constant battle, and the episodes are now at least a decade older than what BBC-1 shows because of the series first going 3X and then 4X a week. Public TV still only shows the programme twice a week.
The BBC's decision to kill the global iPlayer no doubt expanded usage of gray-area computer VPN services - some free - that allow people in the US to access the iPlayer and pretend they're in the UK.
Perhaps BBC Worldwide thought it was not worth the global iPlayer's upkeep (or litigation) competing with free full episodes not only available through the aforementioned, gray-area VPN services, but also on YouTube, which the BBC supports with an official channel to watch EastEnders and other shows. The BBC also has quite a lot of programming on the OTT (over the top) online subscription service Hulu, which offers EE rival Coronation Street, but not EastEnders.
Media reports speculated that BBC America or other American networks that programmed British shows may have been the reason behind the global iPlayer never launching in the US.
Cassandra Power, BBC head of corporate & digital communications, tells the Walford Gazette that such speculation "has not been a factor" in the BBC's recent communications to announce the closure of the global iPlayer, which she termed a "trial."
Four years later, we still have no idea why the iPlayer never launched in the US. Nor do we know why DISH and the BBC have reexamined the PPV offering. If it was a lack of subscribers, they certainly did nothing to promote its availability. When you called the toll-free number, the representatives had no idea what you were talking about, and EastEnders wasn't even mentioned on the website.
Stay tuned. It'll be interesting to see if that "new distribution model being finalized by DISH and BBC Worldwide" ever emerges, considering the historic indifference both parties have shown towards EastEnders. Hope they prove me wrong.