'Your background decides your health, housing, how long you live, and your opportunities. The upper class can plan for three weeks, while the working class can't plan for three days'.
This is a quote from Teresa, 45, a single mother of two boys living in Kennington, Southwark, who recently took part in a new piece of research commissioned by place-based health foundation Guy's and St Thomas' Charity, as part of their work in the boroughs of Lambeth and Southwark.
The impact of the urban environment on health has long been documented, with the World Health Organization stating that 'unsustainable patterns of transport and urban land use are a root cause of a number of significant, and interrelated environmental and health hazards faced by urban dwellers in developing countries'.
Until now, however, there has been little attempt to look at urban health and healthcare challenges through an intersectional lens; one which considers not just the urban environment, but also the effects of diversity and deprivation on urban communities.
Lambeth and Southwark, in south London, have double the average population density of the city. Like many parts of the capital, they are highly diverse, with over 300 languages spoken locally. Despite having pockets of wealth, both boroughs also rank amongst some of the most deprived areas in England.
'Our boroughs are, in many respects, extreme examples of the modern city environment,' says Kieron Boyle, the Charity's Chief Executive. 'It's in this light that our work to address the complex health challenges here can have relevance in other cities around the world.'
The findings of the Charity's report - which was launched last week at a national health event - support the common-sense idea that healthcare provision in urban, diverse, and deprived areas, is a highly complex web. But the study also goes further than this. By analysing extensive health and social data, and taking interviews with local health professionals, community leaders, and residents into account, it reveals that alongside urban risk factors for health, like air and noise pollution, there are also assets, such as having access to a wide range of health services.
Crucially, however, the research shows that these positive aspects can be negated by a variety of personal and social factors. These include having a different cultural background to your healthcare providers, having been moved in social housing away from your existing community, and working low-paying, unsociable hours, that prevent making community links and developing support systems.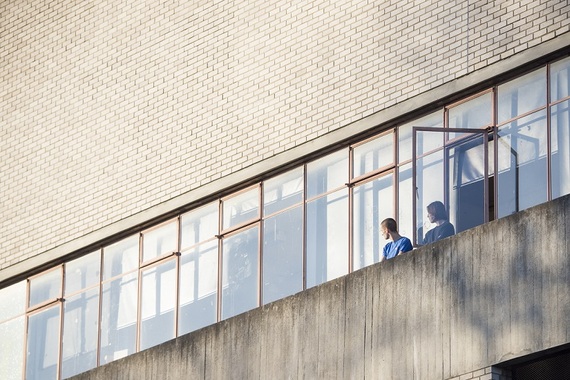 'You need to know the process,' says Kim, 62, a carer for her husband. '[You need to know] where to call to get attention. People can't do that, and they get lost in the system. Because I worked in Guy's and St Thomas' as a nurse, I will always find a way around [the health system].'
Because of her intimate knowledge of her local area, Kim has been able to obtain specialist care for her husband, as well as rent-free accommodation in a supportive community. Despite the family's minimal income, she's also able to enjoy many of London's social activities - something that people like Carlos, 51, and his wife, can't hope to achieve.
Originally from Portugal, when Carlos first moved to London in 2003 he couldn't speak English, and while working night shifts as a cleaner, he had no opportunity to make friends or improve his language skills. Between 2003 - 2007 he moved eight times, between rented accommodation, hostels, and social housing.
Since then, he's been diagnosed with prostate and larynx cancer, but with a limited social network and nominal grasp of English, he finds navigating the healthcare system almost impossible. His wife worries about how she would support the family if she had to leave her job to care for him, and despite having lived in London for many years, she's unaware of the support that would be available to her if she had to become a carer.
The research suggests that Carlos' situation isn't unique. The ability to navigate the city has a strong payoff for health, while the reverse means many people are forced to struggle on without knowing how to access help. As one healthcare professional says: 'the opportunities to improve your health in London are great and endless, [but] the thing is getting the information out there - it's knowing where to go and how to get it [that's difficult].'
At present, the study suggests that the resilience of the individual can make all the difference between those who drown, and those who thrive. In densely populated, diverse, and low-income areas, the difference between properly managed health, and a fall through the cracks of the NHS, can be as simple as your own personal networks.
The implications for the planning and delivery of healthcare and prevention work cannot be oversold. These crucial findings reveal the need to look well beyond health for solutions to urban healthcare, to housing, schools, community organisations, and numerous other avenues for support.
Now, more than ever, it's easy to see how the importance of where you live, work, and socialise, can have wide-reaching repercussions on both personal health management, and access to vital healthcare. In the future, it's not too difficult to envisage that place-based approaches will become the key to enabling people to live healthier, more fulfilled lives. The question now isn't will this happen, but how it will happen, and when.
Guy's and St Thomas' Charity is looking for others interested in this approach to health to build on their work in urban, diverse, and deprived areas. Start a conversation with the foundation today to be part of the change.
You can access the full report, along with case studies, on the Charity's website here.