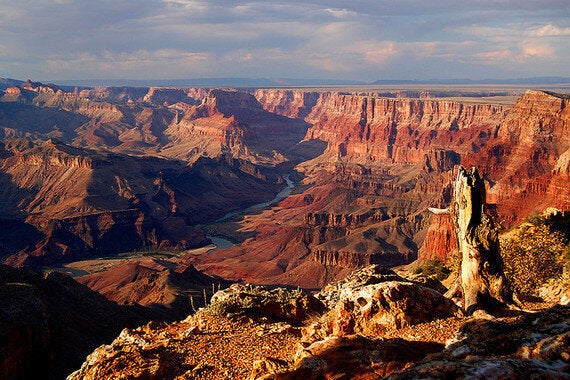 I'd only ever seen the Wild West in badly made films from the 1950s, though I tended to avoid them, not wanting them to ruin my childhood dream. I remember browsing through my friend's photos at the age of about ten; the furthest I'd been was sunny old Spain and here was a girl who'd been to what seemed to my young and innocent self the other side of the earth, a world away never to be reached by my inquisitive (and no, not quite soul-searching - I was only ten) eyes.
So ten years later, I decided it was time to pack my bags and leave Europe for the first time to take a tour of California, Arizona, Utah and Nevada. Our group leader was a twenty-something year-old free spirit with dreadlocks down to his ankles who'd been travelling North America for the past four years. He was living out of a van and realising his bohemian dreams of running wild in the country's endless and fascinating open spaces, and he was just what I needed; an escape from civilisation.
Though that's not entirely what I got during the first few days of my trip; I began my travels in San Francisco and was greeted with spectacular views of the city's skyline, distinguished by the famed Transamerica Pyramid soaring up into the skies above. The futuristic pyramid belongs to the financial district of the city, an area populated by businesses which benefited enormously from the California Gold Rush of the mid-1800s - a period which saw the city blossom from a small American settlement, recently belonging to Mexico, to a boomtown at the epicentre of the USA's commerce.
But lying on the San Andreas Fault the city has another epicentre to contend with, and in 1906 much of it was destroyed in a major earthquake. Many homes were devastated, and homelessness in the area continues to be prevalent, something which became clear to me as soon as I stepped out onto Union Square, the main shopping district of the city. What became clear to me too was the diversity of the city and the eccentricity of its characters; I soaked up the distinctively Mexican feel of the Mission Dolores district, and ventured into the largest Chinatown in the world.
Roll on five days spent hopping from city to city and failing attempts at living the MTV dream in Hollywood, and I was looking forward to getting under the skin of the region. We finally arrived at the Grand Canyon, and, head full of expectations and visions stemming from long ago, gazed in disbelief; every expectation of mine was exceeded. Because a photograph, I realised, can never entirely recreate the sensation that seeing something so great first hand - one of the Seven Wonders of the World - can produce. And there I was, flying over the 277 mile long canyon, surrounded by gasps of awe bellowing from the passengers behind and epitomising my every thought. And it was only by hiking down into the canyon the following day that I could start to gain a sense of the enormity of this impressive formation. That night, gazing at the astonishing beauty of the sun setting over the canyon, senses alive to every sound and at one with my surroundings, I began to consider the phenomenal power of nature. And this power persisted in impressing itself upon my mind as I continued my journey further into Arizona and into the desert landscapes of Utah, where I swam in the idyllic waters of Lake Powell, a part of the 1,450 mile long Colorado River.
Our days in Utah were spent running wild in the desert. I rode on horseback through the wilderness and camped at a Western Ranch with real-life cowboys in the middle of nowhere. I glimpsed the sun set over the delicate arch and rose at an inconceivable hour one morning to see sunrise over Monument Valley. I finally began to truly grasp the history of the region and the real diversity of its people.
And suddenly we were headed for Las Vegas. I'd seen the pictures, I'd seen fake Paris and I'd seen fake Venice, but nothing could prepare me for the reality of this monstrosity sprouting up from the arid, empty desert lands of Nevada. As I watched the skyline getting nearer and nearer, I felt a pang of regret and sadness at leaving behind the beautiful wilderness and re-entering civilisation after two weeks of tents, deserts, and endless canyons. But I discovered in the fluorescent lights of Sin City a beauty of their own. And I loved every minute of being there.
For me my trip was about freedom; momentarily escaping the hectic lifestyle we all lead in our day-to-day lives, and living for myself. I certainly found freedom in the vast, open spaces abundant in the region I visited. And I found in Las Vegas a different sort of freedom. People get married just because they feel like it, they have their receptions at Planet Hollywood and they celebrate afterwards on a fake gondola at the Venetian; and why not?
People party all night long and gamble away their money, drink on the streets and do whatever they want and, most of the time, it's all legal. Vegas liberates us for a moment, and lets us run wild for a few days; and although it might seem a paradox, to me it's just the same as running wild in nature - just as my group leader did, just as I did - during those few, precious weeks of freedom and of escapism that I'll never forget.
Please check out my travel blog at http://laviedeparis.wordpress.com/ to read more about my travel adventures in Europe, Asia, Australasia and beyond.