Aug. 28: My breast-cancer chemotherapy sessions take place once every three weeks so, after I have just about recovered from the exhaustion, sickness, bloatedness and headaches of the first bout, I head in on Tuesday morning to start all over again.
An hour or so after the usual blood test, the oncologist comes into my room and draws the curtain around me for privacy. Uh oh, bad news. Unfortunately, he says, my blood count is abnormally low and my immune system hasn't returned to normal so I won't be allowed to have chemo today. It feels a bit like when you've revised for an important exam and then you get snowed in and have to resit the following year.
I am hoping the doctor will tell me I have to eat loads of chocolate bars to increase my white blood-cell count, but unfortunately it's nothing to do with food or other factors and he simply prescribes me another week of rest and recuperation.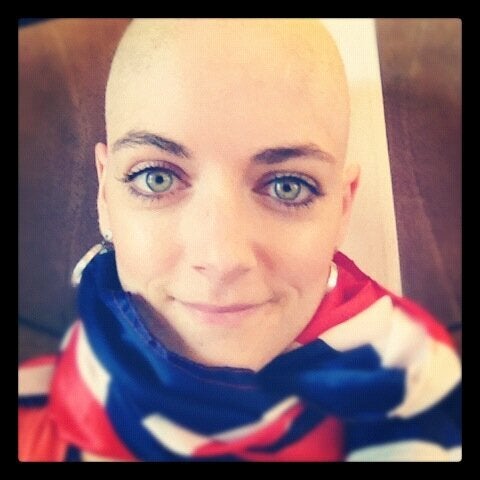 Aug. 29 - Sept 3: The extra week of wellness means I can make it to my Mum's 60th birthday party and travel down to London to watch the incredible Ellie Simmonds win Gold in the Paralympics 200m swim. Since getting cancer, I have an even greater respect for the paralympic athletes and Ellie's remarkable race brings a tear to my eye, so it's well-worth the trip. And besides, my GB flag makes an excellent scarf and head-scarf for my newly bald head on the heavily air-conditioned train.
Unfortunately, I can't make it to the Athletics the next day and have to forfeit my tickets. I've learnt by now that you can't make too many plans when you have cancer.
Sept. 4: I return to the hospital the following Tuesday to find my blood count is back to normal and I can have chemo. The extra few days in bed and large helping of apple pie over the weekend obviously helped.
The bad news is I have to take daily injections of a drug called Filgrastim in my stomach to boost my immune system for the next 10 days because I didn't recover quickly enough last time. Eek - that's 10 more needles than I was hoping for!
Sept. 11: I sign up for Graze and implement a daily reward system, feeding myself chocolate and other treats every afternoon after I get through each injection. The nurses ask if I want to learn to self-inject, but I politely decline. Not unless I absolutely have to...
Sept. 23: After a week of feeling sick and weak in bed, I spring back to strength and head to London for the weekend to see a friend. I decide to take my wig off on Saturday evening and just wear one of my beanie hats to go to the cinema.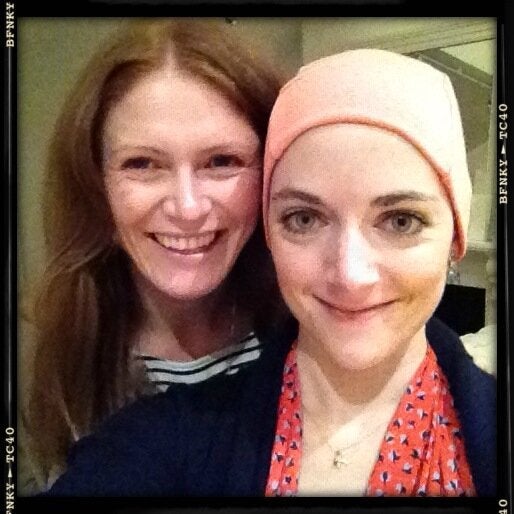 I am casually strolling down Putney High Street (an entirely respectable part of London) with my hat and my lovely flame-haired friend when we pass two mildly inebriated men, also walking along the street. We are just chatting and minding our own business as we overtake them, so imagine our surprise when we hear one of them shout, "Well if it isn't Chemo and Rouge!"
Sadly, both of us are momentarily too shocked and stunned by their ignorance to karate-kick them to the ground immediately, but next time I'm in Putney, be warned, I may be armed...
Sept. 24: I return to the hospital on a Monday to test my blood count in advance this time, and lo-and-behold, I am told it's still too low to have chemo. The oncologist prescribes more steroids for me to take overnight to boost my white blood cells so that I don't have to wait another week. I spend the rest of the afternoon at The Trafford Centre as I'm sure a little retail therapy will encourage my blood along nicely.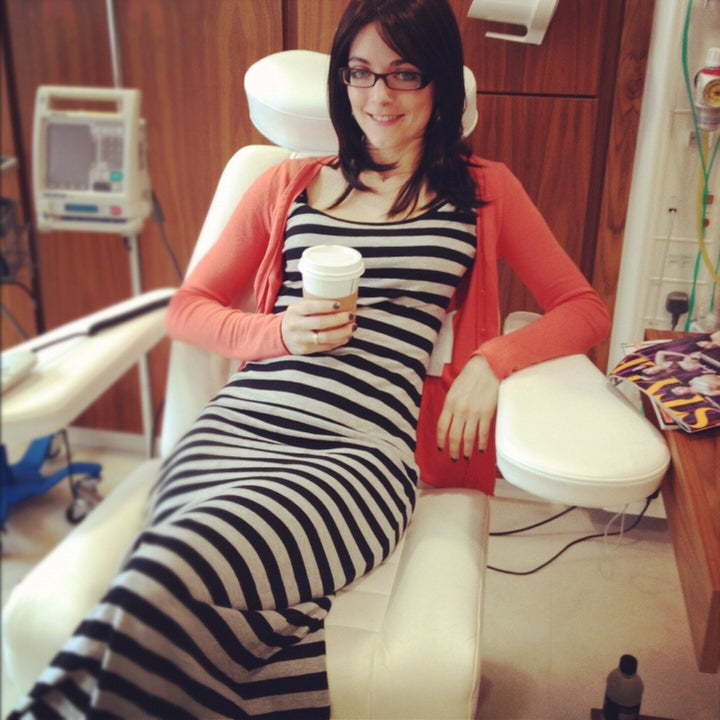 Sept. 25: Whether it's the drugs or the retail therapy, I am allowed to have chemo and, after the usual uncomfortable two-hour infusion, I return home for another 10 days of suffering and daily injections. I have lovely Tizer-red pee from one of the drugs in the cocktail of chemicals they've infused into my veins. Now to sleep for a week...
Sept. 26: I spoke too soon. The steroids give me insomnia and terrible stomach pains and I suffer a few sleepless, constipated nights. Round three is way worse than round two and the daily bone-marrow-boosting injections make my body feel as if it's done two back-to-back marathons and a couple of spinning classes. I feel more sick than I did last time and, to make matters worse, my parents both have bad colds so I have to do everything in my power to avoid getting infected.
Oct. 3: Having read all about former Liberty X singer Michelle Heaton's decision to have a double mastectomy after discovering she has the faulty breast cancer gene, I have my first consultation with the geneticist and take the blood test. I will have to wait a couple of months to find out whether I have the BRCA2 gene mutation, but I am relieved to have taken a step towards taking control of my future cancer risk.
Oct. 15: I'm officially half-way through chemo! I've survived the three cycles of FEC and tomorrow I will start a new type of chemo called Taxotere, or Docetaxel. The new drug brings with it the risk of turning my fingernails and toenails black, so I use this as an excuse to visit my local salon for a Shellac treatment. There's nothing like a bit of nail therapy.
Three down, three to go... Bring on round four!