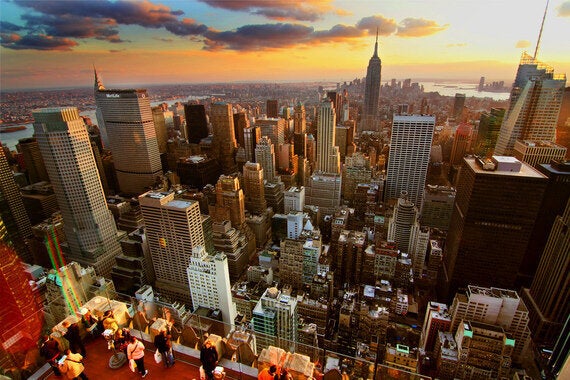 Only in America could I have a chat with my mum over breakfast (she's been dead for 3 years), visited a whaling ship before lunch, driven through an Indian reservation after noon and enjoyed oysters and Prosecco that night. Our half term working holiday is almost too cliché to be believed.
Last week I hung out with our team in NYC - first at the Children's Club trade fair, where we were so excited to be honoured with Earnshaw Magazine's Best International Brand, for the third year running. (These are the Drapers' Awards of the USA, recognizing our continued growth and popularity as a trade supplier to up-market boutiques across the States.) Next I spent time with our local PR team and hosted the Spring Collection launch at a lovely showroom on Madison Square Park. We met numerous friendly and enthusiastic journalists, both those who already know and love the brand and plenty of new faces who appeared keen to understand our business ethics and varied collections spanning everything you need from pregnancy to pre-school.
Final stop was taking Alice, our PR Manager and a first time New York visitor around Brooklyn. The essential breakfast at Iris Café, Columbia Place followed by marching the streets of Park Slope to seek out customers and pick their brains. We are always keen to listen and learn and there is still so much to understand about our new customers in the USA. We spent the week at an apartment in Brooklyn to understand a little more about how they live, work and play.
Once the work was done my son and I jump on the subway; first stop's a quick shop at Century 21, designer outlet centre extraordinaire, plus to tick off the top of the brand new One World Trade Centre - incredible - you can see 23 million people spread over 4 states (equating to the entire population of Australia). Next stop SoHo and Nolita for a spot of design inspiration shopping for me and finally before our feet gave up on us, up to Meatpackers and into the Standard Hotel at the bottom of the High Line to check out the cool top floor loos. Toby, being underage, is not allowed in the bar but we ignore the rules and he gets to see the view and use the loo, without the astronomical cost of a cocktail.
We love NYC, but we have been here before. In fact it's our love of the States and their love of JoJo Maman Bébé, which means we are here again. As a working 'Mom' my sons know we need to multitask - holidays all too often revolve around my work, lucky boys. I've travelled across the States preparing for the launch; from Texas to LA, Chicago to Dallas...but the one place I have yet to visit is Boston. Our mission this holiday is to get there and see a little along the way.
Heading out from Penn Station we chug into suburbia and a night with old friends on Long Island. It's fun visiting their eclectic minimalist house; the antithesis of all things downtown Manhattan. But I'm nervous about the next few days which will bring new experience, and the risk that we might not have quite as good a time as we know we would if we stayed in the city.
We pick up a hire car and from Long Island we take the ferry to New London then head West to Mystic; a small town famous for making Julia Roberts famous. Naturally we eat at Mystic Pizza then head for home and bed; it's been a long day.
This is when things get too cliché to believe. We are in Mystic, it's Halloween week and I've booked us into The Adams' House B&B, which sort of popped up at me from Google refusing to go away.
We find our room by following instructions left on a note pinned to the open veranda door. It's cluttered from floor to ceiling in kitsch oldie worldie American decor. I venture towards the kitchen to foray for a glass of water and I jump a mile with a suppressed scream when I spot the owner, shuffling silently in slippered feet with a friendly yet somewhat uncanny smile. This is turning into Hotel California, but we're on the wrong coast. Back in our room we lock the door and giggle nervously eventually falling into dream-filled sleep, irritated by the old fashioned bedding slipping off the narrow single bed at regular intervals.
The breakfast table is set for four. I'm desperate for coffee, but the machine is not working. I opt for tea and sit down to read a day-old New York Times. No sign of the owner, did I imagine him? Instead an attentive but "this is not my house so I can't find anything" helper asks me if I want eggs. I don't. Suddenly the room is filled with fizz and two dear old ladies walk in smiling sweetly. They are as you would imagine. We make small talk, after all, this is a B&B, but the conversation soon turns to one of them being a medium. I tell her my ghost story (I have a good one), thinking she might add some explanation, but instead my son joins us and accepts the eggs. The small talk continues until sweet old lady no. 1 shudders, "Oh my! I just heard such a powerful voice." "Aha, that will be my mother" I quip, "She was a pretty forceful woman." I laugh. "Yes, it's her...she wants you not to worry about the jewellery..."
Woooah, hang on there. What does old Lady no. 1 know about the jewellery - we seem to have lost her rings in the tidy up after her death. Then she talks again - all interspersed with us eating breakfast "Pass the jam please" etc. She says the room is full of spirits, she asks us if we know X person and Y, etc. She tells us the messages they want to pass on. Her chatter makes sense, we decipher what she is telling us. She does not even know our names but she knows about friends and family who have died. It's a bit too much - we only wanted coffee.
At the right moment we get out of there. My son is a bit freaked out. I'm almost amused. This is what travel is all about, when in Mystic...
The rest of the day was pretty peaceful with a great walk around the Seaport Museum with its perfect vintage boats and houses, giving us a real feel for how the early settlers arrived, lived and worked. The drive up to Boston and the Mashantucket Pequot Indian Reservation was too beautiful - the trees reds and browns of every hue. We avoided the casino and arrived in Boston like a dream - no traffic for our gorgeous gas guzzling Dodge SUV, a stunning city and a great Italian meal to welcome us into this easy of easiest American city.
It's nearly Halloween and of course you can't forget it here, where every house is decked up in pumpkins and ghostly attire. We're happy to keep it light hearted and a fantasy - we've had just about enough of the real for one year.