One of the great joys of living in London and being part of the EU is that we can be spontaneous with our travel plans. On a whim, I decided that I was losing touch with the fashionista inside and a day of 'comp shopping' in Paris was essential.
With last born son just about to take exams, I opted for the 8.20am Sunday morning train - meaning guilty-mum bar was reduced to medium orange levels. Waking from my snooze as the train pulls into Gare du Nord in bright sunshine, guilt levels plummet to super cold green; he's a teenager and independence is good for him.
It's Sunday morning and I've nothing planned other than to be in Paris, absorb the atmosphere, be inspired and refuel the creative chasms which the winter tends to sap. The obvious first stop is to head for Montmartre, an easy two stops on the Metro. I congratulate myself on having remembered to bring my spare tube tickets, saving the queue at the booth. I feel like a Parisienne.
We climb the steep steps as the sun beats down. Blimey it's hot. The hawkers are intimidating but I'm less irritated than usual having just watched and been moved by the film 'Dheepan', the story of a Tamil refugee struggling to make ends meet in Paris. The reward for the scorching climb is waiting at the top; a view to beat all views - Paris dazzling on this sunny May morning. A city where history, cultures, noise and creativity mingle. I'm so happy I could burst.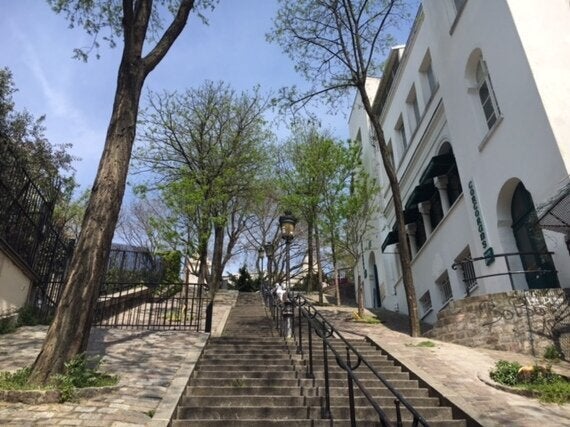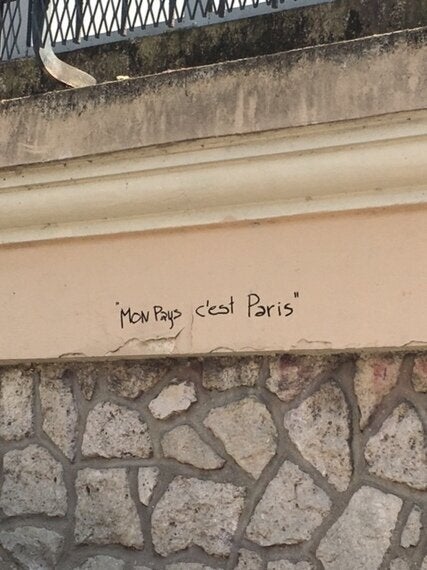 The Sacre Coeur is heaving with tourists, but I don't mind. We find a cafe opposite the market and order "grand cafes noir" from the dishy, authentically-garbed 'garçon'. He flirts well and earns his disgracefully large tip. The coffee morphs into pink wine; it feels right and we are busy watching the world walk past. Warm weather, great view, outside seating and in Paris. What more could we want?
Two hours pass in a haze of caffeine and wine-fuelled conversation; politics, theatre, civil liberties and the less high brow commentary on the clothes and shoes worn by unsuspecting multi-cultural tourists.
Before the day gets too late we drag ourselves on to the next rendez-vous. Lunch... sitting under bright green leafy trees, amidst locals revelling in this first hot spring day. Salade Nicoise, more pink wine and some notes in the diary on local style. It's time to head to the hotel and check in.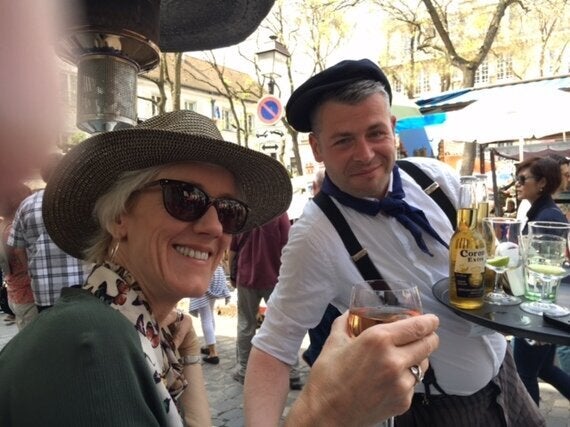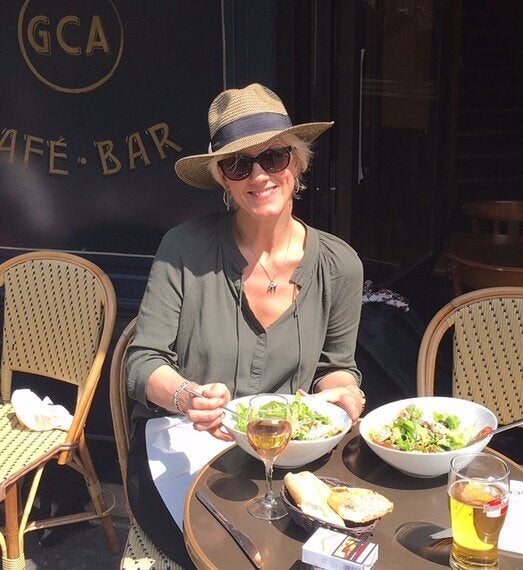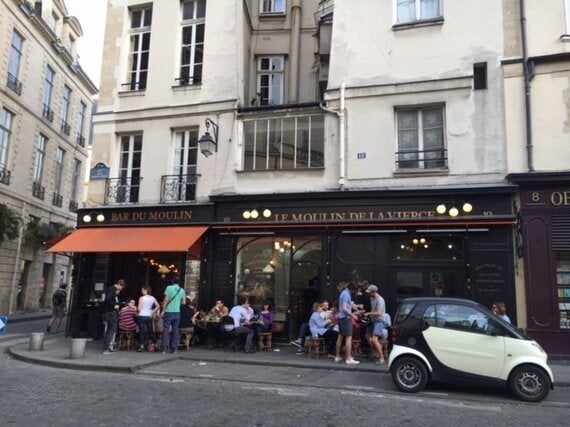 As befits all Sunday afternoons, a little siesta is most welcome. I've had a sleepless week, worrying about poor sales due to the cold spring weather, warehouse expansion plans, new store openings and the ongoing concern about my boys and their exams. This chance to get away at such short notice is just what's needed to cure the insomnia. Waking an hour later I jump out of bed guilty (again) that I'm wasting precious time in this great city and head down to the Seine and over into the 7th Arr., walking on towards to the Latin Quarter.
I'm ashamed to admit that I've lost all care for style when it comes to footwear on these trips. I'm loving my Nike trainers for their super comfy bouncy soles. Trawling through the near-empty Sunday afternoon streets I enjoy looking up at the architecture. Like in New York, I'm dangerously likely to land in dog poop or bump into a lamppost, my eyes permanently gawping upwards drinking in the architectural detail.
A backstreet restaurant for supper. There are so many to choose from. We opt for one serving a simple prawn risotto and green salad, and replete, I'm ready for bed, back in the theatre district where the Hotel Pulitzer offers clean and calm industrial chic design at reasonable prices. It's a far cry from the chintzy, overpriced hotels most commonly found in Paris or the 'move your furniture in front of the non-locking door' hostel-cum-brothels I stayed in whilst a penniless start-up, visiting trade fairs and suppliers many years ago.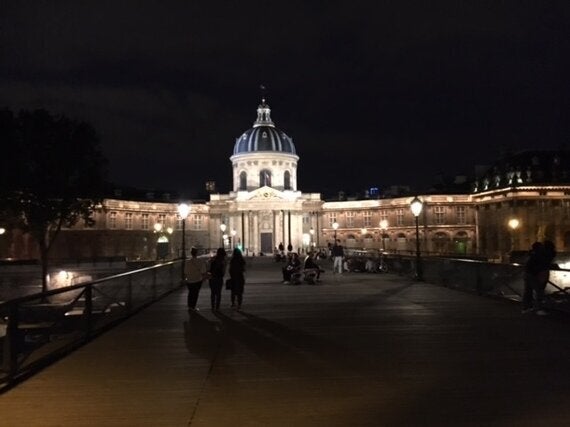 Next morning and there are the usual essential purchases to be made; cheese, chocolates and gateaux for loved ones left revising at home. These chores are ticked off with pleasure as efficiently informed sales assistants remind me how vital training can be. Retail sales are dropping by the minute; only 20% of British high street store have seen sales rise in the last year (according to the CBI), and thankfully JoJo Maman Bébé is amongst them. Some say that Great British brands have had their day; we cannot be complacent. To survive we need to go further and we can learn from the delectable micro independents of Paris, New York, Milan. The best ones thrive. We want to be amongst them. It is still possible to be an independent that sings.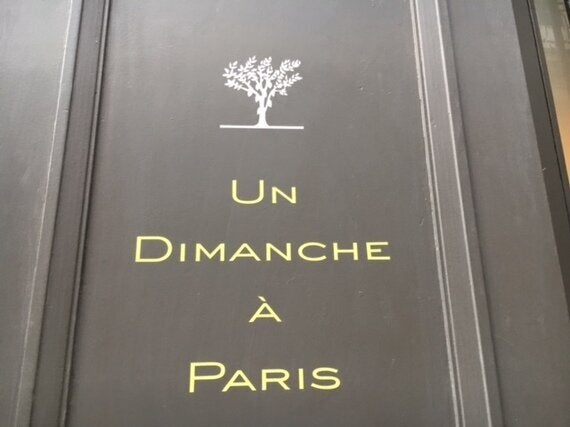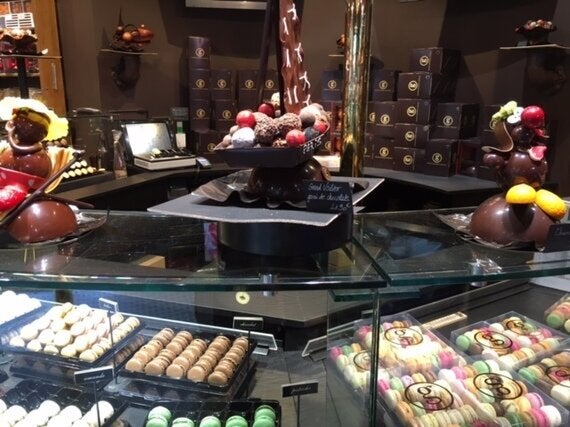 No trip to Paris is complete without a quick dip into Galleries Lafayette. The epitome of good department store shopping, I'm going in to see what the maternity and baby sections are looking like. I'm amazed to walk straight into the 'Diana Collection' from the maternity brand Seraphine. With its Burberry-esque check, this royal family exploiting range is pretty but overpriced and I would be embarrassed to dress my little one in it. Walk two steps down the corridor and Ralph Lauren or Burberry themselves offer much more of the same. I like Cyrillus and Jacadi, who are just too classic to work in the UK, and I love Kenzo kids for its refreshingly different style. JoJo would be really different here, offering our fun designs on practical shapes. We will talk to the buyers.
Having ticked off my comparison shopping duty I drop down a couple of levels and I'm seduced by a Missoni dress on a mannequin. This is what we come to Paris for - impulse buying! Racking my brain for a reason to spend a large sum of money on a dress 2 sizes too small, I remember I'm going to be 50 in the autumn and need the incentive to lose the 8lbs...
Laden down with expensive paper bags adorned with pretty ribbon, I jump in a taxi and arrive at the Gare du Nord just in time for the train home. 24 hours of (not quite) hedonism in the land of the croissant and macaron and I'm refreshed and ready to face the real world of children, dogs, exams and work.