At the tender age of 17 I had my first panic attack which spiralled into agoraphobia and shattered my dreams of becoming a singer.
I was about to sing the solo for Once in Royal David's City at my school Christmas concert. I sang solos all the time and sometimes felt nerves - but never like this.
The blood was draining from my cheeks, my hands were trembling and my knees started wobbling. Then the panic really set in. But the more I panicked the faster my heart was thumping and the dizzier I became. My vision was blurring and I forgot how to breathe.
I honestly thought I was dying.
A friend sang the solo as I cowered in the church corner until my mum came to collect me.
I prayed that it was a weird one-off nightmare, but it wasn't. The next day I had another one. Then another and another. I hated being around people and would always hide my face under my hair if someone looked at me.
I was shaking all the time and worried I would be sick in public or unable to escape. I felt trapped. No way out. So I stopped going out and just stayed in my room listening to music.
I played piano music by Rachmaninov, Beethoven, Chopin, Debussy... over and over.
Music was my therapy, and when the music stopped I would panic again.
My GP prescribed Diazepam to stop the symptoms, and also Citalopram to prevent them. The tablets worked but my brain went numb and my head felt like it was stuffed with cotton wool. I was zombified.
I struggled going back to school and asked to sit on the end of the row nearest the door. I was so embarrassed. No one understood what was going on apart from my music teacher who rearranged the choir so I would feel safe and calm.
As soon as I started singing all the symptoms would dissipate as the endorphins rushed through my body, especially when I hit my falsetto range.
I scraped through to pass my A-levels and got a BA Hons in Music at my local University in Canterbury. I found an amazing singing teacher, Sheila Luxon, who trained me as an opera singer. Sheila gave me big operatic arias to sing from Don Giovanni, The Marriage of Figaro, Gianni Schicci, Tosca - I felt alive!
My confidence trickled back so I moved to London to study journalism and audition for the London Philharmonic Choir. I joined the choir and I was hired by a National Newspaper.
Life was good again so I decided it was time to come off the antidepressants.
I was fine for a few weeks, but then I started to wobble under the stress of my job. I had a panic attack during a Labour Party Conference whilst hosting the Q and As with Party Leaders. I hated being in the spotlight so I ran out of the room retching. It was awful, and very embarrassing because I was still holding a microphone so everyone could hear me!
I saw my doctor the next day who assured me that I shouldn't come off Citalopram yet. He said "think of them as your best friend, always there when you need them". He didn't give me an alternative, so I took his advice and stayed on them until I was 30 years old.
Being on antidepressants during that pivotal time of growing from a girl to a woman robbed me of the opportunity to learn what 'real' emotions are.
When I eventually forced myself off them I made significant changes. I signed up for a Cognitive Behavioural Therapy course, joined a gym and left my stressful job.
I started my own music agency 'Soundcheque' to help musicians get recognised and rewarded for their music.
I also became a disability campaigner and spent a week in a wheelchair for my friend Clara's degenerative condition Hypermobility Syndrome. Clara needed a new Power Chair, so I made it my mission to get her one.
I then went voluntarily blind for a week to raise awareness for my friend Yvette's eye condition Retinitis Pigmentosa and created a charity 'Sound for Sight'. with a concert hosted by Jeremy Vine (below) and the audience wearing sight-loss simulators.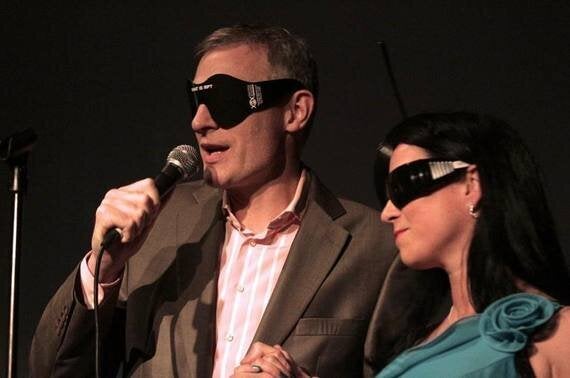 It is now time for me to raise awareness for Mental Health.
Recent studies have shown that one in four people in the World will experience mental health disorders in their lives. Around 450 million people are currently known to be suffering and still find it difficult to talk about it.
Why aren't we taught mindfulness or meditation at school? Surely these are key life skills.
With this in mind, I launched a campaign on #WorldMentalHealthDayfor my new charity venture 'Music for Mental Wealth' which aims to help people who have struggled with the negative impact of stress and anxiety.
Music for Mental Wealth (MMW) infuses music with a scientific formula to improve general wellbeing and are working with Kings College in London on our proprietary technology and proving it works.
We will offer our unique music with or without guided meditation, and from a variety of genres. You can listen before a nerve-wracking presentation, during a workout, on a busy train, at bedtime and more. We will have a whole range of moods to choose from.
I am raising funds to build our brand, website and commission more music.
If you would like to help or support 'Music for Mental Wealth' please visit here: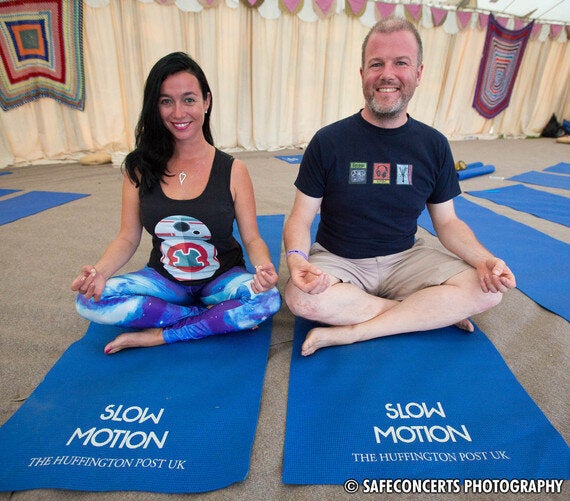 Music for Mental Wealth soft-launched at the Huffington Posts's 'Zen Den' at Bestival