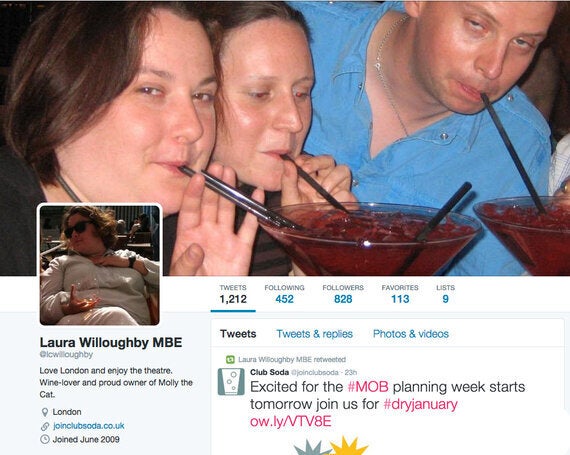 Taking January off booze? Here are Club Soda's 10 quick tricks to get your drink related ambitions off to a flying start!
Change your social media profile. Do you say you're a "wine lover"? Or a "real ale enthusiast"? Is your profile pic you holding a cocktail? Is that how you want to present yourself to the outside world now you are aiming at a new and improved you? How about changing that bit to something else about yourself? It's great to remember that drinking is not the most interesting thing you do.
Change your passwords. This a really simple, powerful little trick: turn the daily nuisance of remembering and typing your passwords into a daily reminder of what you are hoping to achieve. You could try, for example, setting your password as something like n0drinktilfeb, m0nthoffboo3e, or feelingr8.
Tell your family and friends, whether on Facebook, Twitter, or in person - so that they know what you're doing and why. When it comes to changing behaviours, sharing your goals with and getting feedback from people who care about you can be really helpful. Their support and enthusiasm for your progress will keep you going. Finding it a bit tough?Identify the one friend who will listen and encourage you, and lean on them for a quick boost, by text or in person, when you most need it. You can find some tips on this in our free e-book when you sign up to Club Soda.
Set some goals and write them down. Setting a goal and regularly checking in on your progress will help you reflect on your success, and work out strategies for the days ahead. Do it on paper, online at Club Soda or find an app for your phone. We have a section on using gadgets to set your own personal baseline in our book How to go dry this January.
Hide the alcohol in your home, and also the wine and pint glasses - or anything else that may remind you of drinking. This may sound like overkill, but "out of sight, out of mind" is a recognised behaviour change technique. Even though psychologists officially call it "modifying the physical environment".
Book a night out with a friend you have not seen for a while. And if you go out to a nice restaurant and drink water instead of wine, your bill will be a lot smaller. Which is almost like a half-price offer for a great meal if you think about it!
Decide what your reward is, and have some on hand to reward yourself for achieving your goal and to fill that wine shaped hole. Club Soda are big believers in the power of chocolate. Your tastes may vary of course.
Read. Lots of people blog about taking a month off or quitting. Do a search and see what they say.
Write down one good thing every day about not drinking. Do you have more energy? Are you sleeping better? Have you saved money? Do you feel awesome for supporting a charity? Write it down and look back each week to see what is improving.
Ignoring item 5 above, drink your non-alcoholic drinks from a nice wine or champagne glass. Just because it's not wine doesn't mean it's not special. There are a whole range of awesome, alcohol-free drinks for us grown-ups, and Dry Drinker sell a variety of good 0% beers. They will all taste even better from a proper glass.