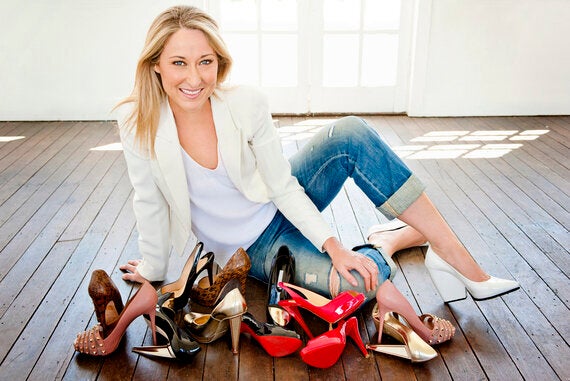 Melissa is the founder and CEO of an award-winning accounting and advisory firm A+TA (Accounting & Taxation Advantage) and co-founder and Director of Business at the long-day early learning school for 3-5 year olds, Thinkers.inq.
Being an accountant Melissa understands numbers but being an entrepreneur and the owner of multiple businesses, she understands that numbers are only part of the story. She knows exactly what it takes to achieve results that defy the trends and create incredibly robust, successful businesses. Melissa may also have a serious shoe addiction but she balances this with a wealth creation strategy to ensure she won't have to live in them someday and she works with clients so they can also enjoy their life today but have financial freedom tomorrow.
Melissa's first book is the illustrated business book More Money for Shoes which compares building a business to building a wardrobe and shows you how to build a profitable, successful business. Her much anticipated second book, Fabulous but Broke, is another illustrated business book and uses financial fairy tales to challenge money messages that readers may have and question the notion that you need a fairy godmother or knight in shining armour to financially save you.
Melissa is regularly asked to speak and comment on money, business & occasionally shoes! She writes a fortnightly column for the Money Section in the Sydney Morning Herald (The Age and affiliates) is a monthly contributor to Gloss Magazine and has made regular TV appearances including the Today Show, Weekend Today and The Daily Edition. She has also been featured in Latte Magazine, Cosmopolitan, Renegade Collective, Elle, Cleo and in 2013 was featured as one of Australia's 100 most inspiring women in Madison magazine.
How has your life experience made you the leader you are today?
My life experience initially made me a very poor leader. That's because I was taught to be a people pleaser, to offer a public face and to hide what was really going on. Which works for a time but if you want to be a visionary, collaborative leader and to grow a successful, innovative business - it's not going to serve long term for you.
During my thirties I made the conscious choice to care less what people thought of me - which was an incredibly difficult for a people pleaser like me! However as a result of this choice, I have been able to make more courageous decisions in my business and to become more open with my team and my clients so that everyone benefited. Of course this is not something that I snapped my fingers one day and it just happened and I'm certainly not where I want to be yet which is why I'm still receiving coaching to become a better leader. That's because I'm very aware that my life experiences are holding myself and my business back and the only person that can do something about that is me.
How has your previous employment experience aided your tenure at A&TA?
It showed me, as a CEO and founder, what I didn't want to create in my own firm. Of course, that took a while for me to realise and it really wasn't until I woke up seven years after starting my own business, with an accounting firm that was very traditional, doing very traditional work that I realised I'd created my own nightmare. That's because I think we always go back to what we know and if we want to innovate in our businesses we actually need to forget some of that and start looking at other businesses outside of our field.
So in all honesty I have taken very little with me from previous employment experience and instead have looked to other businesses outside of my field instead for innovations and inspirations. I think when you work in a very traditional industry, if you want to be an innovator it's very difficult to take with you from the traditional businesses that you worked for.
What have the highlights and challenges been during your tenure at A&TA?
There have been so many of both! The highlights for me include having the courage to really change our offering from a very traditional accounting firm to one that reflected what I believed our clients wanted as well as being much more authentically me. There has also been the decision to write (which I love) including being asked to write for the Sydney Morning Herald, writing my two books More Money for Shoes and Fabulous but Broke and launching our new online offering, The Numbers Lounge. The challenges have been staying in front of changes that are coming to our industry including automation and consultants taking the more lucrative parts of what we offer. Personally the challenge as we grow has been managing both my time and my team as I am an introvert that recharges away from people so having that front facing role has been tough at times.
What advice can you offer to women who want a career in your industry?
I think that ownership of an accounting firm by a female is becoming more commonplace however we are certainly still a minority. I remember when I first would turn up to events for CEO's the men in the room would ask me if I was there as a representative of my firm and then look surprised when I told them I owned it. For someone wanting to start their own firm I would encourage them to think about what makes them unique and to be courageous and authentic in having that shine through in their business. I would let them know that success is often a series of small wins and that it takes more courage to get up and keep going, adapting, failing and getting back up and trying something else than it does to give up or to simply go back to the status quo. I would encourage them to find their tribe or what Seth Godin calls the 'weird ones' who will support you, buy from you, work for you, encourage you and cheer you on when you need cheering. As Seth says, making art which is what many of us are doing with our businesses, can be incredibly tough and confronting but the final product, if you are willing to persevere, can be incredibly rewarding. And finally I would encourage them to embrace technology and to always keep an eye to the future otherwise they'll be left behind.
What is the most important lesson you've learned in your career?
To be honest it's one I'm still learning and that is to ask for help, to be OK with relying on others and to collaborate. Three things that a control freak like myself is not always so great at. But one of the biggest lessons is at the end of the day, the buck stops with me so to back myself when I really believe in something and to continue pushing and hustling because you don't know at what point the tide will turn.
How has the unique mix of fashion and business transformed your life?
On my bedside table there is always the latest Vogue magazine as well as a pile of business books. I used to think I had to keep these two sides of my personality separate - so during the week I would wear my hair in a bun, wear a lot of black, grey and boring, sensible shoes while on the weekend I was a completely different person.
In the end I just felt that nothing in my business from how I looked to how I spoke to how I acted was a true reflection of all that I was. So I decided to do something about it. I started by simply blogging and combining my two loves of fashion and business. A year later, that ended up as a book called More Money for Shoes which compares building a wardrobe to building a business. That book was also full coloured, illustrated and conversational - everything a normal business book isn't! So jeans and pricing, the white shirt and systems or handbags and capacity. It also set the tone for my second book, Fabulous but Broke which again is gorgeous, illustrated and stylishly talks about money mindsets.
In the meantime I found my voice and I found the courage to be authentic in my business. So now I wear what I want to work - whether that is a jumpsuit, crazy heels or jeans but I also showcase that through what we do so our website is a representation of that and how we speak, act and behave at A&TA all reflects it. The result is that I have not only created my own tribe but I've fallen in love with business again.
Our mantra or our why at A&TA now is we want to create transformational change in the lives of ourselves and our clients and I know that to be true because I started with me.
How do you maintain a work/life balance?
Firstly I think work/life balance is a myth. That's because I work days, nights and weekends and fit socialising, time with my husband and weekends away around that. The thing is though, because I'm passionate about what I'm doing then it's OK that it all kind of blends. I'm so not a 9-5, five days a week person and used to hate working in workplaces that were like that. I'm completely OK with working seven days a week as long as I can fit into that dates with my husband, exercise, time with friends or brunch in the sun. I own two business, A&TA and Thinkers.inq and at the moment the demand on my time for them as we grow is enormous which means my life is skewed to work. What is important for me though is to schedule in some downtime so I have a month off in January every year and this time allows me to reset, recharge and to get ready for the year ahead.
What do you think is the biggest issue for women in the workplace?
That's such a tough one. I think there are a couple:
1.The juggle. I think women are still struggling with the balls that we juggle. That's because while feminism has taken us so far there is still an expectation that women will stay home with the children or will at least take the primary caring role. At A&TA we have a female workforce and I know the juggle that the mums make with home, family and work can be incredibly tough. As a boss, I try to ensure that they can leave to attend any school function their child is involved with, they have technology to work from home when their kids are sick or they can bring them into work if they need to. However I appreciate that not all workplaces are as supportive and if we want women in the workplace we simply have to be.
2.The perception/judgement. My husband is never asked 'where do you find the time to do all that you do' but I am constantly being asked that question. Of course, when I mention I don't have kids I'm met with, 'well that's why.' Again, I don't think dads are told that. Instead, I think the better question is, 'you seem to manage to get a lot done, what are you doing and do you have some tips for me?' That's because what I do isn't a reflection on you or vice versa but if we stop judging each other we can learn a lot from one another.
How has mentorship made a difference in your professional and personal life?
I don't have a specific mentor so I have always consciously surrounded myself with others that are like-minded business owners. When I first started it was through a networking group called Women with Altitude and today it's with groups that include Little Black Dress Group, Business Chicks and Entrepreneurs Organisation (EO). I've also just engaged a Coach to help me grow and take my business to the next level and I think this is something that will be a lifelong quest of learning and development - at least I hope so
Which other female leaders do you admire and why?
I admire a lot of female leaders for different reasons. I admire Maya Angelou for her strength, dignity and how she was able to use her voice with such strength and such grace. I admire Naomi Simson (Red Balloon) for her ability to step out of the CEO role in her business because she was aware of her limitations but also to put in great systems that supported where she wanted to go. I admire Sheryl Sandberg and Arianna Huffington for their strong voices calling for change. I also admire quirky leaders in their fields like Rachel Zoe who is able to remain so authentic while growing an empire.
What do you want to personally and professionally accomplish in the next year?
So much! Professionally I want to open another preschool - our first centre, Thinkers.inq, opened in Terrey Hills (Australia) last year and our aim is to open another within twelve months. At A&TA we're launching The Numbers Lounge towards the end of 2015 which is an online world for business owners. This is an online world for business owners wanting to understand and grow their businesses which is comfortable, safe and like me - just a teeny bit different. I'm also wanting to speak and write more as I continue the conversation about money, business and of course, shoes.
Personally I want to be able to learn to switch off more effectively so I'm going to explore things like yoga and meditation this year to find that thing that will help me balance my sometimes frantic nature. After hearing from the gorgeous Caroline McHugh in New York earlier this year, I also want to be able to say each year that this was the best year yet.
Related