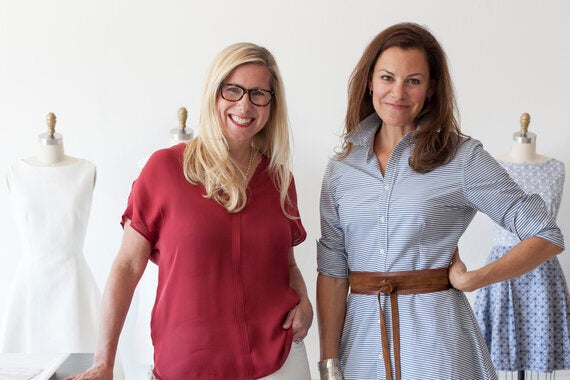 Serena Dugan leads the creative vision for the brand. Her experience as an independent artist and designer for major home retailers provides the foundation for which Serena & Lily products are designed.
Lily Kanter, a veteran executive, steers the business and scales the company, drawing on nearly two decades of driving key initiatives at Microsoft and Deloitte & Touche.
Their shared vision to build a brand that inspires customers while fostering a creative company culture continues to drive the success of Serena & Lily.
How has your life experience made you the leaders you are today?
SERENA: In my life I have experienced both great joy and tragedy, including having lost my father in 9/11. I believe all aspects of my life's story carved out in me both an expectation for a big life, and a capacity to handle challenge. My personal history defines me in only the most positive of ways - reminded daily that life is short, I'm here to make an impact and to find my unique voice, and to never sweat the small stuff. Life has made me patient, balanced and reflective. That reflects in my style of leadership.
LILY: I would say my leadership was formed by my determination and early work experience in corporate America. Within a few years of graduating college, I was recruited into a venture- backed start-up to take on the role of Controller, setting up the entire back office accounting and technology for the company. I was 23 years old with little to no experience and had so much to prove, working until midnight most nights to figure it all out. With that experience, I developed the skills and confidence of taking something from the ground up, which launched me into a lifelong entrepreneurial path. I've also had the privilege of participating in both the Wexner and the Henry Crown Leadership Fellowship programs. I truly believe leadership is a lifetime pursuit of self-improvement and learning.
How has your previous employment experience aided your tenure at Serena & Lily?
SERENA: After my first job out of college (in technology), I switched tracks, studied Fine Art & Design and went into business creating for private and commercial clients. I continued to study, learn, grow, and expand my offering and client base. I was extremely scrappy and tenacious, and I grew my own look, offering, and business when I was too young to worry about it. That gave me the confidence to start Serena & Lily as well as a sense of self that has allowed me to keep showing up and staying true to a principled vision.
LILY: My experience at Deloitte & Touche and Microsoft taught me a lot about financials, technology, people management and how organizations work.
What have the highlights and challenges been during your tenures at Serena & Lily?
SERENA: There have been so many highlights and an equal set of challenges...it's hard to pull them apart! High points had the same feeling, the same glory when we were tiny as they do now. They are all of the points of pride around achieving an objective. Milestones. I love the milestones, because they are the moments that you can sit back and look at something and see what you've worked so hard on, reflecting back at you. Holding our first catalog felt the same as looking at the sign going up on our first store. They are moments of pride and reflection, and thank goodness for them, otherwise there would be no way to signpost all the hard work and say "I'm proud of us."
Challenges are plentiful when you're chasing a big idea: challenges achieving the right quality in a product, challenges bringing to paper a pattern that I see clearly in my head, challenges finding the right storefront in NYC, challenges balancing the creative needs of a design-driven brand with the real needs of a growing business. But each day and each challenge brings learning and growth, and I rise in small measure through the challenge.
LILY: Highlights have been building an admired and respected brand that truly prioritizes quality and original design integrity and building an amazing company culture and a great place to work.
Challenges have been growing and scaling a design-driven business in a competitive landscape, while keeping the vision and direction authentic. Finding the right fit for talent is always a challenge, but particularly so when a company is growing quickly and moving from one stage to the next. The business needs are constantly shifting and what made sense from an organizational perspective at one point, might not be the same.
What advice can you offer to women who want to start their own creative business?
SERENA: Start with a strong view of what you want to say in the world. Make sure it isn't being said already. Know your mission, never waver from it, and stay fueled by that purpose. You will need to return to it over and over again and be reminded of why you keep pushing uphill. Be alive with the notion that you can make a distinct and personal mark on the world, and make that your North Star.
LILY: I believe creative businesses need strong leadership with specific roles focusing on being creative, and making the business work. To be honest, in my experience the business details are a complete creativity destroyer. There is always a need to monetize and that's a delicate dance to continually be a creative business and run solid business fundamentals. So my advice is to find a complementary partner with very clear domains to balance the needs of both creativity and business with mutual respect.
What is the most important lesson you've learned in your careers to date?
SERENA: Lily has a great expression that gets used weekly around here: "If it was easy, everyone would do it." Challenge and adversity has become a reminder that we chose, and continually choose, to do things differently. And "different" is much harder to accomplish than "same," but far more worthwhile.
LILY: Everything can be learned from Jim Collins - get the right people on the bus and the wrong people off.
How do you maintain a work/life balance?
SERENA: I have come to accept that there's no such thing as a perfect balance -- we can only strive for presence and contentment in whatever moment we're engaged in. I've learned not to fret over what I'm not doing more of because it takes me out of moment. When I'm at work, I try to be fully engaged. When I'm with my kids, I try to give them my attention and energy and put my phone away. I strive for quality of connection over quantity of time and find that this nourishes me, family, friends and creativity most.
LILY: My family is very important to me, and I always make sure to be home for family dinner by 6:30pm. I'm often back to work after my kids go to bed and am typically in the office early in the morning, but when I'm with my family, nothing else matters.
I'm also a believer in quality time with my family. We travel together twice a year, which creates the most memorable times. My husband and I are very loyal to date night every week, too.
What do you think is the biggest issue for women in the workplace?
SERENA: It is no secret that mothers in the workplace face a set of unique challenges. Mothers bear the weight of childcare, and in most companies there is inadequate flexibility. The lack of full societal acceptance for a mother's (vs. father's) professional drive simultaneously adds a hurdle for women who want to engage to a greater degree outside the home. I find that disapproval is a subtle yet ever-present reality that working women face. The good news is that none of these issues are insurmountable with the right amount of determination and moxy. However, societal expectations need to shift to effectively support the working mother.
LILY: I believe women face a huge challenge when it comes to achieving a work/life balance. Working insane hours and travelling nonstop has become the corporate norm for highly successful people. I think we need to re-think the workplace to honor the home and work/life balance. I believe we will get more out of people and increase happiness in the workplace if we can adapt businesses to align more with employee schedules outside of work.
How has mentorship made a difference in your professional and personal lives?
SERENA: Mentorship has made all the difference to me in my professional career. I was a bit of a rogue soldier before finding my creative mentor (who I'm fortunate to work alongside of). That partnership continues to shape my development as a designer and creator. The Executive component of my work has also greatly benefited from finding a friend and advisor who does what I do, how I do it, for a company that is much bigger than ours. Her wisdom, guidance, and experience feels frequently like salvation!
LILY: I seek out great advisors on a regular basis. I love meeting and talking to people who have gone through the same challenges and I always gain wisdom in these conversations. Some of my best girlfriends are also CEOs and they always give me great mentorship, advice and support.
Which other female leaders do you admire and why?
SERENA: I have a great admiration for iconoclastic female leaders, who break societal convention and truly show up in the world. Arianna Huffington is a great example, as is Diane Von Furstenberg. Both are strong, vibrant and original. Both also happen to have great accents!
LILY: I admire female leaders that are doing incredible things and are leading activists for world change. I would say three that come to my mind are Melinda Gates, Eve Ensler and Geena Davis.
What do you want Serena & Lily to accomplish in the next year?
SERENA: We introduced Fashion this spring, quite successfully. I would love to see us get in a rhythm and flow with fashion that is just as smooth as home, so that we can break down our barrier between home and fashion. I believe our brand is more spirit than product. If we collectively capture this notion, then the lines between categories - fashion, home, child, adult - blur. Designing products becomes a means of storytelling about life and living. These are my hopes for the brand and business. And, I'd like to finally find that perfect storefront for an NYC store!
LILY: In the next year I would like to see us develop our retail formats in major cities across America, continue to develop our fashion collection, and continue to improve our business and company culture.