'An absence of citizenship rights for women horribly combines with crushing poverty to create a society in which women are not only the property of men, unable to leave the house without the permission of a male relative and vulnerable to arbitrary arrest on the street even once they have it, but are also likely to be illiterate, to be married before they reach puberty, and to die in childbirth.' Rachel Cooke, Guardian
Since then, according to Equality Now and to Human Rights Watch, the 'Arab Spring' and global citizen pressure brought some momentum around women's rights. In 2014 a law was drafted that would ban child marriage - which affects over half of Yemeni girls and female genital mutilation - which affects 23%, and the draft constitution made 18 the minimum age of marriage.
However, conflict turned into war in March when Coalition air strikes began to rain across the country. There has been intermittent fighting since 2004, but according to Noor, one of the women Oxfam works with, the airstrikes that began in March 2015 "were like nothing we've seen before."
So now another terrible question is being asked: 'Is Yemen the worst humanitarian crisis in the world ?' This is because at least 21million people - 84% of the population - require humanitarian aid. It is very difficult to get food, fuel, or medicine into the country, which relies on imports for 80% of its food.
Oxfam does not rank humanitarian crises, nor gender inequality. (Though others do, and on the UN's Gender Inequality Index Yemen is ranked 157 out of 187. On the World Economic Forum's list, reporting on Huffington Post, Yemen is the worst). But it is clear that the combination is brutal.
Noor, 35, told us by telephone - Oxfam has been unable to reach the area she is in due to fighting -
"Since March, the skies of Saada are raining fire on us every day. There are now no signs of life here: houses are destroyed, farms are burnt, and everyone's gone - they're dead or they've fled. It was such a beautiful country and now we're left with destruction, tears and blood everywhere. Nothing but death all around us. I don't know how long we are going to last. We are alive, but only until we die - senselessly - like the thousands that already beat us there." Noor, 35, Yemen
As we mark World Humanitarian Day as , a time to recognize those who face danger and adversity in order to help others, it is the women of Yemen like Noor and their families I want us to remember and do something about.
In addition to the terrible conditions highlighted by Rachel - women are now faced with not being able to feed themselves or their families. With fuel supplies critically low, power is out almost everywhere in the country, cooking gas is no longer available in many areas, and people are trapped as they're unable to flee to relative safety given the lack of transport. Over 20 million people - 80% of the population - lack access to clean water, and 15 million lack access to health care. 4,300 people have been killed, and 22,000 injured.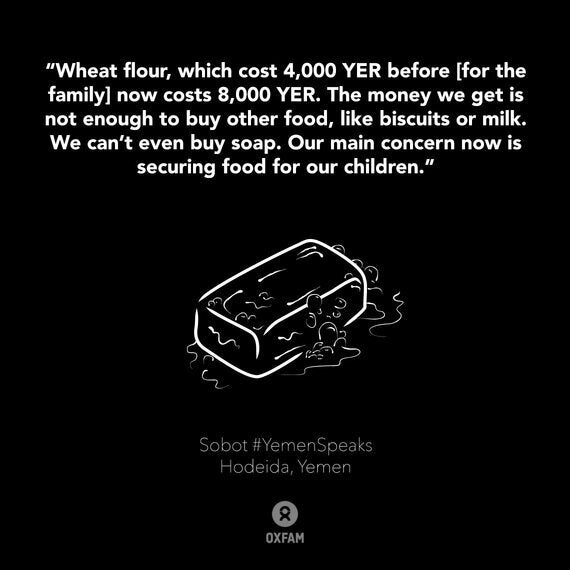 Yemen may not be the worst place in the world to be a woman - being under the control of Islamic State may have that dubious honour - but it is perhaps the biggest crisis that is getting the least attention.
As Winnie Byanimara highlights in her blog today, seventy years on from the establishment of international humanitarian law under the Universal Declaration of Human Rights to the Refugee Convention and the Geneva Conventions, those rights are flagrantly violated in countless humanitarian crises.
That is why Oxfam in Yemen is calling on all parties to the conflict to bring an immediate and permanent end to the violence and seek a peaceful political agreement that represents the demands of all Yemenis. Oxfam believes that members of the international community should refrain from sending arms to warring parties in Yemen as it only prolongs the conflict and increases the ongoing suffering. The only way a real solution can ever be reached is if all demographics of society in Yemen, including women and the youth and, particularly the poor in rural communities, are part of an agreement that takes their needs into account.
Oxfam has so far met the humanitarian needs of over 300,000 people affected by the violence and with local authorities maintaining water supplies to a million people. Oxfam's gender in emergencies standards ensure that the specific needs of women are addressed in this response and others.
We are also calling for governments, during October's High Level Review of UNSCR 1325 - where the UK government leads on Women, Peace and Security - to take action to finally realise commitments to involve women in peace building efforts.
This week, as we mark International Humanitarian Day, please join us in taking action for the women and men of Yemen.
Sign Oxfam's petition calling for a permanent and immediate ceasefire.
Learn more about Yemen: http://oxfamblogs.org/yemen/ or (http://firstperson.oxfamamerica.org/2015/07/in-yemen-children-live-in-fear-and-worry/) and their story)
Follow @yemenspeaks and share the voices of the people Oxfam works with through #Yemenspeaks graphics
Share this blog and encourage your friends to take action.
Related