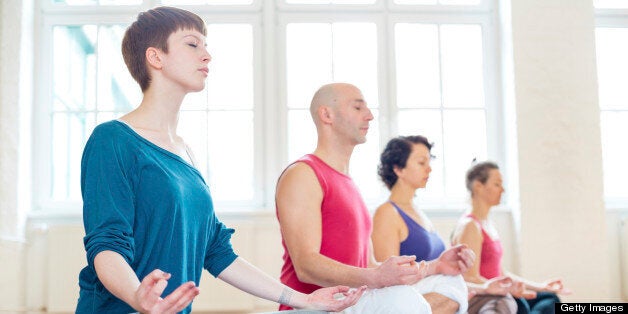 "Now just popcorn out any words which reflect how you feel right now."
The only words I can think of are a little less positive. Mostly:
"Period. Lots of period."
I should have listened to my gut instinct. I always get into trouble when I ignore that little fella.
"Are you staying for the dance meditation? It is only five pounds more" asks a bearded chap who looks like he regularly holidays in Goa, upon handing him a twenty-pound note.
"Is this not the dance meditation class?" I reply confused.
"This is the ecstatic movement meditation, the dance class starts afterwards at 9pm."
"Oh, well, probably not" I say, given that it is only currently 6pm on a Monday evening, "I'll try that one next week".
"Well, I'll hang on to your fiver. If you decide to leave, I'll give you it back." He declares. "But I think you'll probably stay". No wonder he can afford those regular trips to Goa.
This wasn't the class I'd signed up for but it was still a meditation session - bound to do me some good, right?
For the first forty-five minutes however I am a little bored. We undertake a long but basic warm up, standing in a circle wiggling hands and feet, stretching and flexing. Myself, fifteen other women and two men follow the lead of a second younger, less beardy, Goan holiday-maker. His now three-hundred-and-forty-pounds richer sidekick stands silently beside. The younger leader tells us that, as we go through the class, we may become very emotional and discover new things about ourselves. At this point, all I have discovered is that my left hamstring is still tight from swimming.
The tempo increases slightly when we are instructed to stamp on the floor shouting 'No! Get away!'. I worry about how this stamping is impacting my left hamstring.
"Are you visualising that person?" the leader questions assertively "Make sure you have a clear image of them in your head. Tell them to back off."
At this point I'm unsure as to whom I am telling to back off or why indeed they need a good stamping upon. This is not the case for the angry chap beside me however. He clearly has a certain someone in mind whose head has most definitely been squished.
After more anger filled exercises, we are instructed to lie down on the floor and cover ourselves with a blanket. As we do so, the leader turns on a relaxation CD, which brings about a change in mood. Through a microphone, into which he is now speaking with the cadence of God, he instructs us to relax.
"Now, if you do not wish to do this part of the meditation, you can simply lie still".
Well the meditation is the bit I have paid fifteen of my finest English pounds for so I am definitely getting involved. Oh, the paths we carve for ourselves.
"Relax and feel the light of love in your feet, your shins, knees, thighs. Feel the light in your sex." God laments.
"He he!" I silently giggle immaturely, my eyes closed, "He said sex."
"Can you feel the light in your sex?" he continues.
"Not really" I think to myself, "Which exact bit is my sex?"
"Open your sex to the light" God moans, his microphone awkwardly picking up interference. "Is your sex open to the light?" I don't understand whether my sex is open to the light or not and am unsure as to why we were focusing so much on the sex bit anyway. I become wary. "Now raise your pelvis off the floor and lower it. Repeat this." He asserts. I do this albeit I am not entirely sure why. "Now alternate the speeds at which you raise and lower your pelvis".
It is at this point, just several minutes into the meditation that Angry Man again becomes very present in my space. Out of no-where the floor has started vibrating as he manically raises and lowers his pelvis hard and fast, up and down. He groans furiously and irately each time his body hits the floor. I am troubled. This energy has come so out of the blue from the seemingly calm group energy. I look to my right to see if the woman beside is also concerned. It is at this point that I realise that, with her blanket covering her face and her hands underneath on her sex, she is very much only concerned with herself!
I sit bolt upright. What the hell is going on?! I look further around the circle. The woman next door to Miss Self Love has taken her trousers off and her bare legs are spread wide in the air. Her pelvis is being raised and lowered erotically.
It is at this point that The God of Sex appears above me.
"Is everything ok? Do you need some help?" he purrs.
"No, no!" I squeal. "Totally fine" and I hurriedly lay back down on the floor, my legs and arms clamped tightly to my body, determined not to accept help from anyone in that room.
"Take me, yes, take me" wails an American woman beside Angry Man.
"That's right, feel the light of love in your sex. Open up like a flower" says Sex God loudly. His strange comments made all the more seedy by frequent audible yawns, clearly heard through the speakers.
I lay there terrified and wondering how the hell I have gotten this so wrong. It hadn't said anything about sex in the marketing; tantric, solo or otherwise. I am a pretty open-minded person and am seeking new adventures. But I want to know what I am signing up for first before I end up in a room with 18 strangers feeling their sex.
There are ten more minutes of hell before we are instructed to sit up slowly and come together in a circle. The irony is not lost on me. As I peel my rigid body up off the floor I see that the American woman, sitting crossed legged, now has lady month accident covering the entire sex region of her trousers. She notices my noticing, and yet seems completely unfazed. Everyone looks post coital as they loll on each other's shoulders. I am aware I look absolutely terrified. We are instructed to hold hands with the people beside us. I am devastated to have to hold anyone's hand after what has just occurred.
It is at this point we are told to popcorn out the words we feel describe the last hour. As you can see from the start of this story, I have nothing positive to say, so feel it is best to keep my mouth shut, eyes clamped to the floor and as little of my hands touching anyone else's. Sex God knows I haven't popcorned anything. He asks again. I remain silent, knowing full well his eyes are boring into my skull.
"Well then, lets have a short break before beginning movement meditation" he exclaims, allowing me to free my filthy hands and put my trainers on, ready to run, very quickly, away. Without warning he again appears by my side.
"How did you find that? I think you struggled didn't you?"
"Erm" I mumble, "I just found the different energies in the room a little difficult. It's always tricky when you are the new person in a group like this". I am wholly impressed by my on-the-spot tactfulness.
"I do understand. Will you come again next week?" he asks. Again, the irony is not lost. "It is a little more tantric and physical but I think you might enjoy it."
"Yes" I say, lying monumentally "Hopefully see you next week". I throw on my coat and head swiftly for the door, smiling awkwardly at the flushed faced individuals who look confused and somewhat disappointed by my early departure.
As I head out of the door at break-neck speed, I remember that the older Goan holiday-maker still owes me a fiver. Normally, I am not shy about such things. However in this case, I resolutely resolve not to return. Some things are simply not worth fighting for and they could probably do with the money. They can use it to buy hand sanitizers for next week's session.