Last year, "Netflix and chill" meant binge-watching Orange is the New Black with your hand in your pants and Ben and Jerry's dribbling down your chin. In 2015, the term evolved into not watching Netflix at all, having a stranger's hand in your pants and stuff dribbling elsewhere. Last year, you could go and see The Amazing Spiderman 2 in 3D and see those sticky spider webs come hurtling towards your face. This year, Gaspar Noe brought us Love 3D and for one night only you could watch a disappointingly soulless love story for two hours with the added bonus of sticky ejaculate coming hurtling towards your face. For those who would rather have shit thrown at them for a good two hours however, there was the new Bond film, Spectre, a shameful film in which the majority of critics wrote their reviews prior to buying their ticket. The tired franchise seemingly loaned the rich aesthetic value of Skyfall to Guy Richie for the far superior The Man From U.N.C.L.E. and forgot to ask for it back. At least, now it's over, Daniel Craig can scrape off the thick layers of mucky orange foundation and make a return to proper "acting" which, if I remember correctly, he was actually quite good at.
It has been a great year for women in film. February saw Lambrini swillers, who are normally only interested in shoes and bags, flock to the cinema in rowdy packs to witness their dominant dreamboat brought to life in Fifty Shades of Grey. Meanwhile, elsewhere in the cinema similar themes were being explored with an all-female cast in lesser publicised but far superior, The Duke of Burgundy (see below). Juliane Moore, Charlize Theron, Cate Blanchett and Rooney Mara grabbed the greatest roles of their careers this year which, for a refreshing change, makes for an incredibly exciting conundrum for next year's Academy Awards. But, with the predictability of the Oscars in mind I reckon Blanchett will have the flashier mantelpiece the following morning.
As in previous years, the top 10 highest grossing films of the year were mostly sequels, remakes or part of a greedy franchise. So far, only two original titles (Inside Out and The Martian) remain in the top 10 but that looks likely to change with J.J Abrams' Star Wars: The Force Awakens still to happen before Christmas. Anyway, behind every sequel hungry, franchise captive in the picture house queue who's had to remortgage their house for a bag of stale popcorn, stands an overly critical cinephile with a yearning for something better and a secret bag of supermarket-bought peanut M&Ms in his pocket. This is a list for the latter. The contenders have been selected for their substance, finesse and entertainment value.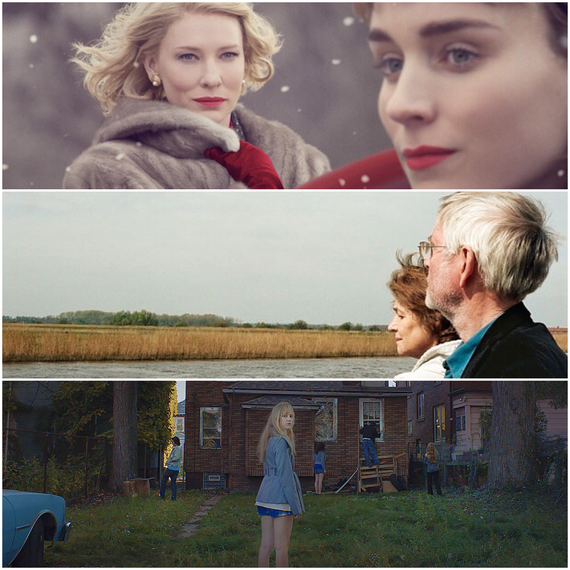 Haynes's follow up to Far From Heaven (2002) and Mildred Pierce (2011) offers proof that you can improve on perfection. Cate Blanchett and Rooney Mara play the most credible romantic couple on screen in recent years, and both portray their characters with the rich nuance of Hollywood's golden greats. Shot in authentic 1950s technicolour, the cinematography and sensitive direction make Carol an achingly beautiful and poignant masterpiece.
45 Years (Dir. Andrew Haigh)
Britain's best director follows up Weekend (2011) and the brilliant series, Looking with this elegant relationship drama. Tom Courtenay and Charlotte Rampling play a happily married couple on the verge of their 45th wedding celebrations, when an unexpected letter arrives with the gusto of a wrecking ball. An enthralling drama, that becomes increasingly powerful thanks to the incredible performances and the subtlety of the director's naturalistic eye.
It Follows (Dir. David Robert Mitchell)
A horror film that uses teen sex as a horror convention, on paper sounds naff but with a refreshing gore-shortage, director, David Robert Mitchell utilises anxiety and suspense to an almost unbearable degree to bring the scares. Maika Monroe plays the haunted protagonist who is given the willies in more ways than one. Stylishly shot, this is the coolest yet most unnerving horror film in recent years and works as an ideal antidote for STDs and teen pregnancy. Parents, force your teenage kids to watch this before they pop off to Faliraki with their mates. It will solve a world of trouble.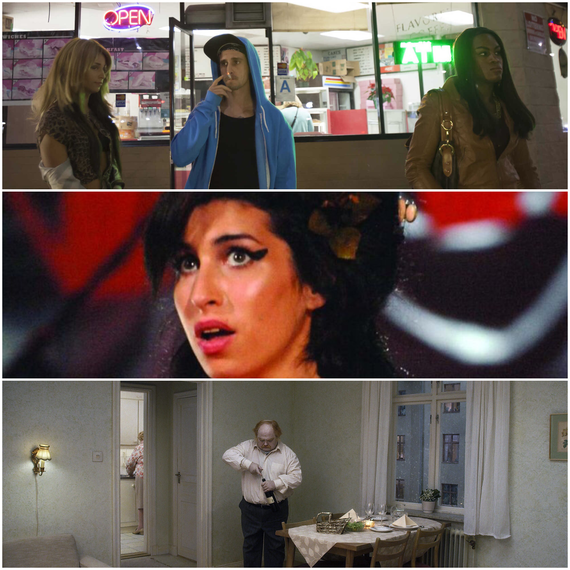 Tangerine (Dir. Sean S.Baker)
Following a brief stint in prison, transgender prostitute Sin-Dee (Katana Kiki Rodriguez) is reunited on Christmas Eve with her best friend Alexander (Mya Taylor), who informs her that her fiance/pimp has been cheating. Sin-Dee sets off, chops-a-blazing across LA, intent on bringing him to justice. Into the mix comes taxi driver and regular customer, Razmik (Karan Karagulian) whose interfering mother-in-law is intent on exposing his infidelities. Vividly shot, full of flavour and surprisingly filmed on an iPhone 5s, the film shines a glorious light on the part of LA that Hollywood often keeps tucked under. Full of sunny delight, vibrant energy and ferocious dialogue this exuberant chick-with-a-dick-flick, for all of the darkness it depicts, is one of the year's most unexpectedly feel-good films.
Director Asif Kapadia, who previously covered similar ground with Senna (2010), creates a compelling composition using unseen footage. Winehouse, in her own words, creates this sensitive and loving portrait of a phenomenal yet fragile talent who strived for success but fell into the complex trappings of fame. An entertaining and heartbreaking celebration of one of this century's most unique voices and an expose on the savage nature of the beast that led to her untimely death.
A Pigeon Sat on a Branch Reflecting on Existence (Dir. Roy Andersson)
The third in Andersson's trilogy that began with Songs from the Second Floor (2002) and You, the Living (2007), but you don't have to be au fait with its brethren to appreciate the weird and wonderful melancholy on offer. Short on characters beside two hopeless travelling salesmen, Andersson explores the brutality of human cruelty in an interwoven series of vignettes, that together make for a rhythmic, profound and startlingly original film that will make you reflect on existence long after the memorable final sequence.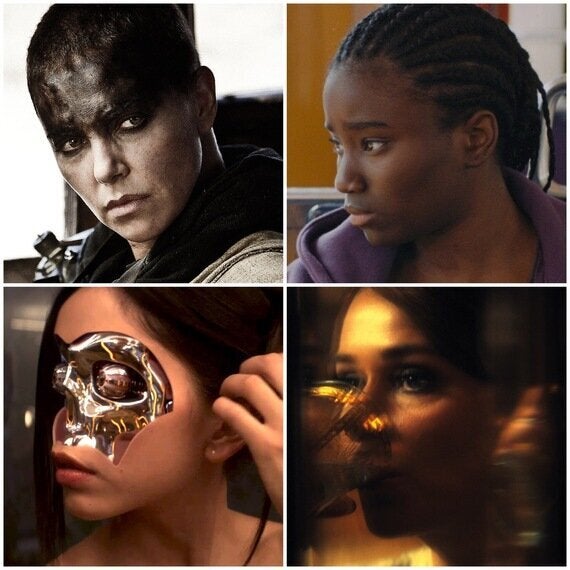 Mad Max: Fury Road (Dir. George Miller)
The action film of the year, follows a bunch of post-apocalyptic refugees who travel from A to B and then back again in the most exhilarating, adrenaline-fuelled way possible. Charlize Theron plays Furiosa, and drives the film both figuratively and literally, elbowing the male lead, loner Max (Tom Hardy) out from centre stage to leave him skulking prettily on the sidelines. The heady speed of the chase, the steampunk-manned war-vehicles, the relentless battle drumming and the constant thrills and suspense speed up your heart-rate like you've washed back a concoction of red-bull and pro-plus and boarded a two-hour roller-coaster ride. A pioneering, feminist action movie that, even after multiple viewings, never blows its exhaust.
Girlhood (Dir. Celine Sciamma)
This raw and authentic coming of age drama from Tomboy (2011) director Celine Sciamma follows the life of French teenager, Marieme (Karidja Toure), a poverty stricken girl on the verge of womanhood, who happens to fall in with the wrong crowd. Whilst battling with her place in the world and struggling with her identity the solemn protagonist attempts to challenge the chauvinistic traditions of her peers and climb away from the depths of her imposed and hopeless social status. Using remarkable talent, freshly scouted for the film, Sciamma creates a veritable and complex female counterpart to La Haine (1995) that's both beautiful and bittersweet.
Ex Machina (Dir. Alex Garland)
Stylish, stark and with quietly powerful scares, the directorial debut from author turned screen-writer Alex Garland is a silent scream of a film. Dominhall Gleeson plays a programmer who is summoned by a visionary scientist (Oscar Issac) to asses his latest creation, an artificially intelligent female android with the beautiful face of Alica Vikander and the body of a bag of spanners. Garland raises multiple questions without the need to provide an answer. Elegantly composed, Ex Machina is a deeply human film and even with the stunning special effect its major strengths lay in the confines of its dialogue.
The Duke of Burgundy (Dir. Peter Strickland)
British director of the nightmarish Barbarian Sound Studio (2012) combines an ethereal aesthetic with filthy visceral themes in this challenging, psychosexual tale. Borgen's Sidse Babette Knudson stars as Cynthia a butterfly professor who lives with her submissive lover/maid Chiarra D' Anna, whilst Cynthia seemingly orchestrates their bizarre role play, their master and servant roles become increasingly blurred. At times shocking, this visually stunning work of art is ultimately, a touching love story and an exercise in the viewers' judgement.
If that's not enough for you, these are also recommended...
Phoenix (Dir. Christian Petzold)
Still Alice (Dir. Richard Glatzer / Wash Westmoreland)
White God (Dir. Kornél Mundruczó)
London Road (Dir. Rufus Norris)
Coherence (Dir. James Ward Byrkit)
Wild Tales (Dir.Damián Szifron)
Mommy (Dir. Xavier Dolan)
Kingsman: The Secret Service (Dir. Matthew Vaughn)
Birdman (Dir.Alejandro González Iñárritu)
Listen up Philip (Dir. Alex Ross Perry)