This year, Hornsey Town Hall in London's Crouch End, opened its doors as part of a year-long community and arts initiative to bring this award winning landmark building back into use.
Built in 1935 to house the local council, it is an incredible example of modernist architecture, stripped of the fripperies and classicism of Victoriana and built to embody civic pride and hope. Ironically, after the council moved out in 1966, this robustly municipal building saw years of closure and broken promises about opening it up for public use.
Today, it couldn't be more different. The town hall is full of the hum and excitement of art, music, theatre, dance and workshops, and for local people, it still feels thrilling to be able to just walk in and access their local architectural heritage.
It is somehow fitting that it is here, in this reclaimed building, that artist Daniella Bowyer is running an intriguing community project creating a bold art installation from reclaimed textiles that challenges unethical practices in the fashion industry.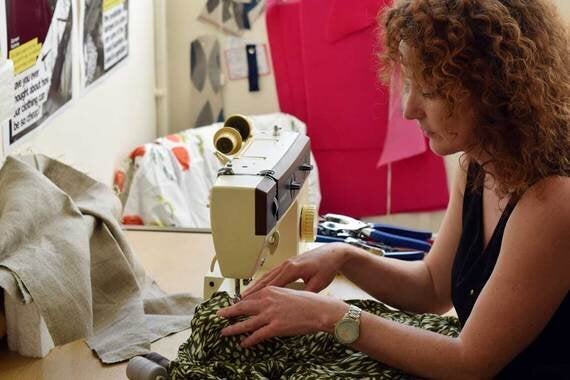 Daniella Bowyer ©Daniella Bowyer
At a series of free workshops supported by the fashion reuse charity TRAID, the public have been invited to help sew together waste textiles to make a huge river of colour, pattern and texture. As part of its sustainable education programme, TRAID has also invited local schools to take part giving young people the chance to investigate the impacts of fashion outside of the classroom. The final piece will flow through Hornsey Town Hall symbolising the river of surplus and waste which usually goes unseen by the consumer.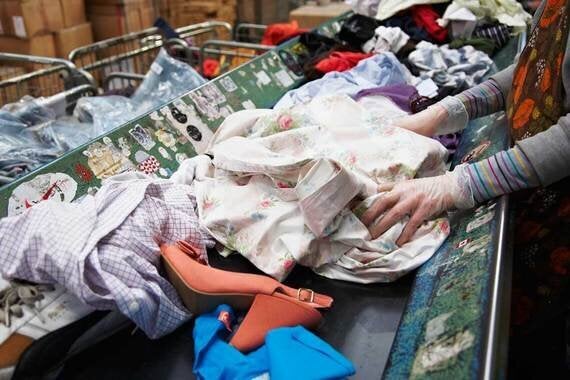 TRAID sorting textiles which would otherwise have been thrown away ©Rita Platts
It's a piece inspired by Bowyer's own preoccupations, as an artist and mother of a little girl, with the environmental impacts of our economic choices, with the systemic pressures that define people as consumers rather than citizens, and particularly, with how fast fashion fuels over-consumption.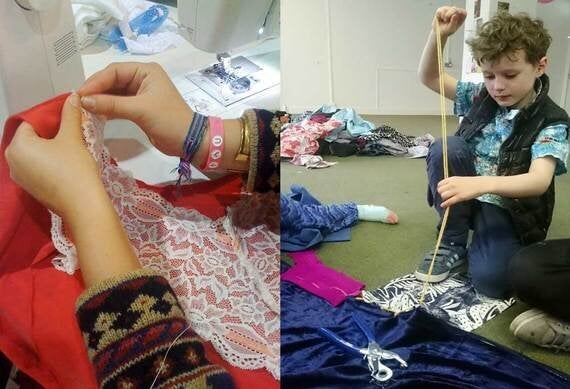 Adults & children stitching together textiles for the installation ©Daniella Bowyer
Her own upbringing in a cash strapped household meant that unlike a lot of her wealthier peers, she was usually dressed in clothes from charity shops. "The subject of fashion has been on my mind since I was growing up." she says. "As a teenager, I felt slightly embarrassed around my wealthier peers but my Dad always said fashion was for mindless followers, and he was right."
When Bowyer had her daughter, like many parents, her concerns about the future sharpened and she has become acutely aware of how over-consumption is ravaging our planet. She emails me with some thoughts around her art piece and talks passionately (which she describes apologetically as 'a bit of a rant') about fast fashion's expert exploitation of our desire to fit in and feel current, particularly children and young people.
"Our planet is being destroyed piece by piece by our economic choices. The pressure on extremely young children to be in fashion is utterly contrived by the fast fashion industry. It exploits children's vulnerabilities to fit in, and teaches them to have a disposable attitude to belongings. The throwaway society we are encouraged into - only made possible by cheap labour and poor quality clothing - results in more poverty and an endless feeling of 'lack'."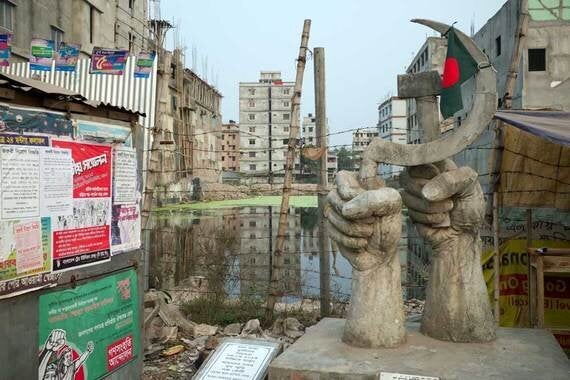 Memorial on the site of the Rana Plaza factory in Bangladesh which collapsed in 2013 killing 1,133 garment workers. ©Leigh McAlea
Bowyer believes we can reclaim this power by understanding that we can change it. She says "No-one HAS to buy cheap clothes. We can make a different choice. Our obsession with new is killing us and our planet. Soon, we won't be able to breathe, either psychologically or literally, if we don't re-educate ourselves and make more intelligent choices."
Her art piece - both the making process and the final installation - is designed to allow participants to connect with the problematic nature of our fashion consumption. The process of stitching together waste materials, followed by the final installation of a river of textile spilling through a public building for the community to interact with, inspires us to see the makers behind our clothes and the waste the industry is predicated upon.
"The workshops create a space for people to explore and discuss the realities of where their clothes really come from and who is involved. Consumers become workers, the viewer become the artist and a process of experiential learning comes about. A realisation they are temporarily experiencing what it is to be a faceless worker of the garments we wear. There is a dark poetry in it."
Help create the installation at free fortnightly workshops at Hornsey Town Hall, The Broadway, Crouch End, N8 9JJ. All materials included. Drop in any time between 11 - 4pm on Sat 24 and Sun 25 October; Sat 7 and Sun 8 November; Sat 21 and Sun 22 November; Sat 5 and Sun 6 December. The final piece will be installed at Hornsey Town Hall in December. Follow @traid@DaniellaMariaUK