Parvin sits on the bed in a small dark room where she lives with her three year old son Rasul in Dhaka, the capital of Bangladesh. She shares the room with another woman and her child. The bed takes up nearly all of the floor space, saris hang from the walls, hair oil, a brush and medicine sit on the only shelf in the room, and there is a pink plastic bowl on the floor for washing.
A huge crack runs across the entire width of one of the walls. One toilet, a tap and a gas burner are shared with many others. The rent for this tiny dilapidated room is 2,500 taka per month (around £21) and Parvin, who earns 5,000 taka per month (£41) working in a nearby garment factory, splits this cost with her roommate.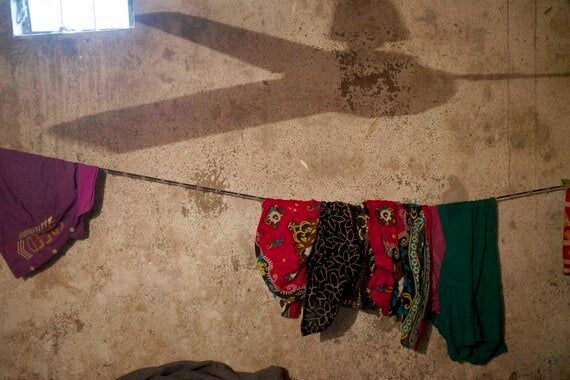 ©Leigh McAlea: Parvin's room, Dhaka
Last year, I visited Dhaka to meet garment workers, trade union workers and TRAID's local partners, working in different ways to improve conditions in the garment industry. I was invited into Parvin's home because her son Rasul attends a day care centre funded by TRAID where he is looked after while she is working.
Parvin told me more about what led her from a rural village into the heart of Dhaka, Bangladesh's overcrowded capital.
"I am 20 years old, and come from a village. I was adopted when I was three, and then sold to be married when I was 12 to an older man to satisfy a debt. My husband is 43 and was already married, but he had only daughters and wanted to have a son."
Parvin bore him two sons - Rasul aged three who is jumping around on the bed and an older son aged six who is back in the village - but her husband left her, and she is now a single mother.
She tells me that there were no opportunities to earn money in her village, and so, with her youngest child, she came to Dhaka over a year ago. She quickly found work in the garment industry and is a machinist at a factory making clothes.
A decade ago, Parvin would probably never have left her village to travel to Dhaka, no matter how dire her situation. Today, Bangladesh, one of the poorest countries in the world, is in the grip of an industrial revolution powered by garment manufacturing requiring an abundance of low skilled cheap labour. In the last ten years alone, textile exports have accelerated from $5 billion dollars, to over $20 billion dollars (2013), an astonishing increase.
In Dhaka, an estimated 5,000 factories jostle for space and provide employment for at least three million people, mainly women, who cut, sew and pack clothes destined for high streets in Europe and America.
These economic and structural changes have triggered sweeping social changes, including high levels of migration into the city for work, doubly compounded by climate migrants who have seen their homes washed away by increased flooding due to rising sea levels, and an increasingly feminised workforce.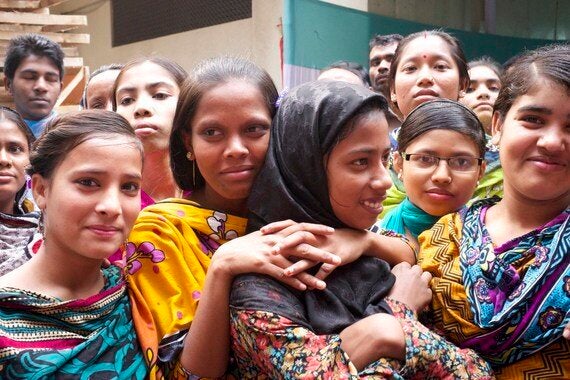 ©Leigh McAlea, Meeting garment workers in Dhaka
There are many female workers like Parvin, living with their children in Dhaka as single or abandoned mothers and without any networks of support. These extremely poor women make a stark choice between earning income in garment factories to subsist and survive, or their children's safety.
Under Bangladesh law, every factory must provide a crèche for the children of workers, but this is almost universally disregarded. When I ask Parvin if she knew about this, she says she had no idea about this law and tells me there are no crèche facilities where she works.
A few days later, when I visit the National Garment Workers Federation - one of the largest trade unions in the sector - I am told that even in the few cases where crèche facilities are available, they are of such poor quality with no food or drink provided, that mothers prefer to rely on any informal care they can cobble together.
The reality for many children, even extremely young children, is that they are left alone to fend for themselves.
In its work to support street and working children, TRAID partner, the Bangladeshi NGO Nagorik Uddoyog (The Citizen's Initiative), staff noticed that many of the children they worked with had at least one parent working in garments. Young children were being left alone for extremely long hours and at high risk of accidents, trafficking and abuse, while older children working to supplement their family's meagre incomes were often involved in dangerous and illegal work, notably drug dealing.
Nagorik's answer to this was to set up four centres providing day care for around 140 children, and it is here that Parvin is now able to send her son Rasul while she works making clothes.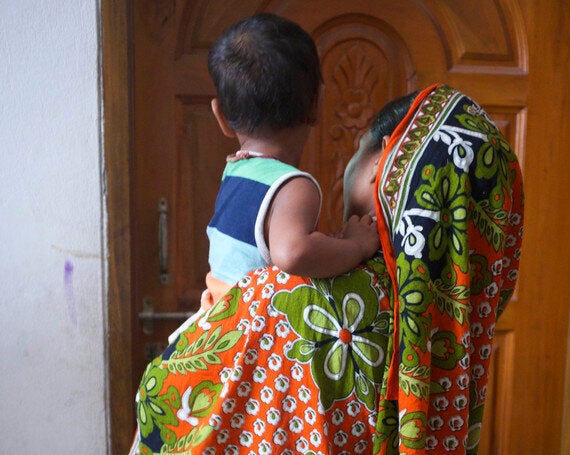 ©Leigh McAlea: Parvin dropping off Rasul at the day-centre
It's 7:30am and I'm walking with Parvin as she makes her way to the day care centre to drop off Rasul before going to the factory. She wears her factory identity card around her neck, which I'm told is compulsory since the Rana Plaza factory collapse in 2013 which killed over 1,133 people.
As we walk, she tells me that she found out about the centre by word of mouth and that it has been so life changing that she wishes there were more places like this in Dhaka.
Before the centre, she would tie Rasul to the bed post so he could move around but not leave the room, leaving food and water for him. Parvin's neighbours would sometimes check on him, but she couldn't rely on this.
"I wouldn't let him outside, it is too dangerous, and while I was working I was so worried and scared all the time that something would happen to him, I couldn't concentrate properly."
After about 10 minutes, we get to the centre and Parvin signs Rasul in, gives him a big kiss goodbye and hurries off to the factory. Rasul is swept up by one of the staff and disappears into the organised chaos inside.
At the centre, I talk to the teachers, carers and children. The centres are located close to the factories where the women work, and are big, clean and light. It is not much of an exaggeration to say this place feels like a different planet compared to where Parvin and Rasul live. It has a flushable toilet, clean drinking water, a kitchen where lunch of Mass E Bhat (fish and rice) is made in enormous stainless steel pots, books, toys, blackboards, colourful pictures and a sleeping area.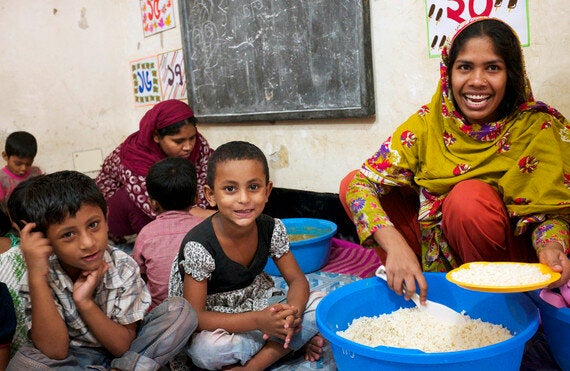 ©Leigh McAlea, Lunch time at the centre
Day-care is provided for children aged three to five - like Rasul - which includes learning the alphabet and counting, singing and playing, a nap and three nutritious meals per day. Hours are very long and flexible to fit with the mothers working hours with the centres usually opening around 6am.
Each centre also provides a drop-in for working children aged six to sixteen. The children I met work at varied jobs including selling ready-made garments in markets, one worked in a small textile factory, another six-year old girl had a job peeling the skins from onions in a vegetable market, and another boy sold chickens. Others were working doing domestic chores including looking after their younger siblings while their mothers worked.
I spend a lot of time with the older children as they work in the classroom. They are sat cross legged on the floor and watch the teacher at the blackboard who is writing words in Bangla. They are all nicely dressed, with books, pens and black fabric school bags. They are without exception completely concentrated as they copy the words on the board into their books.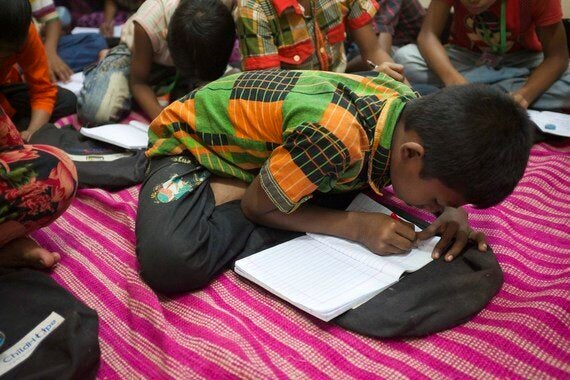 ©Leigh McAlea: Learning the alphabet
The hours they spend here learning have been hard fought from employers, and sometimes even their parents, and so there is an intensity and focus in the room as they try to soak up as much information as possible before going to work.
The following day, with Joyeeta Hossain from Nagorik Uddyog, I visit a local indoor market where three of the older children work. The employers have given us permission to visit and talk to them, although when we arrive, one has changed his mind.
Two of the boys - Akash and Nazir work on stalls selling shirts. The other, Tanay, works in a badly lit section of the market where around 10 young men work drilling holes into metal. None are wearing hand or eye protection.
It is probably here in the market, watching the boys at work folding and packing shirts, and making price calculations for customers on bits of paper, that I understand most clearly that literacy and numeracy is the single most important element to breaking the cycle of poverty that without the centres, they would be locked in.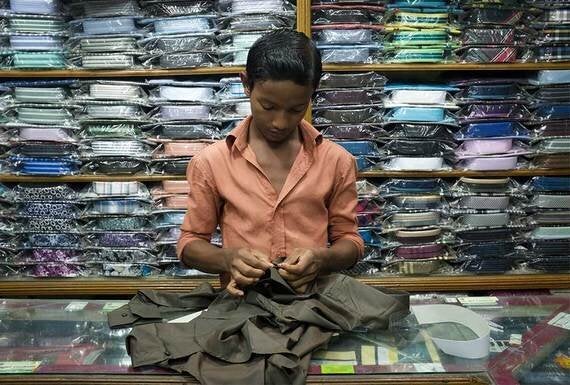 ©Leigh McAlea: Akash, a student at the day-centre, works in a local market selling shirts.
With a high though rapidly improving illiteracy rate in Bangladesh, numeracy and literacy will give these children who had no opportunity to be educated in school, a huge advantage, helping them to get better paid safer jobs.
I talk to the employers on the clothes stalls and they tell me that they are glad their employees are learning to read, write and do numeracy. But the reality is of course more complicated.
Joyeeta tells me that initially, the employers were very reluctant to give the children a few hours to attend the drop in (hours which the children make up). She tells me even some of the parents need persuading as they are worried about the children losing vital income.
She explains, "It isn't enough to provide the education, we have to make sure that they can attend in the first-place. We do a lot of community outreach work to get parents and employers to understand the long -term benefits of an education."
They are even tackling issues like making sure children have birth certificates. Most children in the centres have no paper work as they were born outside of hospitals to often illiterate parents. Without birth certificates, these children are further disadvantaged as they are not recognised citizens, they can't go to state schools, they can't get medical help in state hospitals, and without proof of age, they are more vulnerable to child labour and early marriage.
Five animations created by children at the centres about why birth registration is important. Facilitated by Rainbow Collective & Alex Noble
This wonderful package of support includes care, education, food and some medicine, and eases the burden in unimaginable ways on the mothers working for long hours and little pay in garment factories.
Without the centres, these 140 children would be left to fend for themselves. They would be at risk of trafficking, accidents and abuse. For the older children who work, there would be no respite, no alternative and no chance to improve their life skills.
Parvin, and millions like her, earn such a pittance, that they are trapped in a cycle of poverty. They cannot afford to send their children to school and they find it difficult to give them nutritious food. So, children work to supplement incomes and families become locked in inter-generational poverty.
These centres help to break that cycle that will be felt through future generations. The risks and behavioural problems young children face when left without care are reduced. Older children get educated and vitally, in doing so they end up in safer and better paid jobs enabling them to provide for their own children.
But, is helping 140 children enough? As one of the staff at ChildHope, our UK partner, memorably said, "This project is small but beautiful". It is beautiful because the impact extends far beyond 140 individuals, helping to break the cycle of poverty for future generations.