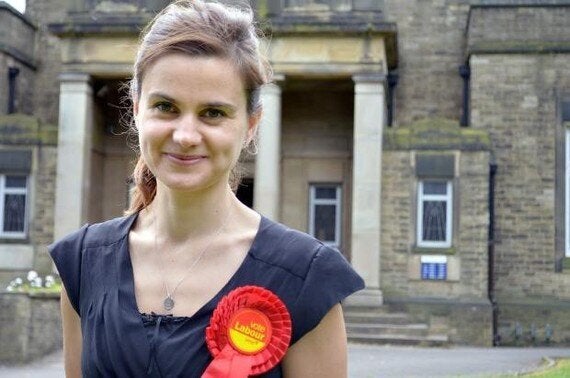 The Syria civil war is the greatest humanitarian crisis experienced by my generation. Over the last few years I've watched leaders on both sides of the House let a crisis turn into a catastrophe through inaction. Jo Cox was one of the few MP who fought, with courage and dignity, for a credible strategy to protect civilians in Syria. To me she represented the proudest traditions of the Labour Party. The Labour Party of progressive internationalism, that led action to protect civilians in Kosovo and Sierra Leone, that was unequivocal in its opposition to Apartheid in South Africa.
She understood that the British government and the Labour Party should never turn its back on the world. In a year in which I've struggled to reconcile my differences with the Labour Party leadership, I looked at the likes of Jo Cox as the bearers of Labour's internationalist flame. It's MPs like her who kept me within the Labour Party and kept me fighting.
I heard about her killing on Thursday evening. I was in Lille in northern France, outside a bar in the central square, enjoying a few drinks and celebrating England's victory over Wales that day. I checked my phone and saw the news. I couldn't bring myself to go on social media until I arrived home in London two days later. I was simply getting too upset. I guess that by reading just one news stories, I felt I could deny what had happened. I could bury my head in a plastic cup of beer and tell myself that it did not happen, that it could not have happened.
Jo's work in Parliament touched and changed lives. Alongside Andrew Mitchell she set up the Friends of Syria all-party group and opened the doors to Syrian voices in parliament. Her tireless work changed government policy. Because of her campaigning we as a country agreed to double our own aid to Syria. You only have to see the outpouring of grief from the Syrian Solidarity Campaign and Syrian White Helmet to see how this MP from Batley and Spen touched their lives. It's the Syrian White Helmets who risk their lives daily to protect civilians in Syria, and in Jo Cox they knew they had a comrade.
Although I came down in favour of extending airstrikes against ISIS in Syria, I won't forget her principled stand to abstain on that vote. Her statement was full of her steely grit and pragmatism, and her deep humanity. Her arguments were clear headed and nuanced. It was clear she had little time for the grandstanding and posturing of some of her colleagues.
Jo Cox was one of bravest and most outspoken champions of the rights of refugees. I am so sad that she is gone because when she spoke I hoped the world would listen. A humanitarian to the core, her plea to allow 3,000 unaccompanied child refugees into the country was one of the most powerful and emotive I heard. She had little time for party-political games and was a model for doing politics differently. Even as a new MP she would reach across party lines. For her it was about getting things done, not party political point-scoring. In this she has taught me a lot.
It feels strange being heartbroken over the passing of someone you never met. Yet Jo Cox rekindled my faith in politicians and for that I'll be forever grateful. I know her legacy will inspire me for years to come.