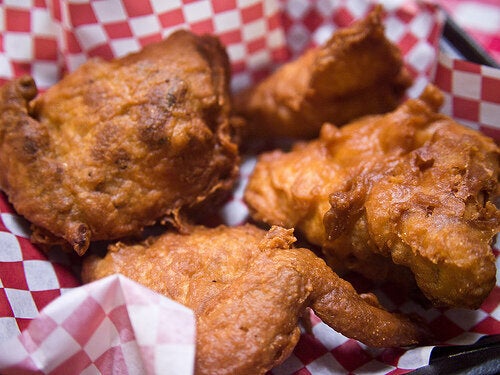 Obesity costs the National Health Service £5billion each year.
The modern epidemic of the developed world, obesity is now as prevalent in the UK as the fast food shops that line our local high streets. KFC, Burger King and Domino's Pizza are just a few of the names that make up a fast food market worth over £4billion annually.
Fried chicken is the fastest growing of all fast foods. With sales booming and more than 2,100 different chicken shops now open in the UK, this increasingly competitive market is rapidly replacing the traditional fish and chips as the go-to choice for hungry people in a hurry. Cheap, quick, filling and easy to eat on the go, its market share is likely to keep growing.
Roosters Spot is an upcoming franchise, providing "The finest quality Halal chicken meals" under the slogan: 'No one does chicken like Roosters Spot'. Their flagship store in Clapham, south-west London was recently the star of a Channel 4, Cutting Edge documentary, The Fried Chicken Shop: Life in a Day. Using a 'mini-rig' of fixed cameras, producer Yonni Usiskin offers viewers an intriguing insight into modern London life through the window of this bustling fried chicken shop.
The hour-long program starts with a few facts and figures:
In Britain, chicken used to be a luxury - we used to eat the equivalent of one a year. Now we slaughter 3.5 million a day and eat more of it than any other meat. How and where we eat chicken has changed and our high streets are changing with it.
Frequented by local regulars during the day and party revellers by night, Roosters Spot is open on average 17 hours a day, seven days a week, 364 days a year. At the weekend, manager Ali and his team of staff can serve up to 1,000 people a night and stay open until 6am. Hungry customers order crispy wings, grilled nuggets of chicken and side orders of chips. There's no time for knives and forks in the land of fried chicken. The experts tear chicken flesh straight off the bone with their teeth, pausing only to suck the spicy sauce of their fingers and perhaps add another glutinous dollop of mayonnaise. Salt shakers are used liberally and cans of Coca Cola and fizzy lemonade re-hydrate thirsty diners.
It is a well-known fact that fast food is bad for you. Relentless campaigning by the government's public health watchdog reminds us of this continually. Newly implemented traffic light food labelling now draws attention to fat, salt, sugar and calorie content in pre-packed food. So, where does fried chicken fall in the artery-clogging spectrum of fast food options?
Kentucky Fried Chicken, the undisputed market leader of the fried chicken industry, has a nutritional calculator on its website. A quick scan of the data reveals that a spicy crispy chicken breast contains 520 calories, 34 grams of fat and nearly 1.5 grams of salt. Red traffic lights all round.
In fact, this nutritional data reflects KFC's attempt to serve healthier food. In an effort to tackle the poor nutritional quality of its fodder, in 2005 the fast food giant stopped salting its chips and reduced its use of trans fats as part of a wider salt-reduction programme. The smaller fried chicken businesses however, are not so amenable. They thrive off the basic fact that salt is addictive and once consumers become accustomed to it, they crave it more and more. Good for business, bad for the body. Salt is one of the primary causes of high blood pressure which cause strokes, heart attacks and heart failure, all of which kill. Professor Graham MacGregor, chairman of CASH (Consensus Action on Salt & Health) says about Britain's booming fried chicken business:
Obviously in an ideal world you would change the consumer choices, but it's almost impossible with salt. For the more deprived people in this country there's no way they have any choice when they buy the cheapest food, there's no way they're going to look at the salt level.
Tower Hamlets is one of the most deprived, highly populated and ethnically diverse boroughs in England. A report by the Healthy Borough Programme revealed that for every school in the area, there are 42 fast food outlets. Some children in the borough eat up to 16 takeaways a week. Unsurprisingly, Tower Hamlets' residents suffer from high levels of obesity and shorter life expectancy rates.
So, as Britain plunges deeper into a spiralling obesity crisis, will we manage to break the cycle of unhealthy eating or are we headed for a slow and painful demise?
Proposed solutions range from fewer fast food outlets near schools and a 20% increase in the cost of sugary drinks, to suggestions that those suffering from obesity related diseases pay for their own medical care.
The future looks bleak, with analysis by the government's Foresight Programme predicting that by 2050 over half the UK adult population could be obese. It's clear that drastic mass-action must come from government, healthcare professionals and the food and drink industry. But most importantly, till we as individuals muster the will power to choose carrots over KFC, we haven't got a hope in fried chicken hell.
Image courtesy of Flickr, Creative Commons, Edsel L
Also on HuffPost UK Lifestyle: