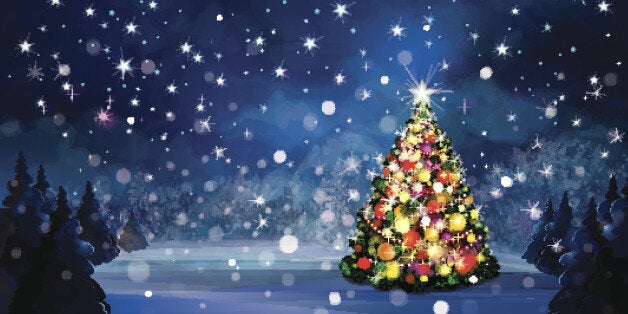 By now, our tree stands proud and decorated in the living room. Our skis have been revived from aestivation and have carried us across sheets of snow lit by moonlight. Our cozy house has witnessed rounds of hot chocolate topped with dollops of fresh whipped cream, and a weighty bag of pecans sits ready on the kitchen counter for a pie. Our holiday lead up is in every way typical, with the exception that we have very few presents under our tree.
Though Christ preached that we should spend our money to help the poor, our culture has come to celebrate the birth of this man by overloading loved ones with video sunglasses and Bluetooth talking gloves. Instead of time for joy, reflection, community, and spirituality, the 12 days of Christmas--and increasingly the 8 days of Hanukkah--have become hijacked by the anticipation and accumulation of stuff.
Unfortunately, this stuff has not resulted in happiness, joy, or well-being.
A decade of psychology research has shown that once basic needs are met, additional material items will only marginally improve our happiness and well-being, if at all. At that point, what counts for the good life is the accumulation of experiences, which brings more happiness than possessions. Even in the moment of anticipation, when the presents remain poised and wrapped, science tells us that anticipating a future experience would make us happier than the anticipation of unwrapping any thing.
The accumulation and distribution of stuff has also resulted in the accumulation of debt. The average American spends about $800 on Christmas, contributing to the country's $11.6 trillion in consumer debt. Not to mention the 25 percent increase in household waste between Thanksgiving and New Year's Day, resulting in about 1 million extra tons being tossed into landfills each holiday season.
These realities are something that we from the confines of our tiny household, and others more broadly such as Bill McKibben in his call for the $100 holiday, or Annie Leonard, through her Story of Stuff Project, have learned in the course of life. As a result, we and many others have limited holiday presents within our families, not because we want to or enjoy being martyrs, but because we know that six-piece apple cutters only clutter, and that buying less means living more.
Research tells us that if we want to have happiness this holiday season (or at any other time of year), the surefire solution is to anticipate, create and accumulate experiences with the fleeting, sacred time we have. Never gone ice skating? Carpe diem! Never baked a pie from scratch, listened to a Festival of Nine Lessons and Carols from King's College, Cambridge on BBC Radio 4, or done both simultaneously? I promise the experience will not leave you disappointed. Even if the pie spontaneously combusts, such an experience makes for an excellent story.
Despise someone? Now is the chance to reflect and let go of unrequited love or more general disappointments by resurrecting the Yule log, and ceremoniously put the past's more unpleasant experiences to flame.
Further, science tells us that if we really, really want to be happy, helping another, whether with friendship, a warm coat, a shelter, a meal, or a vaccine can provide us with the greatest surge of happiness of all. So once the Yule log has turned ash, volunteer, donate to a good cause, or go outside and spread seeds to the birds (St. Francis of Assisi said that even the animals deserve a happy day).
Of course, such behaviour has far reaching impacts. Not only could it result in greater happiness and less debt, it could fundamentally change our economy. The creation and production of the unnecessary could well suffer. It could mean that consumption will no longer be sacred, and that success would have to be measured by something other than GDP. But the poor and the marginalised will likely breathe a little easier, and the charismatic creatures that increasingly grace our lives only on wrapping paper, and less and less in the real world, will benefit.
This Christmas, I look forward to a house filled with the warmth of pie and a day of adventure with those who I hold close. There will be few presents, in a trade off that I believe, is worth it.