An hour and a half northeast of South Sudan's capital Juba by light plane, near the border with Ethiopia, the parched red earth below is dotted with bright green trees. Within weeks, the wet season rains will turn this 'runway' or strip of bare earth that we land on, into a muddy quagmire, making access incredibly difficult.
Travelling by four wheel drive to one of Save the Children's treatment centres for malnourished young children, we travel down a picturesque avenue of trees, their canopies providing welcome relief from the hot day.
In the remote town of Akobo, many of the family compounds are neatly fenced with bamboo, enclosing clusters of mud huts or 'tukuls' with grass rooves. There is much construction underway - these dwellings require constant maintenance and this time of year, just before the rains arrive, is when huts are rebuilt to protect against the rains.
Life here is basic. There is little electricity, but some huts have small solar panels on their rooves to exploit the one resource that is here in abundance: sunshine. All seems calm and peaceful in the early afternoon, but this is a place full of suffering.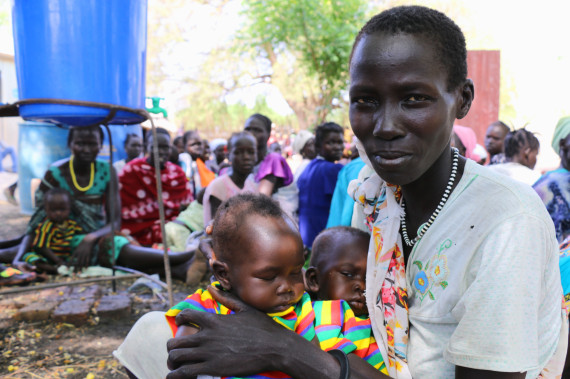 Makwach with twin daughters Nyalith and Nyandeng
At Save the Children's stabilisation centre, dozens of women in colourful dresses sit on woven bamboo mats and plastic chairs waiting to have their babies and children assessed or treated for malnutrition. Among them are at least two sets of twins.
Makwach*, with her hair cropped close, has sad eyes that crease into a small smile when I introduce myself. She has five children, including eight month old twin girls called Nyalith* and Nyandeng*, who she nurses in her lap as they fitfully doze. Both are being treated for severe malnutrition.
"When I was pregnant, there was not enough food. I tried to breastfeed but there was nothing," she tells me through an interpreter. Her daughters have been in treatment for three weeks, eating a high nutrient peanut paste. They are gaining weight and their health is improving.
"For my other children, there is no food."
Makwach says sometimes they eat leaves to survive, she can collect and sell firewood for a little money, and if they're lucky they catch fish in the river. Getting access to food has been a problem since the civil conflict escalated about four years ago.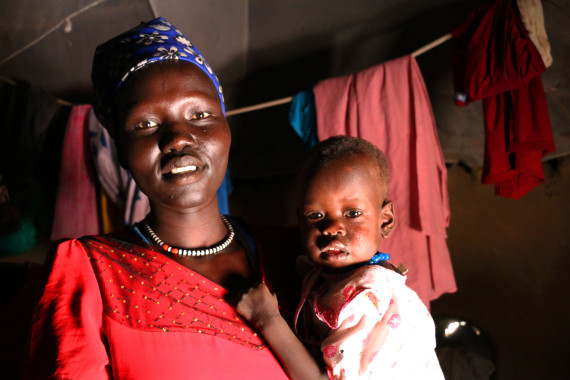 Majur is a mother of four children
Unpredictable outbreaks of fighting in the region have made agricultural produce unreliable and one favoured method of warfare - cattle raiding - has left many without their only assets.
"Before there were cattle and goats and we used to grow vegetables in a little garden. Now there are no cattle and no goats - they were all taken." The garden was flooded.
"My children are suffering. It is a very bad future, because there is nothing to feed them." Makwach tells me she is losing hope.
Nearby sits 19-year-old Nyaliak* with her only son, Chuol*. She was married at the age of 15 - not at all unusual in this region - but her husband left to fight with an armed group a few years ago and she hasn't seen him since. She comes from a village in the region but fled - alone with her son - to the town of Waat because of fighting. She then fled to Akobo to stay with relatives and get help for her sick child. All up, she walked for three days to make it here to relative safety.
Her son was treated for pneumonia, and is now being treated for malaria. Chuol is also severely malnourished, and has lost the use of his legs. He's very unwell.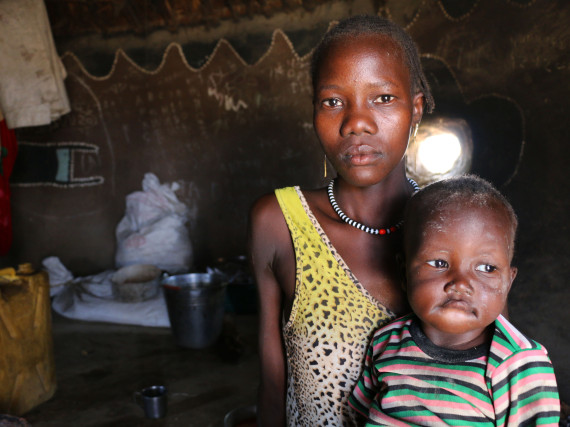 Nyajok with son Tut
"Two things are not making me happy. My husband is not here with me and my child is sick," she says, her eyes downcast.
"When I arrived here there was no food but yesterday they gave out rations for displaced people." They were given sorghum, lentils and oil.
Under the system widely used to classify food insecurity, the region is just one step away from famine. Save the Children and other NGOs are doing all they can to prevent places like this from sliding into famine and to save the lives of children like Chuol, Nyalith and Nyandeng.
But nutrition workers here at Akobo are seeing this crisis escalate. Last month, 348 children were treated here for severe acute malnutrition, with 142 new cases recorded. The coming rains will bring with them the threat of water borne diseases and other illnesses that may prove too much for the compromised immune systems of the weakest - the babies and children already suffering from illness and malnutrition.
Time is running out but with the world's support, we can stop this famine in its tracks and save the lives of the most vulnerable.