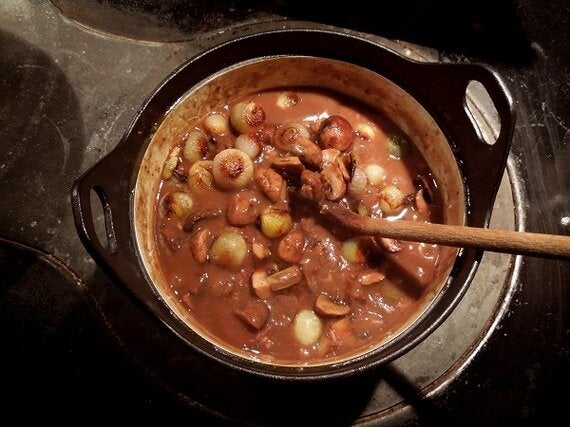 It pays to get ahead at Christmas. A bit of effort now - assuming you have the freezer space - and you'll have something warm and comforting to come home to after Midnight Mass or to feed the assembled family when you've all tired of turkey.
A personal favourite is the classic Boeuf Bourguignon, slow cooked in a good red wine and garnished with baby onions and mushrooms. Serve it with celeriac mash or just buttery mashed potato and some steamed broccoli or carrot batons and you will have peace and goodwill at the dining table.
You can marinade the beef, if you like, in the red wine with the addition of two tablespoons of olive oil and a sliced onion. Leave it for four to six hours and keep the strained marinade to add later in the cooking.
Or you can skip this step, as I did. I made twice the quantity below. If you'd like to do the same, just double up on all the ingredients.
Classic Beouf Bourguignon (serves 4-6)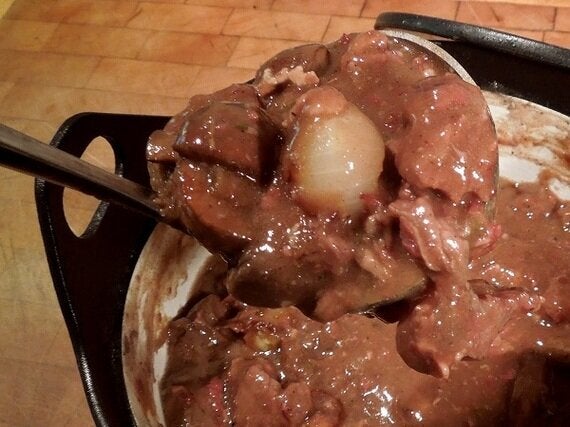 1 kilo stewing beef (shin is best)
About 85g streaky bacon, smoked or unsmoked
300ml good beef stock, preferably home-made
Bouquet garni of thyme, parsley and bay leaf
Freshly ground black pepper and maybe a little salt
Trim the beef of any gristle and cut into large bite-sized chunks.
Peel the onions - a labour of love - and quarter the mushrooms if they're too big.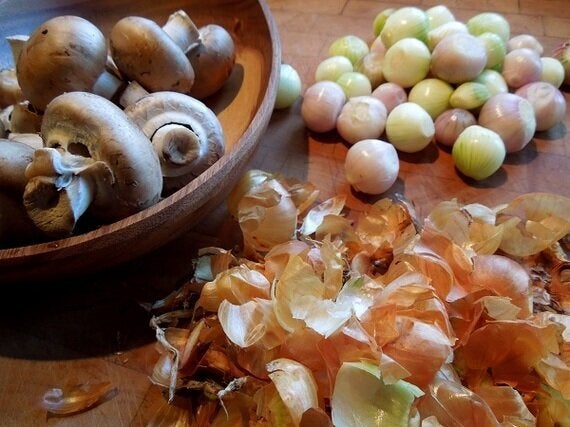 Heat a couple of tablespoons of olive oil in a large, heavy pan and quickly fry off the beef in batches until browned on all sides. Remove from the pan and set aside.
Cut the bacon into lardons and melt them in the pan until they're translucent but not browned. Remove and set aside with the beef.
Add a little more oil to the pan and fry the baby onions until golden all over. Set aside until later.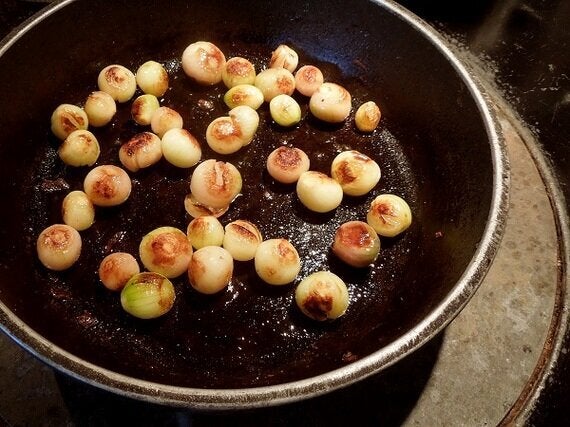 Now add the mushrooms (whole if possible, quartered if large) and fry for a couple of minutes to get rid of any excess moisture. Set aside with the onions.
Put the beef and bacon back into the pan, stir through the flour until it has amalgamated and pour in the red wine. (This is where you add the strained marinade, if using.)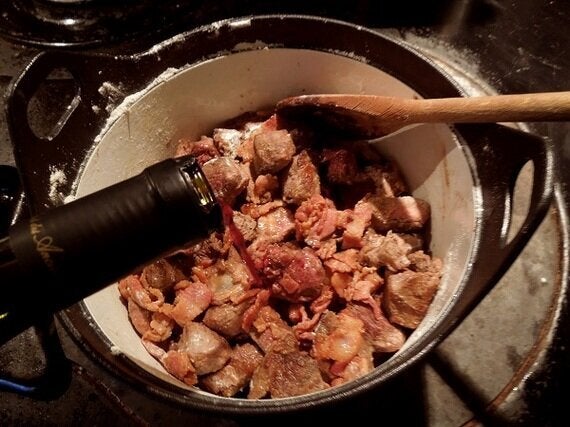 Let it bubble up for a minute or so and add the beef stock, garlic clove and bouquet garni. Season to taste with plenty of freshly ground black pepper but go easy on the salt because of the bacon. Cover and simmer gently on top of the stove for two hours.
Then add the mushrooms and onions and cook for another half hour or until the meat is meltingly tender.
If you're not eating the stew straight away, add the mushrooms and onions but finish the cooking on the day you want it. This freezes well and is all the better for being reheated at a later date.