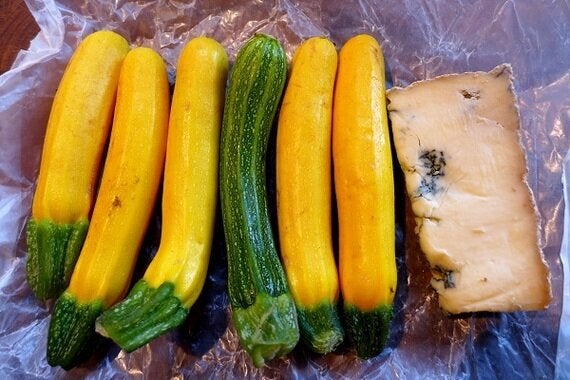 My fridge is still filling up with courgettes from the garden. As anyone who grows them knows, they're like dinner guests who just don't know when to give up and go home, welcome when they first arrive but eventually a bit of a yawn.
I usually marinate my visitors in large amounts of wine, although when I say I have people over for dinner I don't actually cook them and serve them with fava beans and a nice Chianti. It is World Vegetarian Day, after all. With the courgettes I have no such qualms, so I bathed this batch in cream and cheese and put them in the oven.
Him Outdoors, who normally loathes courgettes, loved this. The cheese melts into the cream to form a luxurious sauce while the courgettes still have a bit of bite. With crusty bread and a green salad this makes a quick vegetarian main course. It's equally good as as a side dish.
Courgette and Blue Cheese Gratin (serves 2)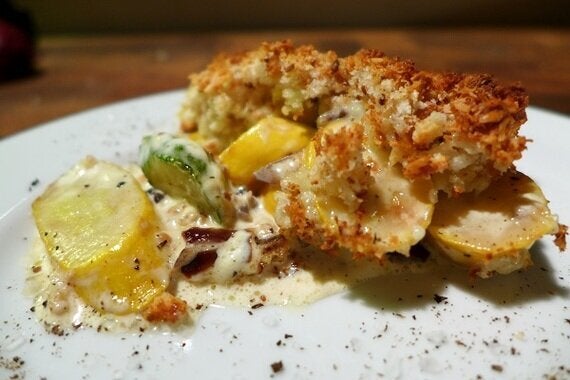 6 smallish courgettes (about 350 g total weight), cut at an angle into 1 cm rings
1 red or white onion, peeled and diced
About 75g blue cheese (I used Stichelton), cut into small cubes
Heat the oven to 230C/450F/Gas Mark 8.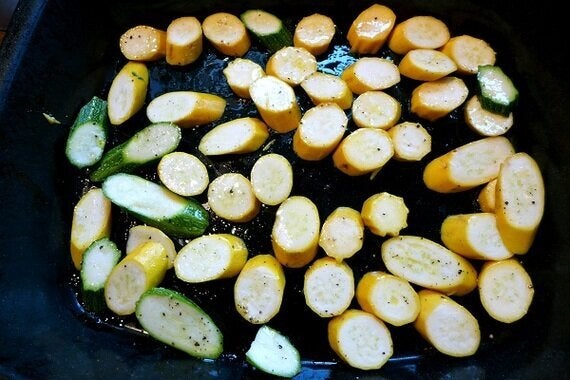 In a roasting tin, toss the courgette slices with some oil, salt and pepper and cook in a single layer at the top of the oven for about 10 minutes until barely soft. Remove and set aside on a plate lined with kitchen paper. Reduce the oven temperature to 200C/400F/Gas Mark 6.
Fry the onion in a little oil until soft, adding the finely chopped garlic towards the end. When they're done, put them in a bowl with the courgettes and cubed cheese and mix well, adding more seasoning to taste. Place in an oven-proof baking dish.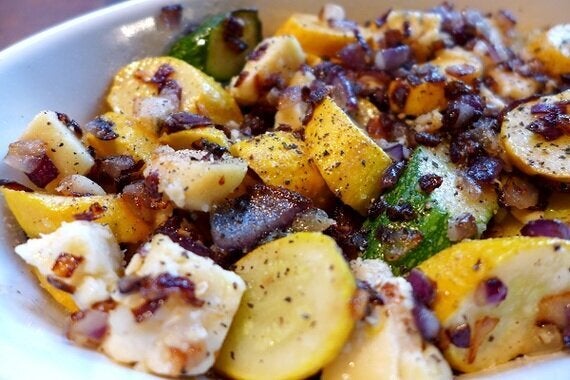 Pour the cream over the vegetables. Mix the breadcrumbs with the grated parmesan and scatter evenly over the top. Dot with a little butter and bake for 15 minutes at the top of the oven or until browned and bubbling. Allow to cool a little before serving.