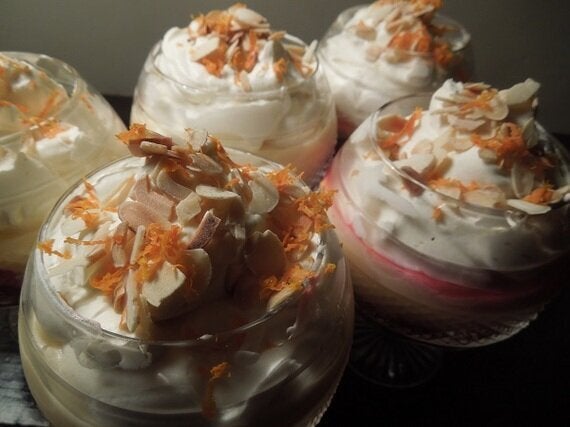 Syllabub - a sort of boozy sweetened cream - is one of those old English desserts that's mostly fallen out of favour but deserves a renaissance. It makes a wonderfully light cloudy topping for this almost equally old-fashioned pud, the sherry trifle.
This is a quick version. You can of course make your own sponge cake but I like the sugary crunch and vanilla scent of shop-bought boudoir biscuits, otherwise known as ladyfingers, Savoy biscuits or just trifle sponges.
You can also make proper custard but again I cheat and buy ready-made. It's a mistake to buy the posh sort made with eggs and cream and flecked with vanilla sold by some supermarkets, they're too thin. You need the thick sort sold in cartons that your grandma poured on jam roly-roly, secretly loved by ex- schoolboys throughout the land (the custard, that is, not your grandma).
This recipe makes one large trifle or half a dozen individual ones. You can make it up to 24 hours ahead but don't put the garnish on top until just before you serve it or the flaked almonds will go soft.
Raspberry Syllabub Trifle (serves 6)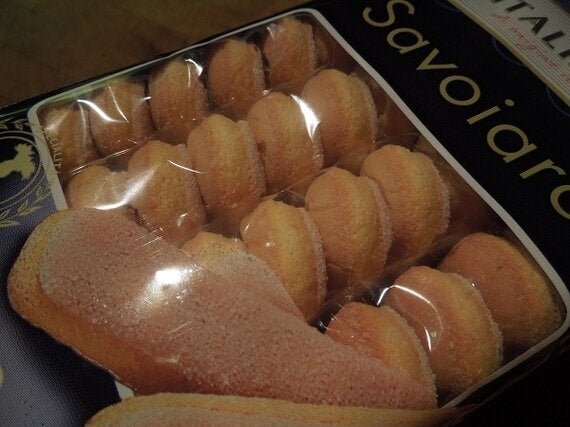 1 packet of trifle sponges (about 170g or 8 sponges)
140g amaretti biscuits (the hard ones)
140 ml sweet sherry (I used amontillado)
800-900g fresh raspberries (frozen are fine but defrost them in a strainer first or the trifle will get too soggy)
570 ml ready-made custard
400 ml double cream (heavy cream)
The grated zest of two oranges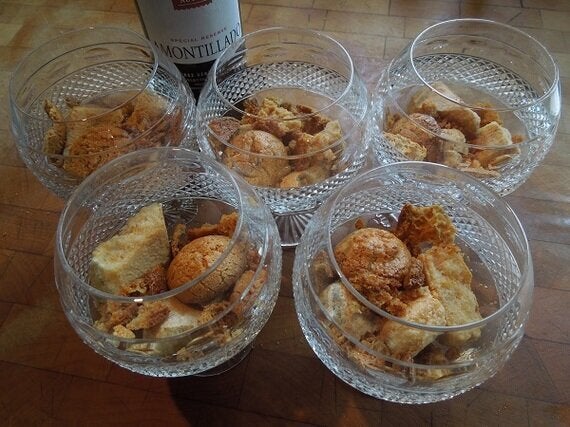 Break the trifle sponges into large-ish pieces to fit the base of your bowl(s) along with the amaretti biscuits.
Soak with the sherry and, if using, the brandy.
Warm the jam until it's runny and pour it over the soaked sponge.
Layer the raspberries and almonds on top then pour over the custard.
To make the syllabub topping, put the sherry, brandy and lemon juice in a bowl and add the sugar, stirring until it has dissolved.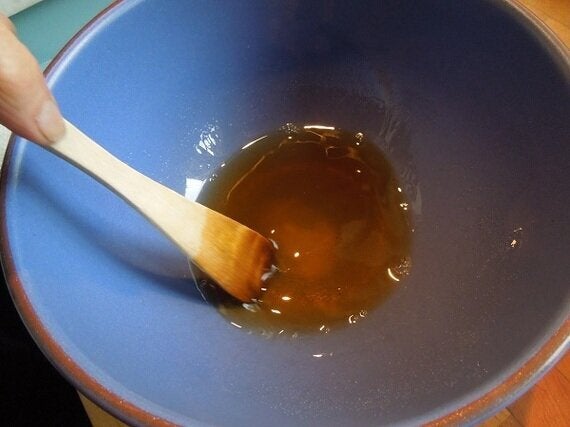 Pour in the cream, add a grating of fresh nutmeg and whisk until it holds its shape. Don't overwhisk or it may split.
Spoon the syllabub over the trifle and put it in the fridge, preferably overnight.
Just before serving, toast the extra flaked almonds in a dry pan until they're turning golden - be careful, they burn easily.
Scatter onto the trifle(s) and grate over the orange zest. Eat. Go for a lie down.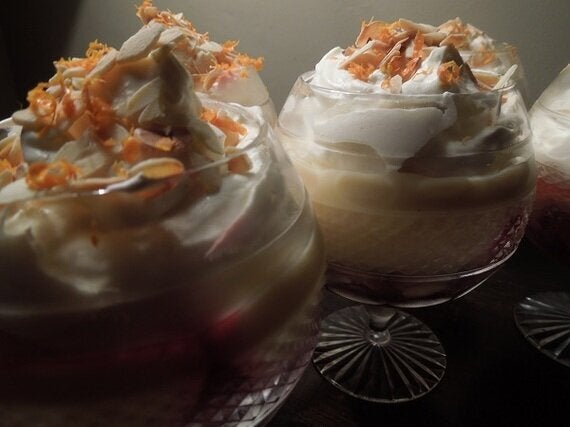 All images supplied by Linda Duffin