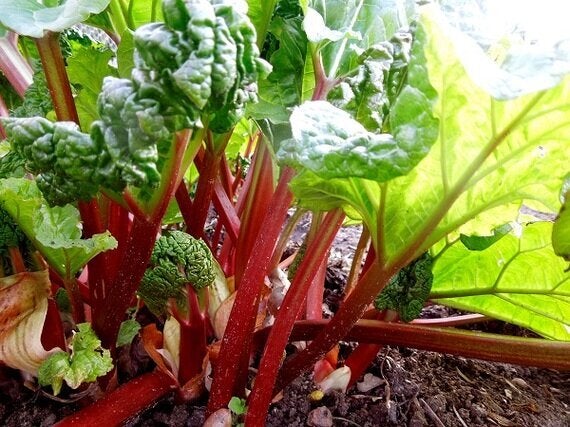 Him Outdoors remarked the other day that I rely rather too heavily on crumbles when I'm making puddings. He's right, I do, but I noticed it didn't stop him eating this one.
The reason I make them so often is that a) we tend to have a lot of home-grown fruit either in the garden or in the freezer, b) they're easy and you can make the various component parts in advance and assemble them at the last minute if you've got a crowd coming for lunch and c) because I like them, okay?
I like the flavour combination of the raspberries with the rhubarb, though of course you can mix and match using whatever you have handy, or be a purist and just stick to rhubarb alone (no pun intended). The chopped, toasted hazelnuts in the topping work well with these fruits but you could try flaked almonds if that goes better with your personal combo.
Rhubarb and Raspberry Crumble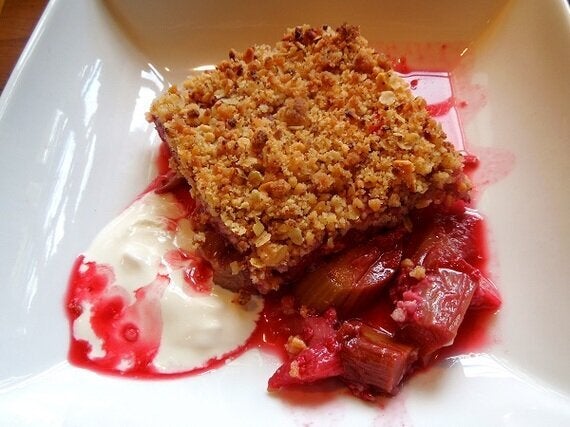 About 10 sticks of rhubarb
A double handful of fresh or frozen raspberries
100g butter, cut into small pieces
2-3 tbsp chopped, toasted hazelnuts
Heat the oven to 180C/350F/Gas Mark 4.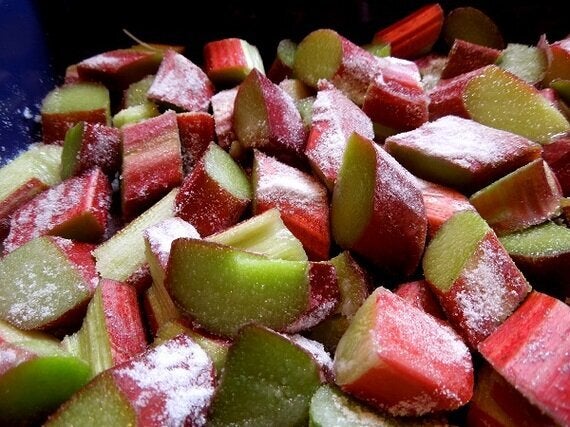 Cut the rhubarb into small chunks, scatter with the sugar and bake in the oven for about 10-15 minutes, until tender when pierced with the tip of a knife but still holding their shape.
Remove from the oven, strew the raspberries over the top and if they're frozen leave them to defrost on the hot rhubarb while you make the crumble topping.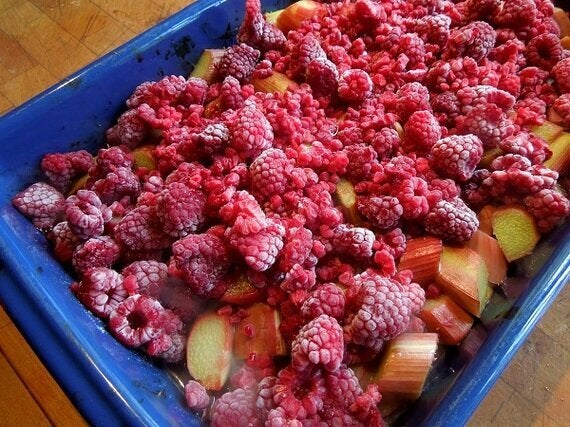 Either mix the sugar, butter and flour in a food processor or rub the mixture between your fingers until it resembles fine breadcrumbs. Stir through the chopped nuts and oats. (You can prep the crumble and the fruit to this point and refrigerate overnight.)
Check the fruit and if it is swimming in juice, pour some off. Sprinkle the crumble topping over the top and cook for 25-30 minutes or until the topping is golden brown. Allow to cool for five to 10 minutes before serving with cream, crème fraîche or vanilla ice cream.