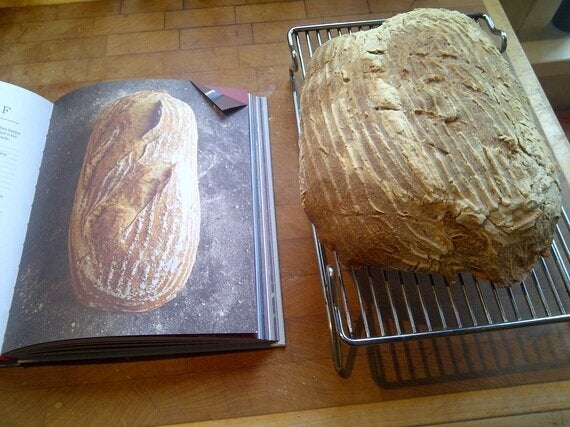 An early attempt that, ahem, looked nothing like the photo
When I first tried my hand at sourdough, I could have passed the loaves onto historical re-enactors to use as cannonballs. I'm a fair hand at most kinds of cooking but the talent for making a decent sourdough eluded me.
I'm one of those 'a dollop of this and a glug of that' kind of cooks, which doesn't sit well with the precision needed for bread-making and baking. You can't knock up a sourdough loaf at the last minute either, and planning ahead isn't one of my strong points. Add to that the attention span of a gnat and a consequent failure to feed my sourdough starters, or mothers, and it's a wonder I haven't been had up for serial matricide.
By trial and error - and it was something of a trial with numerous errors - I finally got to the point where I could produce a loaf that rose, baked well and tasted pretty good. But I wanted more: a professional finish, more confidence, the skills you learn by baking literally tons of dough over many years. But I wanted it now. The answer, of course, was to learn from a professional.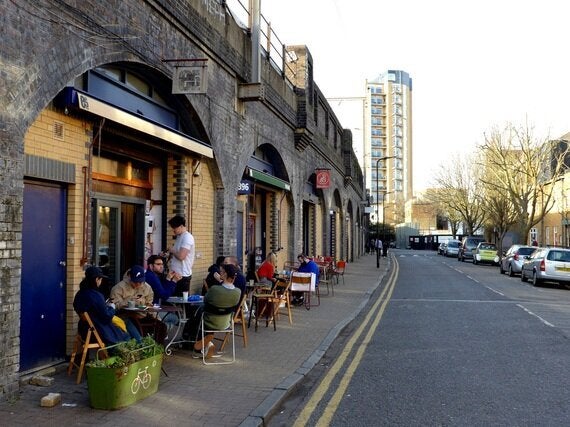 So I booked myself onto a bread-making course at the e5 Bakehouse, an organic, artisanal bakery in Hackney in London. At £120 for a day's course, including lunch and afternoon tea, it's remarkably good value. A close friend lives nearby so I have breakfasted (and lunched and dined) on many an e5 loaf over the years and I knew their bread was good. The icing on the cake, so to speak, was discovering that e5's founder, Ben Mackinnon, comes from my home county of Suffolk.
The e5 Bakehouse has a couple of small mills to stone-grind some of its own flour and a couple of years ago Ben, concerned about the monoculture of the wheat grown commercially on most British farms, bought what he calls 'a small farm or a large field' near Coddenham in Suffolk.
The five and a half hectares gives him space to experiment with growing his own organic grains as well as getting some fresh air and getting properly muddy. As a nation, says Ben, "we give a lot of attention to organic vegetables but very little to the wheat that makes our bread. We grew oats and buckwheat successfully in our first year. Last year's wheat was a failure but this year we're growing a Danish variety, one which dates from before the widespread use of chemicals. Growing our own is a good way to learn about the farming side and the ultimate aim is for all the flour used at the Bakehouse to be British-grown."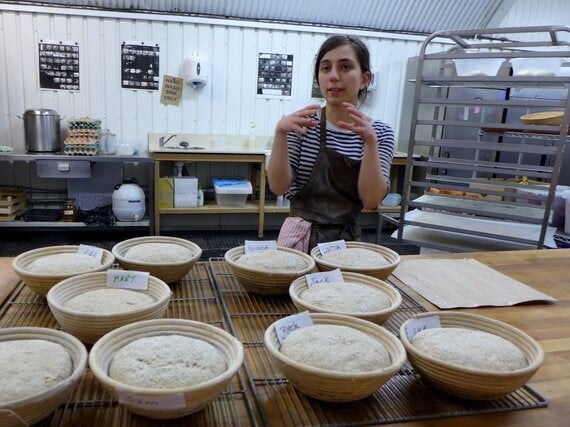 Ilinca tells us how to get to grips with our bread dough
There's a genuine community feel to the e5 Bakehouse and our teacher on the course was Ilinca Dianescu, who has been with e5 since it began in 2011. She has probably made more loaves than she's had hot baths and that's not a reflection on her personal hygiene, merely a way of saying she's a highly experienced baker.
After a preparatory chat over coffee, she soon had us weighing out the ingredients for four different types of bread: Hackney Wild, which is e5's signature sourdough, bagels, ciabatta and a 66% rye loaf.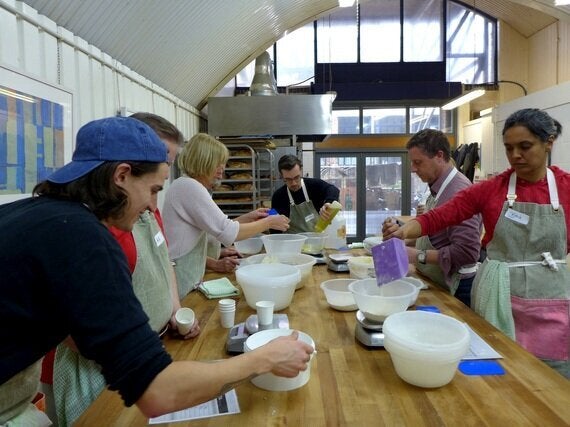 The class weighs out the ingredients
E5's loaves begin with a basic rye flour sourdough starter, which is then fed with the relevant flour - white, rye, wholemeal or a combination - to make a leaven. This is left for anything up to two days for the natural yeasts get to work before the final mix of flour, water and salt is added.
They don't knead dough in the traditional way but use a stretching and folding method, repeated every 15-30 minutes for up to two and a half hours, depending on the dough they're making. Finally the loaf is shaped and given its final prove, either free-form or in a proving basket or banneton, before baking.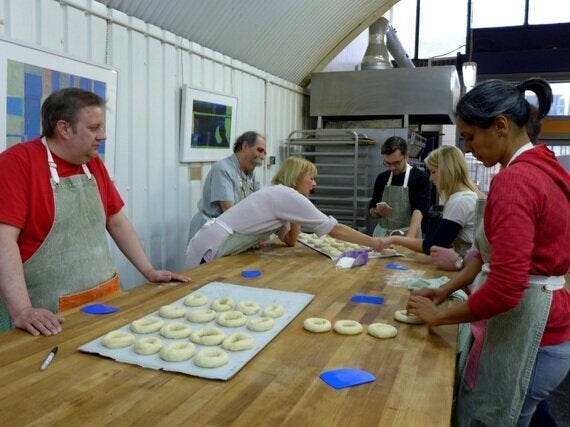 Rolling our bagels and no, you don't spin them on the end of your finger
Some of Ilinca's tips you will have seen elsewhere: bake on a hot stone or baking tray or in a cast-iron pot at a high heat (230C is the highest setting many domestic ovens will go to) and add as much steam as possible at the start of the bake, either with a spray or by adding a pan of ice cubes to the bottom of the oven.
Others were new to me: the oven should only be steamy for the first 20-25 minutes, so open and close the door to let the steam out for the remainder of the bake; tapping the base of some loaves to check for the classic hollow sound doesn't work for denser loaves like rye, so use a thermometer probe to ensure the internal temperature is over 95C; and use semolina flour to dust your baking peel and baking stone as the loaf will be less likely to stick.
And finally, when slashing the top of the loaf, use a small serrated knife and hold it almost horizontal to get a clean cut and avoid dragging the uncooked dough. I have never, ever, had that explained to me before and it makes a huge difference to the finished loaf.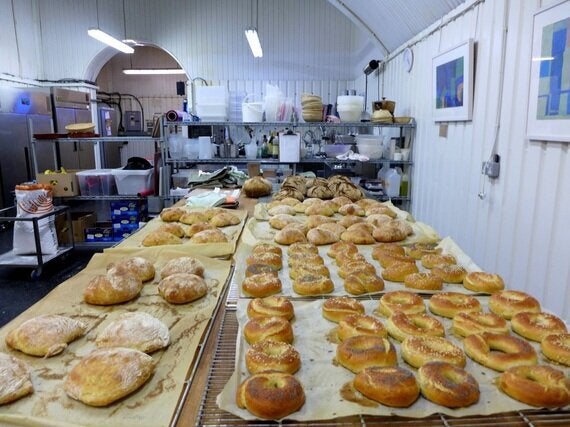 The ciabatta, bagels and rye bread made by the class
I went home with a huge bag of goodies: a rye loaf, some ciabatta and bagels which we baked at E5, pots of sourdough starters and a proving basket containing my precious Hackney Wild, which went into the fridge overnight before baking the next day. They even threw in a dough scraper for good measure.
I haven't tried the rye yet although I have plans for it which involve large amounts of smoked salmon. My attempts at ciabatta and bagels turned out remarkably well if a bit misshapen - rolling bagels is ridiculously good fun but I clearly need more practice. The Hackney Wild was so good I'm already onto my second loaf. A great course if you're new to breadmaking or, like me, want to up your game.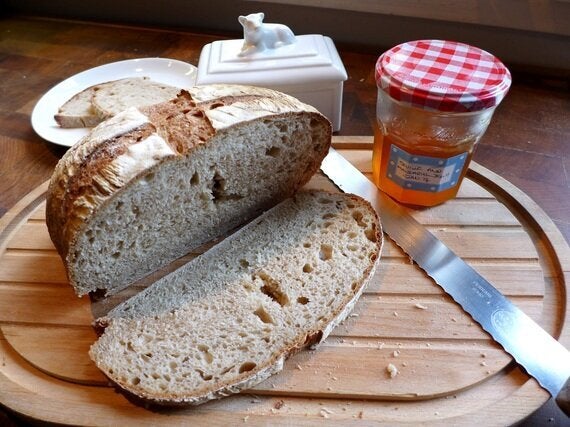 My first Hackney Wild. Inexpert folding led to a hole in the middle but it tasted amazing.