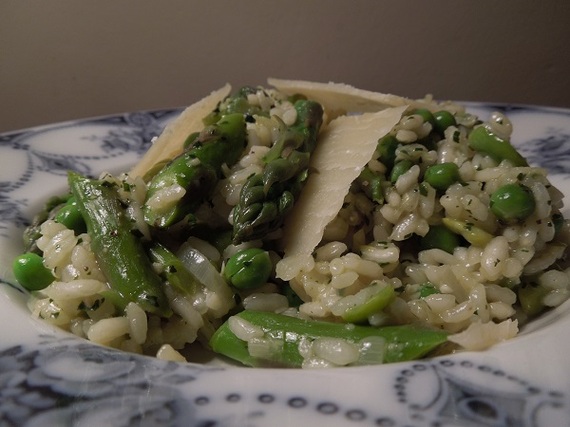 My vegetarian friend Pippa came for a visit the other weekend, lured from the fleshpots of Oxford by the promise of gorging herself silly on asparagus.
As I've mentioned before one of the first things we did when we bought our house in Suffolk was to plant an asparagus bed.
Nearly five years on it is flourishing and most years we have enough to pig out on ourselves as well as to share with friends.
So the first night we had asparagus as a starter, simply steamed and dripping with butter, followed by a spring vegetable risotto with broad beans, peas and more asparagus and given a further flavour boost with a dollop of home-made pesto.
It's delicate but flavourful, with all the individual tastes of the lightly cooked spring vegetables shining through.
Spring Vegetable Risotto (serves 3-4)
Ingredients:
A bunch of asparagus, washed then trimmed by breaking off the woody bottom part of the stems
300g broad beans (weight after podding but before skinning)
200g peas, defrosted if frozen
A couple of shallots or half a small onion, peeled and chopped
A bunch of spring onions, trimmed and thinly sliced into rings
1 clove of garlic, peeled and chopped
300g risotto rice
1 litre vegetable or chicken stock
1 glass of white wine
A dollop of pesto
A thick slice of butter
1 tbsp olive oil
A few sprigs of basil and/or Parmesan shavings to garnish
Method:
Frozen broad beans, once thawed, can be popped from their skins and used without blanching. If using fresh beans, cook them in boiling water for one minute, cool under cold water and slip off the skins. It's worth the effort of peeling the broad beans because the bright green beans look and taste better without their greyish skins. Set the beans aside while you prepare the rest of the veg.
Cut the asparagus spears into three or four pieces on the diagonal. Blanch for three to four minutes then plunge into iced water and set aside.
Finely slice the trimmed spring onions into rounds, chop the shallots or onion and peel and chop the garlic. Remember to defrost and drain the peas.
Heat the stock to a bare simmer in a saucepan.
In a deep heavy-based pan, heat the oil and butter and gently fry the shallots and spring onions without colouring until they've softened slightly. Add the garlic and fry for a minute or so.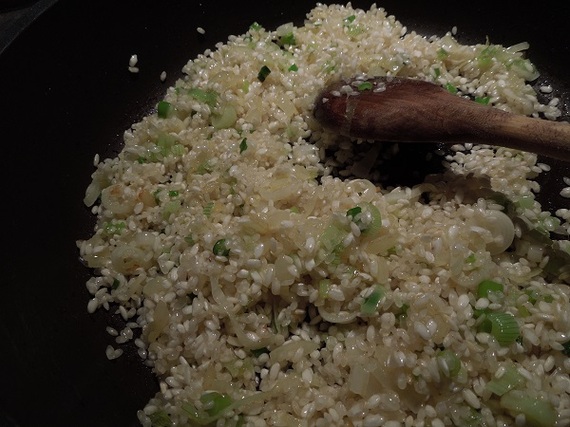 Pour in the rice and stir well to coat.
Add the wine and stir for a minute or two until it has been absorbed by the rice.
Now start adding the stock, a ladleful at a time, waiting each time until it has been absorbed before adding more.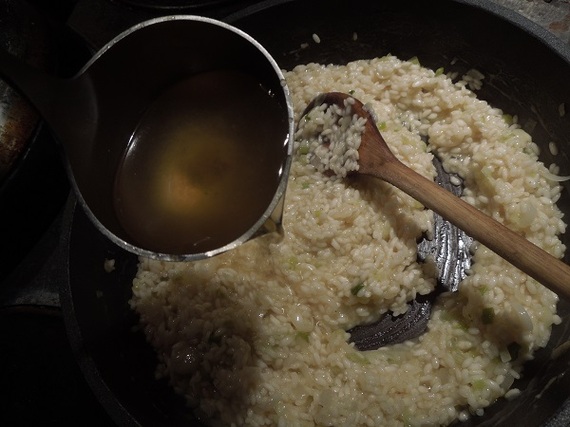 After 15 minutes add the peas, beans and the asparagus (but not the more delicate tips) and continue to stir gently.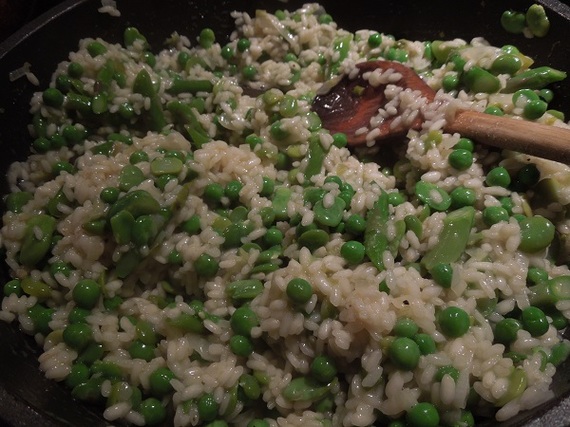 Keep testing the rice - a grain should be soft, still with a little bite, but not chalky. It will take around 20 minutes in total. You may not need all of the stock.
When the rice is done, stir through a good dollop of pesto and check the seasoning. Remove from the heat, push the remaining asparagus tips gently into the surface of the risotto, put a lid on the pan and allow it all to rest for at least five minutes.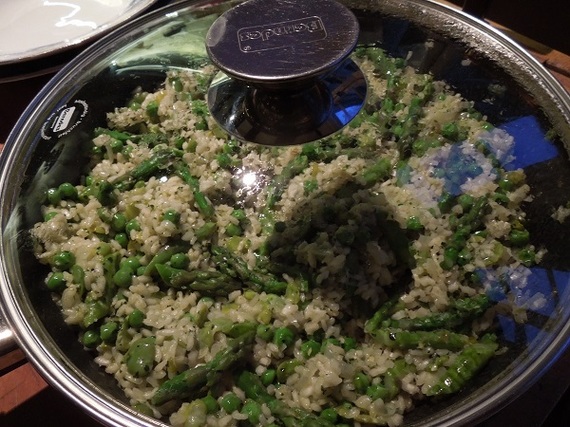 Serve garnished with a few sprigs of basil or parmesan shavings (use a vegetable peeler).