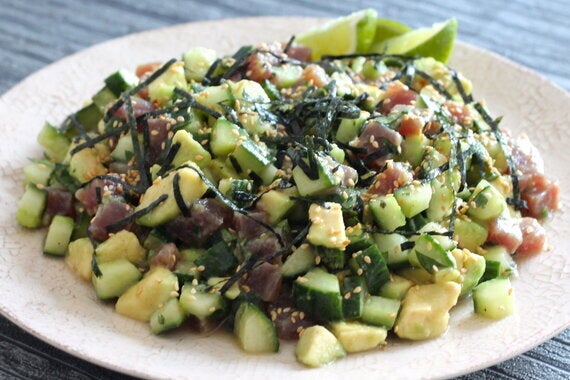 Refreshing salad bursting with sweet and citrus flavours joins forces with raw tuna and creamy avocado
300g raw tuna, cut into 1cm cubes (purchased from speciality Asian fishmongers)
2 avocados, stone removed, cut into 1cm cubes
1 whole cucumber, with skin on, deseeded, cut into 1cm cubes
1 lime (juice from ½ save half for garnish)
1 tbsp. sauvignon blanc white wine vinegar
1 tbsp. rapseed or groundnut oil
1 handful chopped coriander
1 sheet toasted nori, finely cut
1 handful chives, chopped
handful sesame seeds, toasted
Preparation time - 30 mins, chilling time - at least 1hr before serving
To make the dressing in a mixing bowl add the juice from 1 orange, half the juice from lime, mix with the vinegar, rapeseed or groundnut oil, maple syrup and sesame oil. Season with sea salt, black pepper and chilli flakes, mix together. Check for seasoning and add the chopped coriander. Leave to infuse whilst preparing the salad.
To prepare the salad, wash and deseed the cucumber and cut into 1cm cubes. To cut the avocado into cubes, easiest way I have found is to cut the avocado in half, remove the stone then slice crisscross pattern into the avocado and place a large tablespoon in between the avocado skin and flesh and scoop it out. Cut the tuna into 1cm cubes. Place all those ingredients into a mixing bowl and pour over the citrus dressing, mix, check for seasoning and place in the fridge for 1-2 hours before serving.
When ready to serve, garnish with toasted sesame seeds, chopped chives and finely cut nori sheets. Place lime wedges around the plate and serve with tamari sauce on the side.
This dish is best served chilled, perfect as a meal on its own on a bed of cold buckwheat soba noodles or served as a starter or sharing plate with tortilla chips.
Fresh tuna is a great source of protein and omega-3 fatty acids, vitamin E and antioxidant minerals. Make sure your fresh fish is odourless and best eaten on day of purchase.
I've found the easiest way to deseed a cucumber is to slice it into quarters, then run a sharp knife under the seeds to lift them out.