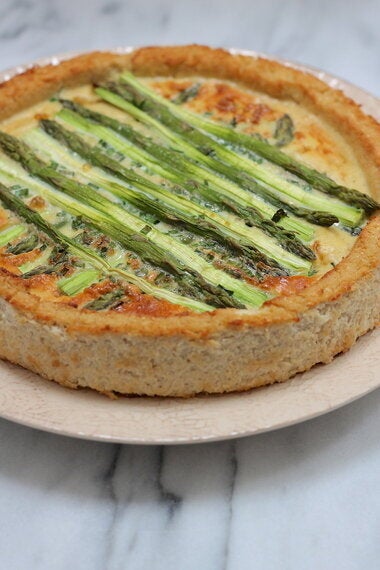 A nutritious and delicious dairy and grain free quiche.
400g cauliflower, wash well and break into florets
1 large egg yolk (save the white for the filling)
450g asparagus, take off 2 inch of the stalk and discard
5 large eggs and the white saved from the base
Preparation time - 30 mins, cooking time - 45 mins
Pre-heat the oven to 375°F, gas mark 4, 200°C (180°C fan-assisted).
Line the base and side of your round 9 inch (23cm) cake tin with parchment paper.
Blend the cauliflower in your food processor until finely chopped (don't over process) add in the ground almonds and egg yolk, season with sea salt and white pepper, blend together until combined. Wipe the sides down with a spatula to make sure all is combined. Blend the mixture until it's a loose dough texture, binds together well but still has a textured paste (again, don't over process), check and season with salt and pepper if necessary.
Place the mixture into the base of the 9inch tin and with the back of a spoon push it out to the sides to create a 1 inch thick pie crust that will hold the filling. Use your spoon to create a smooth base, then place in the oven for 15 minutes.
Using a vegetable peeler, peel the asparagus to take off the fibrous green from the stalk (from about 2inch from the bottom of the stalk), keeping the asparagus tips unpeeled.
Remove the base from the oven and gently smooth out the base again. Lay the asparagus, in a criss-cross effect on top of your cauliflower pie crust.
In a mixing bowl, add the egg white and the 5 eggs with, season with sea salt and white pepper and beat together, add the honey mustard and carry on beating, then add the chopped chives and mix together and gently pour over the asparagus.
Reduce the oven to 180°C (160°C fan-assisted) and bake in the oven for 30 minutes.
Take out the oven and allow to cool before taking it out of the tin.
Peeling asparagus is time consuming, but the overall look is worth the effort! This is suitable for anyone following a paleo diet. It's grain free and dairy free. This quiche is full of vitamin C and K, with both cauliflower and asparagus boasting both vitamins. Asparagus tips should be tightly furled and perky, with shoots that are straight and firm. This quiche is great for a picnic with a side of fresh green salad, or take a slice for breakfast on the run, or wrap in cos or romaine lettuce with a dab of honey mustard, its filling without having to add any carbs.