Banana & Chia Seed Pancakes
Perhaps my ultimate challenge - creating pancakes without flour & sugar!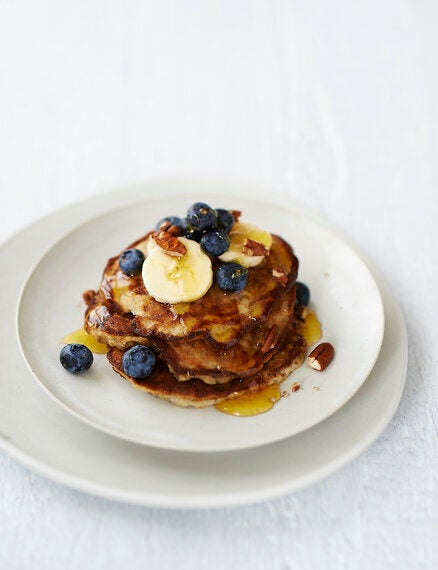 2 large bananas, (mash 3⁄4 of the bananas, keep the 1⁄4 for garnish)
2 large eggs, beaten 1 tsp chia seeds
2-4 tsp coconut oil 2 pinches salt
Preparation time - 20 mins, cooking time - 5 mins
Mash 3/4 of the bananas until smooth, then add the egg and beat well.
Stir in the chia seeds, baking powder and salt and leave to rest for five minutes.
Heat a non-stick frying pan on a high heat and place a touch of coconut oil to both the pan and a spatula (coating the spatula will help when turning over the pancakes).
Turn the heat down to medium, pour a circle of the batter into the pan. I use about 60ml of the mixture per pancake.
Cook until golden brown on the underside (approx. one minute), then flip over and cook until golden brown on the other side (about 30 seconds).
Once you've cooked all six pancakes, stack them back on each other to warm through in the hot pan, but take the pan off the heat.
Serve warm with remaining 1/4 of the banana sliced, blueberries, crushed pecans and agave nectar.
My favourite food of all time? Pancakes. Hands down. But traditional pancakes aren't exactly nutritious. So I wanted to figure out an alternative! Eggs and a banana.... that's all! Two of my favourite foods come together to create a simple, yet, scrumptious pancake.
It's hard to believe that you don't need flour, milk or refined sugar to create a lovely, light and kid-approved pancake. Although delightful, don't be expecting your run-of-the-mill carb-filled pancake. These have more of an eggy crepe-like texture, which is equally appealing.
If you're used to eating clean healthy foods, you will more than likely LOVE these. Low-calorie, high-protein, gluten-free and wheat-free.... what's not to love? Not only do they make a quick and easy breakfast, but they're also the perfect pre or post-workout fuel. Try adding some other types of berries and nuts. Be adventurous with your fillings or just keep it plain and simple! You could also add a touch of baking powder if you like them slightly thicker.