A surprisingly simple but elegant soup. A few sprigs of fresh dill also works well.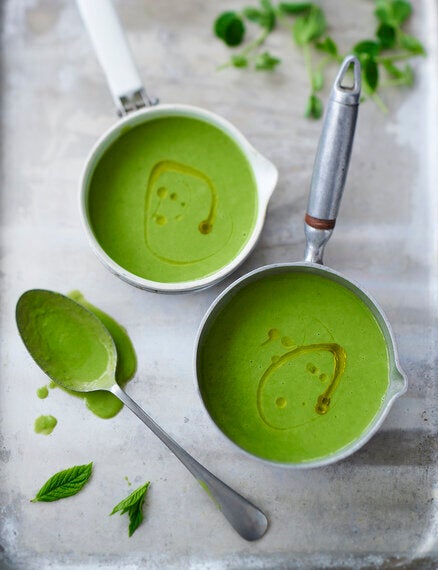 4 shallots, finely chopped
1 stick of celery, cut in half (will be discarded from the soup before blending)
1 chicken stock cube, dissolved in 570ml of boiling water
1 vegetable stock cube, dissolved in 570ml of boiling water
1 kilo frozen peas (look for petit pois - the smaller ones)
sea salt and white pepper
Preparation time - 20 mins, cooking time - 20 mins
Finely chop the shallots and cut the celery stalk in half.
Place a saucepan on the stove with the olive oil, sauté the shallots until translucent. Add the celery stalk and season lightly with sea salt and white pepper.
Add the frozen peas and stir for about 2 minutes.
Dissolve the chicken and vegetable stock cubes in a little over a litre of boiling water. Pour into the saucepan, bring to the boil reduce to a medium heat. Cook for 20 minutes.
Remove from the heat, discard the celery stalk and blend either in a liquidiser or with a hand held blender.
Place in individual serving bowls with a drizzle of olive oil for garnish and some pea shoots and mint.
If you find that the soup is too thick after blending, pour in a little water to thin out the soup. Alternatively you can pour the soup through a fine meshed sieve. You may also wish to freeze this soup, for a maximum of 2 -3 months.
Instagram MYRELATIONSHIPWITHFOOD