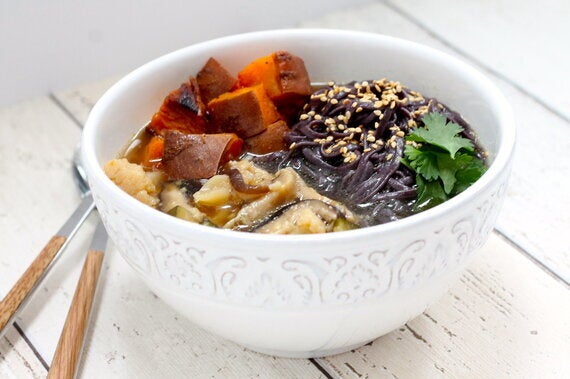 This soup is quick to make and its full of good nutrients; brothy soups are light and easy for a summer soup. If you add some whole grains, protein and vegetables, it becomes a hearty meal.
250g shiitake mushrooms, remove stalks and slice
2 courgettes, cut into ¼ inch quarters (cut through the length and then through length again then into small quarters)
1 small cauliflower, broken into small florets
2 tbsp. groundnut or sunflower oil
3 tbsp. tamari soy sauce (clearspring wheat & gluten-free)
2 tbsp. bouillon powder (swiss marigold gluten-free)
250g black rice noodles (king soba - gluten-free)
toasted white or black sesame seeds
roasted sweet potato - (see Lisa's tip)
Preparation time - 20 mins, cooking time - 20 mins
In a large saucepan add the ground-nut oil together with the shiitake mushrooms, sauté for 2 minutes continuously stirring. Then add the tamari soya sauce and honey and cook together for 2 minutes, and then add the cauliflower florets and courgette's, again continue for another 2 minutes, stirring continuously.
Add the boiling water, together with the bullion powder and season with back pepper.
Bring to the boil, then cover and simmer for 20 minutes.
Bring a large saucepan of lightly salted water to a boil. Add the noodles and cook, stirring frequently to prevent sticking, until the noodles are tender but not falling apart (see the package for cooking time). Drain the noodles and rinse them in cool running water. If not using immediately, toss with a bit of oil to prevent sticking. Otherwise, divide the noodles between 4 large bowls and keep warm.
Divide the noodles among 4 large bowls, and then add the broth.
Garnish with toasted sesame seeds, coriander and a squeeze of sirrach sauce if you like to add a little kick, also I love to add roasted sweet potato cubes!
Sometimes, just before serving you can add either some pan-fried bean curd, roasted sweet potato or raw kale or seaweed nori sheets. Nori Seaweed is really good for you, extremely low in calories and high on vitamins, antioxidants and surprisingly high in protein. You can even julienne some carrots if you like a little texture.
This soup improves in flavor overnight, so you can always make the day before. Keeps for 2-3 days.