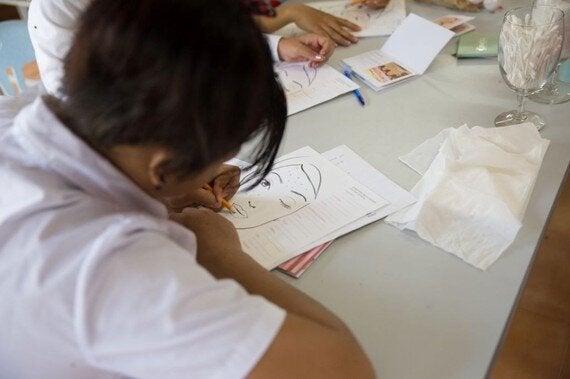 In an undated photo, a young woman learns the business of beauty. Photo courtesy of the Somaly Mam Foundation.
NEW YORK (Thomson Reuters Foundation) - With the hope that new jobs in the beauty industry will provide new lives for girls scarred by sex slavery, Cambodian anti-trafficking activist Somaly Mam cut the ribbon for a beauty shop bearing her name in one of the country's prime tourist destinations.
The Somaly Mam Beauty Salon - located in Siem Riep, Cambodia's sixth largest city and gateway to the ancient Angkor Wat temples - is a social enterprise designed to school trafficking survivors the beauty salon trade, with the aim of enabling them to open their own salons at the end of their training.
"For many years, the salon has been my dream and now it is becoming a reality," said Somaly Mam in a statement. "The salon will not only offer training and economic opportunity, it will serve as a place for visitors to receive services and ultimately to learn more about trafficking and what we can all do to combat it."
The salon, which counts on drawing local clientele and tourists, serves as a prototype for similar salons and training programmes in other locations with a high incidence of sex trafficking.
SOMALY MAM AND ESTÉE LAUDER
An orphaned child from the countryside who was sold into sexual slavery as a teenager, Mam eventually escaped the brothels of the capital Phnom Penh, many of them populated with girls sold into slavery because their families were poor.
In 1996, Mam founded the Cambodian NGO Agir pour les Femmes en Situaciones Precaires (AFESIP), or Acting for Women in Distressing Situations, to rescue trafficking victims, help them recover and provide the vocational skills training to help them rebuild their lives and achieve economic independence from the poverty that fuels the trafficking industry in Southeast Asia.
Mam, who is about 43 years old, went on to co-found the Somaly Mam Foundation in 2007, as a funding vehicle to support anti-trafficking organisations that rescue and rehabilitate victims around the world.
AFESIP, which includes hairdressing among the skills it teaches, is partnering in the beauty salon venture to provide training.
The Estée Lauder Companies, which spearheaded the project, will fund the salon's start-up and first three years of operation. It is expected to be self-sustaining by 2016.
Lauder is providing all of the salon's hair care, cosmetics and skincare products from its Bumble and bumble, Bobbi Brown and Clinique brands, and its beauty experts will visit the salon about twice a year to conduct trainings.
The programme, conducted at AFESIP's centre in Siem Reap, will teach, house and support about 30 young women - most of them in their late teens and early 20s.
Once the students have progressed in their manicure, pedicure, facial, makeover and hair styling lessons, they will move to the Somaly Mam Beauty Salon for a minimum of three months to work with customers, learn the business side of operating a salon, and earn a nominal salary.
Upon "graduation", the successful trainee receives a start-up kit of Lauder supplies to set up her own business. AFESIP counselors will follow up with them for three years, helping them to secure microfinance loans to build their businesses.
"As a survivor herself, [Somaly Mam] knows this programme is the first step to helping these women become independent," Gina Reiss-Wilchins, executive director of the Somaly Mam Foundation, told Thomson Reuters Foundation.
Reiss-Wilchins said the hope is for this business model to be picked up by corporate sponsors in other industries.
"This isn't just about our girls, it's about all girls and helping them to become self-sufficient."
Women's rights are at the heart of the agenda at the Trust Women conference, to take place in London 3-4 December. Organised by the Thomson Reuters Foundation and the International New York Times, Trust Women will tackle issues such as slavery in the supply chain and the impact of the Arab Spring on women's rights. Don't miss a chance to be a part of this incredible conversation - register now and save up to 20% off the ticket price at www.trustwomenconf.com