I turn 31 next week. Ten years since I celebrated the milestone 'coming of age' 21. I used to see ageing another year as a negative but now I only see it as a positive, apart from the fact my eye lids are getting looser and my laughter lines are getting deeper.
This is because ten years ago I was a very different person, both physically and mentally. There was 8 stone more of me, which was laden with debilitating insecurities as well as that unwanted fat that restricted me so much. I only realise now how much more I was carrying than just those extra pounds and how losing the weight in the second half of the past decade was not nearly as hard as losing the shame and insecurities that comes with being the 'big girl', which I have done in my 30th year.
I wish I could have let my 21 year old self know that everything was going to be okay because she was pretty hard on herself back then. So here is the letter I wish I could have written to that girl and any other girl who is feeling overwhelmed by life as a young woman growing up in today's world.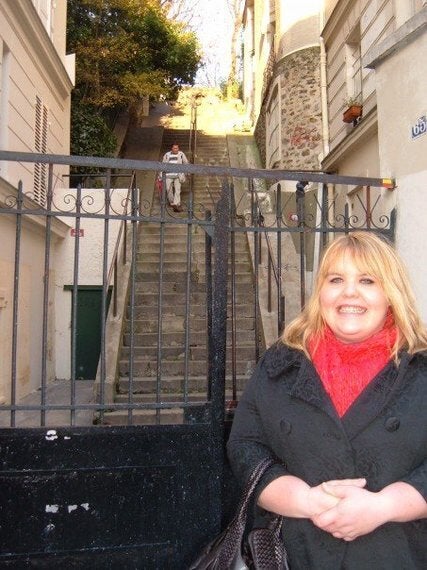 In Paris to celebrate turning 21 in 2006
Happy birthday! I'm so glad you're celebrating your big day in Paris with three of your best mates. How glamorous! I know inside you're not feeling so glamorous. In a city full of chic, slim women you feel like you stick out like a big fat sore thumb. You spend a good 45 minutes in the morning deciding which outfit will make you look the slimmest. You curl your hair and paint your face heavily in make up to help you look as beautiful as possible, even though inside you feel ugly.
You are beautiful. I know you don't feel it now and you get self-conscious every time a stranger in the street looks at you, especially those confident French women. However, in a few years, you will too walk around this city feeling just as confident and beautiful on the inside and out.
So please try and not spend so much time worrying about what other people think. One day, you won't actually care so much and you'll put that energy into good use. You won't always succumb to the fact that you'll always be the 'big girl'.
I know it feels like a boy will never fancy you and you'll often try to validate yourself. Your friends will all be in relationships and you'll feel left behind. You'll meet a man and fall in love but he will break your heart. However, this relationship will change your life (not that he ever needs to know that).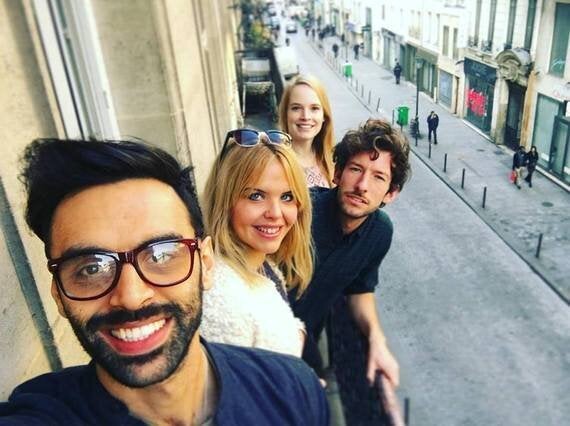 In Paris this year with my best friends, celebrating us all turning 30
You won't ever want to be treated like this again and realise you deserve to be treated with respect. You have spent a lifetime being called fat and being called this by a man who supposedly should love you no matter what, well this is the final straw. You'll be left feeling ashamed, unattractive and not worthy of true love. Don't worry, you soon realise you are.
I know, right now, you don't talk to anyone in your life about your weight because if you do it's real and you'll have to do something about it. When you're ready, after your heart is broken, you will take control of your relationship with food and find a love for the gym (I know, I couldn't believe it either), and you will talk to them and your relationships will be stronger because of it. They'll be shocked that you were so unhappy inside but what is so wonderful is that everyone loves you for you and not what you look like. As long as you're happy, they'll say... and you will be.
Every aspect of your life will improve when you turn the big 3-0. You will work through that shame you carry about your weight with the help of a brilliant therapist and every aspect of your life will have a positive effect - work, relationships and health. You will become the girl you always have been and you will let her shine through. And you'll be free of that prison of insecurity. I'm so proud of you.