The 22nd March is World Water Day and we are clear - we need the privileged world to wake up to the droughts and floods that cripple lives. Water is a matter of justice and not just a commodity. It is also a driver for economic growth and vital to achieving the UN's Sustainable Development Goals (SDGs).
Last summer KPMG, for the second time, supported Cycle for Water. A story of teamwork and collaboration with the aim of raising awareness of clean water for sustainable development.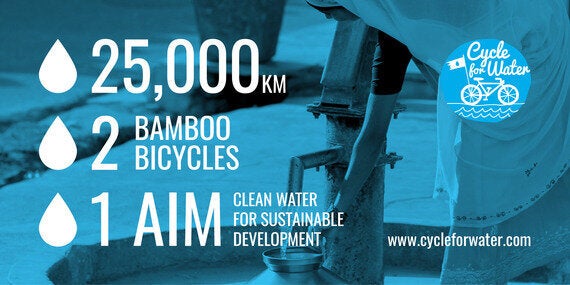 Cycle for Water started in 2010 with a 30,000km journey on sustainably sourced bamboo bikes from the Arctic to the Antarctic across the Pan-American Highway. This time round it is a journey of over 25,000 km from France to New Zealand also on bamboo bikes. Over the course of the journey, the team will cycle across 21 countries raising awareness of the importance of clean water in achieving the SDGs.
Global demand for freshwater will exceed supply by 40 percent by 2030, according to the Water Resources Group, with potentially calamitous implications for business, our communities and the environment.
The water crisis, according to the World Economic Forum's Global Risks 2015 report, is the number one global risk based on impact to society (as a measure of devastation), and the number eight global risk based on likelihood (likelihood of occurring within 10 years). The affects are already being felt. One in nine of the world's population does not having reliable access to clean and safe water and according to the UN, economic losses due to the lack of water and sanitation in Africa as a result of the mortality and morbidity impacts are US$28.4 billion or about 5 percent of GDP. This is more than sub-Saharan Africa gets in aid per year.
As is all too often, rural communities in developing and least developed countries carry the burden of the impacts resulting from the global water crisis. In Uganda, for example, 85 percent of its people live in disadvantaged rural areas with hunger and food insecurity posing a major problem. 82 percent of the population's sanitation amenities have no hand-washing facilities and only 8 percent have water and soap. This is set against the context of only 15 percent of households having access to water on tap, despite improvements. The situation in Uganda's urban centres is not much better. Households have to travel on average 200 metres to the main source of water compared to 800 metres in rural areas.
If we look at this another way, productivity, economic growth and people's lives falter because of the water crisis. The United Nations estimates that Sub-Saharan Africa alone loses 40 billion hours per year collecting water. That's the same as an entire year's labour in France. The water crisis also has an impact on children's life chance, and more specifically can worsen the life chances of women and girls.
Over 500,000 children die every year from diarrhoea caused by unsafe water and poor sanitation. That's over 1,400 children a day. Girls under the age of 15 are also twice as likely as boys to be the family member responsible for fetching water. And with over half of the developing world's primary schools not having access to water and sanitation facilities, girls often drop out at puberty due to lack of toilets.
Water, Investment and Economic Growth
The Millennium Development Goal (MDG) to halve the number of people without access to safe drinking water by 2015 was met, with over 2 billion people gaining access. SDG 6 - clean water and sanitation - set the goal of ensuring universal access to safe and affordable drinking water by 2030. With water scarcity affecting more than 40 percent of people around the world, targeted and responsible investment in water infrastructure is essential.
The UN has estimated that to meet SDG 6 and ensure universal access to safe and affordable drinking water by 2030, US$17.5 billion a year will need to be invested in low and middle income countries. If we combine this with the need for adequate sanitation, then the total annual investment need rises to US$49 billion a year.
The impact of this investment will be vast, but it will benefit the life chances of our youth the most. By investing in clean water, young children around the world can gain more than 413 million days of health.
The investment case for good water infrastructure is clear already. However, investment in water and sanitation is also a driver for economic growth and due to climate change, the cost benefit of investment will become more favourable. According to the World Health Organisation, investment in water management and infrastructure can yield an economic return by avoiding costs related to water pollution, contamination and disasters which are likely to increase because of the impacts of climate change. Estimates show that every US$1 invested in improved water supply and sanitation can yield gains of US$4-US$12.
Water scarcity also brings about a number of indirect impacts. Governments are already introducing regulations to manage supplies more effectively which, in turn, are creating new compliance requirements and cost increases for businesses. For example, in June 2012, China announced that it will adopt high water rates for water-intensive industries and will encourage the reuse of recycled water. And Singapore's regulators have priced water to reflect its scarcity value.
Water is not confined to political borders, however. Approximately 46 percent of the globe's (terrestrial) surface is covered by trans boundary river basins. Country specific measures will not suffice. Global partnerships and collaboration will be essential to curtail the global water crisis. The SDGs provide the best chance for coordinated, global and cross-sector solutions. This has to be an imperative for the international community for the sustainability of our businesses, society and our environment.
On World Water Day we support Cycle for Water because water is a right, it sustains life and it underpins healthy economies.