Debut Contemporary has become the Arts Hub and Meeting Point in Notting Hill in just three years since its existence. It is a place where you can practise yoga, play chess with gloves, wear a bespoke-made mask, have an Art-inspired dinner and attend a constant array of eclectic events. It attracts a crowd with something in common: their uniqueness and an interest for the unconventional. No wonder its third Anniversary went with a bang.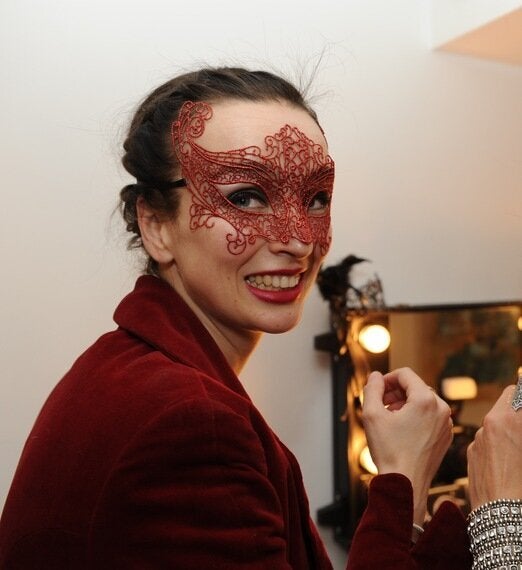 Marina Ard at Debut Contemporary 3rd Birthday Party and March Private View. Photograph courtesy Maria Laura Matthey, the artist, and Debut Contemporary.
Birthdays are always a time for a glorious celebration and the last party was no exception. Turning 3 in style, Debut's March private view was filled with live music, a surprise art performance, and glasses of Prosecco shared between art lovers and artists alike. The Rythmdoctor set the tone for the evening with jazz and soul beats on his decks. The West London glitterati were out in force to see Debut's newly curated exhibition, with Debut alumni and new artists coming for a night of socialising. Lia Ikkos's spellbound, raw performance stunned and impressed unsuspecting guests. Her solo performance explored the isolation of the body without access to the intimacy that comes from aural communication. Maria Laura Matthey diversified her 'eyes' project by allowing guests to be adorned with playful decadent masks, face glitter and jewels. A truly interactive and social night had by all!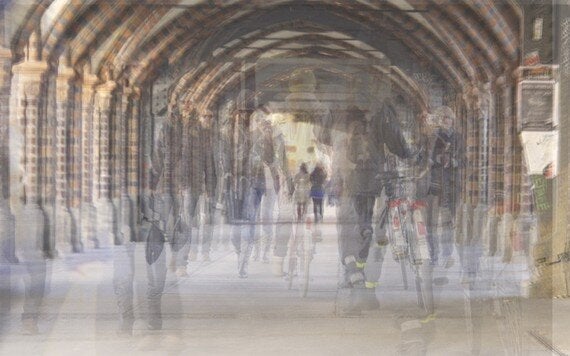 Debut Contemporary is an innovative professional development platform with a vibrant contemporary art gallery space. Their mission is to assist talented and ambitious artists who are eager to turn their art practice into a successful career and viable business. They act as a launchpad for artists' careers, supplying the means for them to break into the London and international art markets through their extensive industry networks of collectors, gallerists, critics, auctioneers and other art professionals.
Samir Ceric, its founder and CEO, comments:
"Whether you are a UK-based artist, or an international artist, breaking into the London art market is no easy task. Many artists think the way in is to do a Masters or PhD degree, to seek gallery representation, or even hire out a gallery. However, none of the above will work without having a clear strategy of what you want to achieve and how you will get there. Debut provides one of the possible solutions to these challenges. We at Debut are addressing the real problem of far too many artists giving up on their passion, and ambition, because they lack the skill set and knowledge of practical tools in order for them to succeed and survive as professional artists within today's art industry".
Debut Contemporary recently won the prestigious h.Club 100 Industry award, being selected as one of the UK's top 10 most influential, visionary and pioneering businesses in art and design, competing alongside the likes of TATE, V&A, the Fine Art Society and Turner Prize winners and nominees. Debut acts as an art incubator with the mission to enable and assist artists to turn their practice into a viable business and have a successful long term career. Debut equips artists with the business know-how, including how best to negotiate legal contracts with galleries and agents. They at Debut strive to empower artists and they believe artists hold the key to their own successes and major achievements. A new concept in supporting artists and bringing Art to a new audience which has been very successful for artists such as: Tahnee Lonsdale, has been labelled as one of the '14 new emerging artists of great promise from around the world' by Rebecca Wilson of Saatchi Gallery. She is the one to watch and has recently featured in both the New York Times and Sunday Telegraph. Carne Griffiths, the 'next big thing' in the British and international art scene with 421,888 likes on his Facebook and international shows including LA, Hong Kong, Milan and London, as well as, an incredible collaboration with the famous British fashion photographer Rankin. Rosie Emerson whose collaboration with Annoushka Jewellery attracted the likes of models Daisy Lowe and Amber Le Bone to feature in her photography pieces, which received coverage in the Financial Times, Vogue, Harpers Bazaar & OK Magazine, to name a few.
Popular in the Community