Just recovering from painful times, uncertain about the future and with a clear understanding that a new Socio-economical system need to be created to avoid making the same mistake? No, I am not talking about the current times, I am describing how the World felt after the Second World War and how the artists responded to it in the 50's and 60's. History repeats itself. Manuel Espinosa's first European exhibition at the Stephen Friedman Gallery, in Mayfair, until the 8th of March, is an excellent example of how new art is needed to lead to a new society.
Espinosa, an Argentinian artist, was a founding member of the asociación de Arte Concreto-Invención which was established in Buenos Aires in 1943. An abrupt rupture was needed. The group sustained common goals: the art should be non-figurative art, the painting flat, and the illusions and appearances banished, moving away from traditional painting. They looked for the worth of the painting itself. Spin Orex 3 depicted below, painted in 1968, still has its freshness and relevance to today's times of rapid transformations.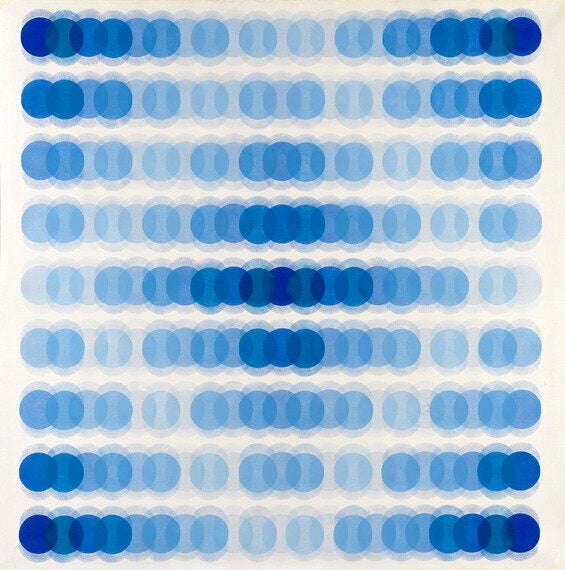 Manuel Espinosa, 'Orex' 1968, ESPIN 3, Copyright the Estate of Manuel Espinosa. Courtesy Stephen Friedman Gallery, London, and Sicardi Gallery, Houston. Photography Stephen White.
Stephen Friedman, the director, has kindly agreed to respond to the following questions:
1. How did you find Manuel Espinosa? 2. How do you feel about being the first European show of such a talented artist?
Manuel Espinosa has been the subject of major exhibitions in Latin America and most recently in Buenos Aires at the Museo de Arte Contemporáneo de Buenos Aires (MACBA). Stephen Friedman Gallery has been engaged with Concrete and Geometric Art from Latin America for some time and therefore Espinosa has been an artist we have long admired. In recent years we have held very successful exhibitions by Brazilian artists Judith Lauand and Mira Schendel. Espinosa, like Lauand and Schendel, was a leading figure of his time. Therefore it was extremely pertinent to present the work in London where there is burgeoning interest in this genre. The exhibition is underpinned by our strong association with artists, galleries and curators from Latin America. We are honoured to be showing Espinosa's first European solo exhibition and look forward to introducing the European market to his work.
3. What are the basic principles of Concrete Art of which he was one of the leading artists?
Concrete Art is a form of abstract art based on the construction of purely 'plastic' elements, which are completely non-representational planes and colours. The basis of Concrete Art evolved from Europe in the 1930s to become an international movement.
4. What is your favourite work and why?
Both the paintings and works on paper are engaging and complex and they appeal to the current international aesthetic. 'Orex' is a beautiful painting in the show featuring orbs of blue paint rendered in varying degrees of intensity. The work is a good example of Espinosa's use of overlapping colour as a means of imposing order on the rhythmic fluctuations of the compositions. Each work conveys a bold optical sensation that generates an impression of depth and movement.
A unique opportunity to see one of the best South-American painters from the last century.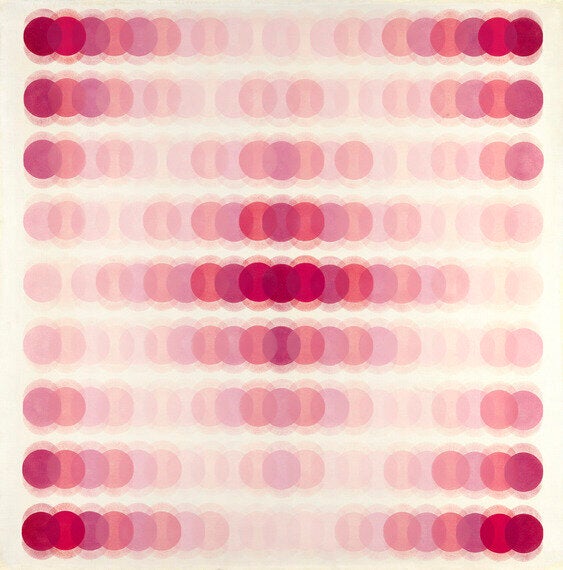 Manuel Espinosa, 'Ubeq' 1968, ESPIN 2, Copyright the Estate of Manuel Espinosa. Courtesy Stephen Friedman Gallery, London, and Sicardi Gallery, Houston. Photography Stephen White.
Related