In 2004, when everybody wanted to be in Mayfair and Fitzrovia, Ziba Ardalan, born in Iran, whose career was developed between the US and Switzerland, arrived from New York and decided to found a contemporary art organization in the far end of the cosy central London. A Victorian furniture factory, which were the studio of the Turner Prize nominee Peter Doig by that time, has become the home of one of the best places in London to experience contemporary art made today. Acclaimed artists such as Charles Avery, who represented Scotland at the Venice Biennale, or Leah Capaldi, who performed at the Serpentine Galleries last summer and described Ardalan as her "fairy godmother", exhibited at Parasol unit first.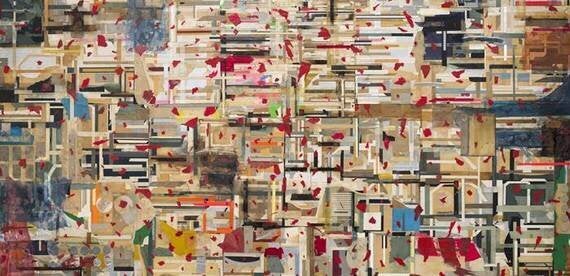 Shinro Ohtake, 'Time Memory 28' (detail), 2014. 220.5 x 300.5 x 10.5 cm. Courtesy of the artist and Take Ninagawa, Tokyo
The current show by Shinro Ohtake ends on the 12th of December. Ohtake, one the leading artists in Japan, moves easily from drawing to video, from installation to sculpture, but his collage works, be it on a panel, be it on three-dimensional objects, are perhaps his strongest form. He has the sharp ability to absorb elements of the contemporary Japanese society and spit it out into a journey of discovery and learning when admiring his works.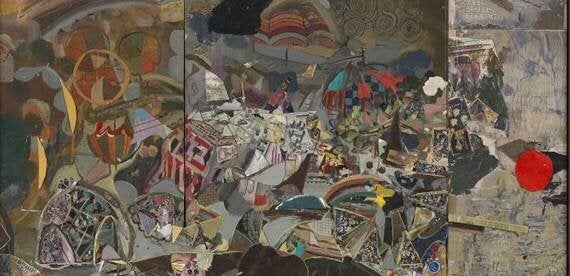 Katy Moran, 'Joe's in Town', 2012, acrylic, paper, leather and collage on board, 55.2 x 87.6 cm. Courtesy Walker Art Center, Minneopolis, Justin Smith Purchase Fund 2013.
The next exhibition by the London-based painter Katy Moran, which opens on the 15th of January, is a rediscovery of a traditional medium such as painting. Although abstract at first glance, Moran portrays figures that requires a closer look and an interesting narrative, invented by the viewer and therefore unique, unravels. Her paintings are beautifully fluid and like a good painter plays with the subconscious on a different level.
Ziba Ardalan, founder and curator of Parasol unit, kindly agreed to respond to the following questions:
1. Can you tell us a bit about Parasol unit? Where did the name come from? And why in Hackney?
I wanted to give it a general name and not the name of a specific person. This place is about making people welcome. I thought of 'umbrella', because it encompasses various activities we do here, but it seemed a bit sad, so I opted for 'Parasol'. It is positive and radiant but all by itself misses something, so when a friend suggested 'unit', it clicked. The two words somehow complement each other perfectly and express what this foundation is about: promoting contemporary art for the public benefit, a welcoming residency for artists in the summer and an important educational element. Hackney reminded me of SoHo in New York in the 70s before it became fashionable as it is happening now here.
2. What is your background? What was your PhD about?
I think I was born as a curator, although I first studied Physical Chemistry and did post-doctoral works at the Massachusetts Institute of Technology. Somehow there was always a creative side and an analytical side in me. So, after two years of working in scientific research, I decided to move from science to art. Scientists and artists are quite similar, because intuition is a crucial part of their work. This has always been very important to me as a curator - when selecting artists and their works for an exhibition or the timing of their exhibition. Anyhow in the early 1980s I went to Columbia University, NY, to study and gained a Masters degree in Art History. This was followed by attending the Independent Study Programme (ISP) for Curating and where I had Vicente Todolí, the former director of the Tate Modern, as a classmate. In 1984, I curated a show about the American painter, Winslow Homer, who started in the late nineteenth Century as a genre painter and moved to almost abstraction in the early 1900s. Homer's works were all over East Coast of America, so I had to travel to small museums and private collections to convince them to lend works to the exhibition - it was a great experience for a first time curator.
3. At the last charity auction, artists such as: Antony Gormley, Isaac Julien and Yinka Shonibare were very complimentary about Parasol unit. How do you feel about it? What do you think it is the reason?
I am humbled and honoured by those wonderful comments. My passion for art is genuine and I suppose that could be one of the factors artists appreciate. I work very hard to give those artists exhibiting at Parasol unit great exposure and I am willing to take risks when exhibiting lesser known artists. It is very encouraging to continue when I have the support of such talented and successful artists.
4. Can you summarise in three phrases why people should come to see the show by the Japanese artist Shinro Otake before it ends on the 12th of December?
I love the freedom with which Ohtake executes his works, even after having exhibited at prestigious events such as Documenta or Venice Biennale, indeed he carries on as usual. It is a lesson that an artist or a non-artist can apply to their practice, job or even in their daily life: freedom of thoughts. This exhibition shows his creativity and confidence and is a unique opportunity to discover why he is one of the leading Japanese artists.
5. Finally, can you give us an advance of the next exhibition? Why did your team decide to invite Katy Moran?
Although Moran has only ten years of painting practice behind her, I love the innovative way she goes about painting. Moran has absolutely no allegiance to the history of painting and in the process has created a whole new language, particularly in figurative painting.
For more information about Parasol unit, the current exhibition by Shinro Ohtake and the next exhibition by Katy Moran, please visit the website www.parasol-unit.org