Puccini, who has been called as the greatest Italian composer after Verdi, enjoys some of the most celebrated operas such as: La Bohème, Tosca, Madama Butterfly and Turandot. Music and plots that remains in everybody's imagination. However, it is less known that he also composed a Western somehow more like a play in the ancient Greece style rather than the later Hollywood counterparts. Pity they did not see this before; the quality might have improved.
Rather experimental in the sense of the theme, twisted plot, mise en scene with rather claustrophobic sets like an Edward Hopper's painting, and music influences by Strauss and Debussy and American folk music. Even as my friend noted: "one could hear the traditional Mexican Rancheras in some of the melodies". It demonstrates Puccini's capacity to absorb a diverse range of styles.
The Girl of the Golden West, or La fanciulla del West, follows the lives of saloon-bar owner Minnie and a community of gold miners who are struggling to cope with the harsh realities of daily life in a bleak and unforgiving environment. They have put their lives on hold in the hope of a better and brighter future. The local sheriff Jack Rance proclaims his love for Minnie, yet she rejects him in favour of stranger Dick Johnson who, unknown to the rest of the cast, is the notorious bandit Ramerrez in disguise. Minnie and Dick declare their love before Johnson's true identity is revealed. Minnie forces him to leave and he is then shot by one of Rance's men who are hunting him. Minnie tries to hide him but he is discovered by Rance. She begs Rance to spare Dick's life but he refuses. Minnie challenges him to a game of poker, if she wins Dick is saved but if she loses she will marry Rance. Can she outwit him and save her love?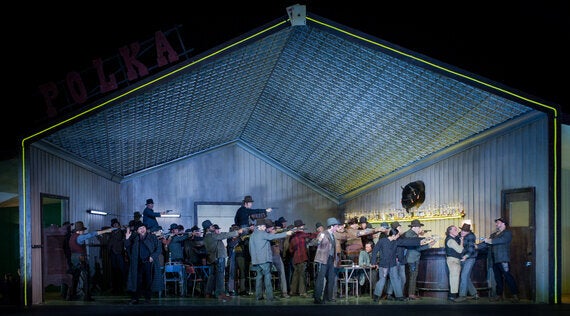 Photograph courtesy ENO and Robert Workman
Celebrated opera director Richard Jones returns to ENO to direct the first of two productions this season. This new production of Puccini's 'American' opera set in the Wild West during the Californian gold rush will be ENO's first for 50 years with the great British soprano Susan Bullock making her stage debut in the title role. Leading the ENO orchestra and all-male chorus, experienced opera conductor Keri-Lynn Wilson makes her British debut. Richard Jones collaborates with designer Miriam Buether to create a stark and claustrophobic setting, highlighting the desperation and sacrifice felt by the community of miners who live there. Costume designs reflective of the period are by Nicky Gillibrand.
Leading the cast of outstanding singers is British soprano Susan Bullock who makes her stage debut as Minnie. Susan impersonates the feisty character with great ease and illuminates the stage with a charming presence. Susan began her career as an ENO company principal before going on to major international success.
British tenor Peter Auty, a joy to the ear, debuts in the role of the bandit Dick Johnson. Beautiful coloratura that enchants the audience as soon as he starts singing. A true virtuoso. He has previously sung for ENO in Der Rosenkavalier, Rigoletto and La bohème. Formerly a company principal at the Royal Opera House he has also performed with Grange Park Opera, Glyndebourne, Opera North and Scottish Opera. Peter's professional musical career started at the tender age of 13, when as a choir boy at St Paul's Cathedral he was chosen to sing 'Walking in the Air', the theme to the 1982 animated film of The Snowman.
American bass baritone Craig Colclough makes his European and role debut as the Sheriff Jack Rance. He started his career at LA Opera before joining Florida Grand Opera's Young Artist Studio. In 2012 he became a Filene Young Artist at the Wolf Trap Opera company. He has also performed with Arizona Opera.
The role of the miner Sonora will be performed by British baritone and former ENO Young Artist Leigh Melrose. Although a minor role, he manages to steal the limelight with a charismatic character. Leigh has performed numerous roles with ENO, including the title role in Carrie Cracknell's production of Wozzeck in 2013 where the Observer commented that he was 'phenomenal'. Most recently he sung Ned Keene in David Alden's critically acclaimed production of Peter Grimes.
Go and watch a Western not as you imagined.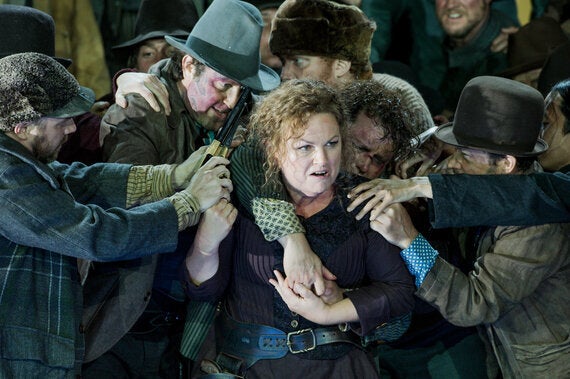 Photograph courtesy ENO and Robert Workman
The Girl of the Golden West opens at the London Coliseum on Thursday 2 October for 9 performances - 2, 10, 15, 22, 24, 27, 30 October at 7.30pm, 18 October and 1 November at 6.30pm. For more information, please visit website www.eno.org