Tahnee Lonsdale is a painter with a fearless approach to colour. They tell stories of life with its ups and downs, of success, but ultimately they are about the fragility that makes us humans. A search unravels in each painting. They become an invite to witness a piece of storytelling and, perhaps, initiate a journey of self-discovery. Lonsdale has been part of Debut Art Incubator and exhibited at Debut Contemporary on many occasions and continues to collaborate with them on different projects such as Art Chess Sets currently on show at Harrods in collaboration with Purling London. She is one of Debut's major success stories.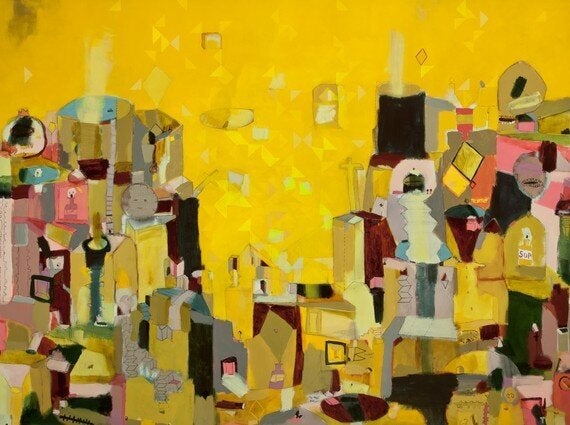 I used to go to Church now I am just confused by Tahnee Lonsdale. Courtesy the artist and Debut Contemporary
Lonsdale has kindly agreed to respond to the following questions:
1. Can you tell us why you decided to become an artist?
I originally wanted to be a writer, I loved English classes and creative writing when I was younger, I think it had a lot to do with my amazing English teacher, but then I moved schools and although my love of writing continued I started to feel a real need to draw. I think this was again due to a fantastic art teacher and a really inspiring art department. I've never wanted to do anything else since then, and my approach to working hasn't swayed far beyond this spontaneity since.
2. Why colour is so important in your works?
For me, the colour aspect of my work is the most intuitive. Sometimes I will work out a colour palette before I start a painting, but it's more likely that I figure it out as I go along. I love that colours change depending on which colours they fall next to. I think my use of colour deflects some of the sinister and macabre subjects I explore. Often people perceive my work as being carefree and optimistic, but most often this isn't the case, my work can be quite dark if you study it closely.
3. Which artists are your main influences and why?
Initially when I started painting I was hugely influenced by artists such as Klimt and Schiele, my work had a very decorative, patterned feel to it, and a lot of the compositions had distinct comparisons to Klimt's work, I even made a painting called 'The Kiss'', which referenced one of his most famous paintings. I then became obsessed with Basquiat and his scrawling texts and illustrations, this is also evident in my work from this time. Since then I have found inspiration in a lot of other artists, and often some of my contemporaries. I love the work of Eddie Martinez and Rose Wylie. Wylie in particular is responsible for a change in scale within my work, everything has been zoomed in and enlarged.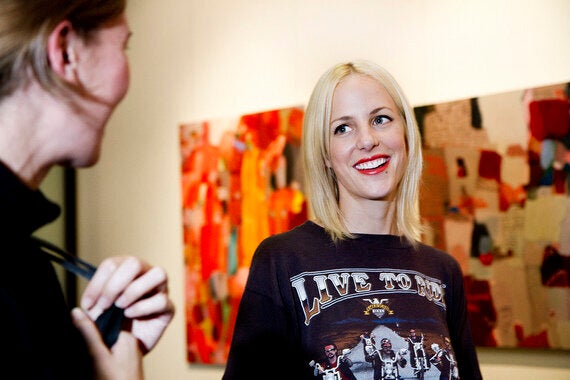 Tahnee Lonsdale 'Impressions of a Wind-Up Bird' Private View. Courtesy the artist and Ambra Vernuccio, the photographer.
4. You also like collaborating with other designers. Can you tell us about the collaboration you enjoyed the most?
I love collaborating, and not just with designers. Being an artist is a very insular process and often quite lonely. I like that when you collaborate you open up your practise, you need to consider your collaborators ideas too, so you have to become less rigid about your own practise.

Working with Lucas Hugh was great because it was a new label and I was part of the launch, we didn't know how it would be received but as it turns out, it was very successful. Lucas Hugh is now designing the Tribute's costumes in The Hunger Games movie.
5. What is your major achievement so far?
I recently was part of a group show at The Saatchi Gallery called 'Continental Shift'. I was also shortlisted for two major awards, Dazed Digital/Converse emerging artist award, and 100 Painter Of Tomorrow
6. What is your next project?
I have a solo show planned for September/October 14' with Roberta Moore Contemporary.

I'm working on a piece for a collaboration later this year. And I have been commissioned by a high-end American department store for a big project.
7. In which ways being in Debut Contemporary has benefited you and your career?
Debut gave me confidence in my work and pushed me to look at my practise as a business. From the workshops I leant about the benefits of social media as a way to self promote. I stayed with debut for 6 months and in that time made some strong contacts in the industry, I had a show later that year and Samir was kind enough to share with me his database of contacts.

Samir and the team at debut were great mentors and supporters, and still are even though i'm no longer part of the programme.