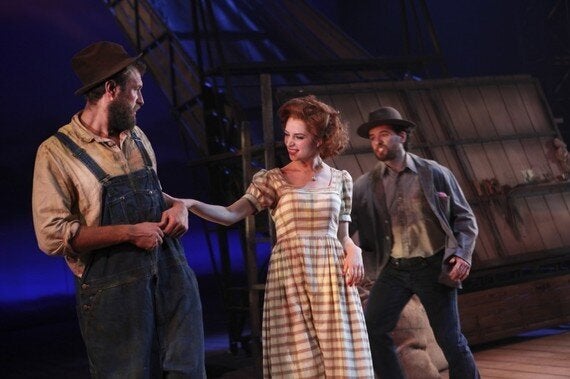 I recently had the good fortune to play the sole female character, 'Curley's Wife' in Steinbeck's classic Of Mice and Men at Birmingham Repertory Theatre.
Before auditioning for the part, my understanding of the character was limited to memories of helping my brother with GCSE homework. I studied the other American classic on the curriculum at the time, Harper Lee's To Kill a Mockingbird. I remember reading her death scene in the novella and wondering about this lonely woman on a ranch full of men. Shunned by her husband and desperate for human contact, she is murdered just at the point when her dream of going to Hollywood is about to become reality. I was struck by this seemingly vixenish character, who everyone in the other English group at school seemed to enjoy calling a 'tart' and a 'bitch.'
When I was called for an audition, I read the play, which Steinbeck wrote for the stage after the novella, and was shocked because I couldn't find any evidence of this so called 'tart.' I searched for clues that might indicate 'loose' behaviour... but there just weren't any. I saw a lonely girl, with big dreams, in a very unhappy relationship, who just wanted 'to talk to somebody.'
At the start of rehearsals someone said, almost to console me, that 'Steinbeck does actually write women well... in The Grapes of Wrath, for example.' The assumption was that Curley's Wife is a misogynistic creation. I was baffled by this.
In our production at the Rep, there's a violent struggle on top of a grain chute in the final moments before Curley's Wife's death. Lennie snaps her neck and lets her lifeless body fall down the chute, centre stage. In most performances, this tragic scene was accompanied by wolf-whistles and laughter from the young audience studying the text. The climax of this scene had drawn silent shocked reactions from cast and crew during rehearsals and this response from a mostly young audience, therefore came as a surprise.
A few weeks into the show, a fellow cast member passed me an article written by Leighton Meester, the actress who played Curley's Wife in the recent Broadway production starring James Franco and Chris O'Dowd. The picture she paints is one I recognised immediately. She described how the young audience 'cracks up' at her death and, just as in Birmingham, young American audiences erupt with laughter when Curley's Wife is called a 'tramp,' a 'tart' and a 'bitch' by misogynistic ranch hands. Ms Meester speaks of the feminist sub-plot in Of Mice and Men which forces us to look at our own prejudices.
The genius of Steinbeck is that he encourages audiences to be complicit in the demonization of this woman, with the hope that they will question their reaction to her. The problem is, I'm not sure young audiences are questioning their reaction.
I spoke to Naomi Robbins, a GCSE English teacher, about her students' response to the character.
'Of all the characters, they often have the strongest reaction to Curley's wife. They tend to focus on her threatening behaviour towards Crooks and the way she uses her sexuality, and can only recognize the villain in her.'
In the novella, Curley's Wife uses threatening behaviour towards Crooks, the black ranch hand, and this is viewed among students as a sort of justification for the way she is treated and, subsequently, her murder. This is not in the play. Students going into the theatre have read the novella and have preconceived ideas of a character who is actually written very differently, and far more favourably, in the play. This could explain some of the immediate hostility she receives in the theatre and the amusement at her death. Even if this is the case, however, I doubt it makes her brutal murder humorous.
The themes for the AQA Examining Board are usually loneliness/ isolation, friendship, weakness and dreams. Study tools, such as Spark Notes cites 'The Corrupting Power of Women' as a theme, and repeats the common misconception of Curley's Wife, as 'constantly looking for excitement or trouble.'
Clare Luce, the first actress to play this part, received a letter from Steinbeck with a character description and backstory, to help clear her 'worry' and 'feeling about her.' He writes that Curley's Wife 'is a nice, kind girl and not a floozy.' Performed in 1937, it was surely a commentary on the time, but even to this day, there is no real acknowledgement of the theme of sexism in the play.
When they are back in the classroom, I hope teachers will ask why their students laughed at Curley's Wife's death and question whether she'd have been a legitimate target for murder if she really had been a 'tart' and a 'bitch'?
As Steinbeck wrote to Clare Luce, 'It's a devil of a hard part,' and one that surely deserves a question as to why she is so shunned and why her very existence is punished.