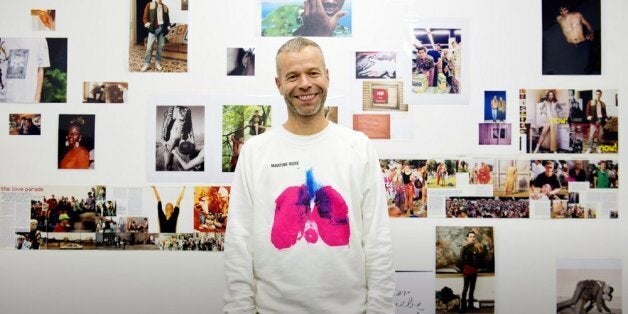 I am standing in the new Nineties section at the Frieze Art Fair, making a beeline for the Anthony Reynolds stand for Richard Billingham's iconic 'Untitled' photograph of his mother reclining on her sofa. This image from the series 'Ray's a Laugh' was featured in the 1997 Sensation show at the Royal Academy of Arts, and it inspires powerful responses today, just as it did twenty years ago.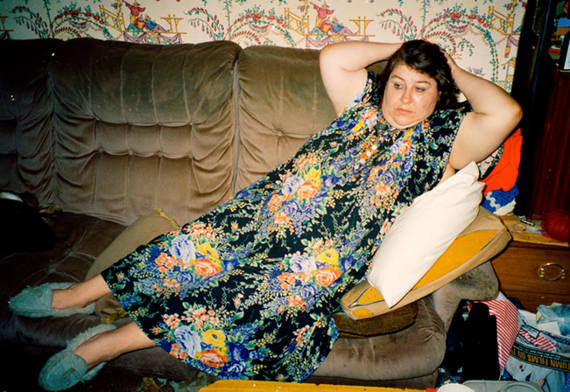 Image 'Untitled' © Richard Billingham courtesy of Frieze
"Well I think he's taking advantage of his family, don't you? It's really degrading, it's wrong!" spat one sparky twenty-something to her friend, as they looked at the image with flustered expressions. Her friend shrugged, unmoved by the image and her friend's reaction, and off they stomped, faux Balenciaga bag tassles swinging behind them.
Her words "wrong" and "degrading", hung thick in the air as I approached the photo that I had been eager to see again. Twenty years on from my first viewing, now in my 40's I wondered how experience had altered my reaction to it. Back then I was deep in the photo making process myself. Being self-taught I asked questions of every image I encountered "How did she do that lighting?", "What conversations did he have during this session?", "How did she get her work recognised so early on?" And so on. For the most part I had the taking of the photos bit covered, but I did wonder about the promo side of things, asking myself if I needed to be on "the scene" more, as advised by a successful gallery owner at the time. In his words, which in hindsight epitomized the times in which we worked "you've succeeded in creating the work, keep doing it, party and meet everyone's cousin, brother, dealer to get ahead - that's the 80% of the work you've got to do, you've done 20%, the creative bit."
I looked at Billingham's portrait and thought more of it this time round. Getting older, and having experienced more complex machinations of the family dynamic, I could engage with the image more sympathetically.
Photographers often ignore the elephant in the room, the family portrait and all it encompasses, the getting close to estranged fathers, detached siblings or complex mothers; to the end of their career when there is less to lose.
Capturing any kind of truth in a family portrait is a challenge. Then you've got to show it somewhere. Pre-social media, it may have been easier to be noticed, there were simply less photographers. On the other hand, without the support of a gallery, you had to carry your work around publishers until someone gave you a break, or a free space to show in. It takes courage to promote your personal work, show where you're from. For some, the most difficult part of the process is waiting for the reaction. Throw layers of race, sexuality or class into the image with all the accompanying prejudices, and you're asking viewers to commit to looking - and many of them just aren't up to the challenge. Maybe this is what I saw happen with the flustered woman. Her reaction to Billingham's work reminded me of the furore over Tierney Gearon's show (2001) at The Saatchi Gallery, which led her to pen a consequent explanation of her work in The Guardian. She wrote "I looked at my pictures today and tried to see the bad things in them that other people have seen. But I can't...I'm showing a moment of life, not part of their personality, and to that extent they could be anyone. Compare the pictures with Richard Billingham's work, where you really get to know his family. After seeing my shots, you have no idea of what my kids are about essentially, this is all a question of perception."
We will never know why people really respond as they do to an image, but it was food for thought as I moved into the auditorium to hear a talk from Wolfgang Tillmans, Julia Peyton-Jones, Adrian Searle and the Wilson Twins about their experiences as artists, critics and curators during the nineties.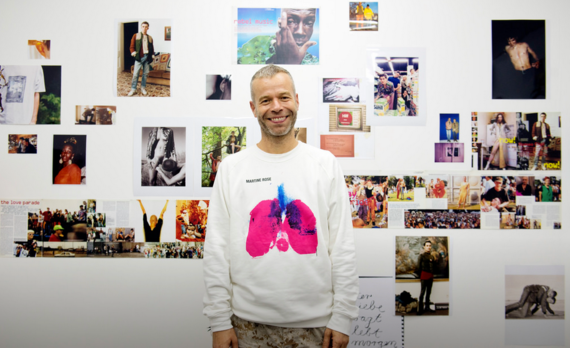 Image of Wolfgang Tillmans, Buchholz & Buchholz The Nineties © Frieze
"I'M. A. VIP!" I heard boom from the front of the ticket line.
Not a loud sound installation, but visitors to the Frieze Talks desk.
"We are VIP's. We want a ticket. We are VIP's and we reserved a ticket."
Luckily 'Art blogger' seemed to be the currency Frieze Talks desk wanted, and I was ushered to a front row seat. This pleased me, for once my non-VIP, self-taught and broke status served me well, it seems that Art still can be a democratic environment.
The panel talked Nineties economics, free spirits and about faxed artworks. They talked a lot about Brexit and Wolfgang's Remain campaign, tears flowed and nostalgia ruled. It is no coincidence that the Nineties section at Frieze happened this year, they saw a need for a re-invention of the political art movement, to inspire the next generation - they need it apparently. I nodded, a lot. Frieze with it's Nineties work and talks, makes an obvious nod to our current political void in Art practice.
Tillmans encouraged us to nurture our kid's political development. It was a moving sentiment from this gentile activist, and a moment in the history of Frieze that I'll cherish.
Frieze succeeds in encouraging us to share stories as a tool for social cohesion. On Sunday I went back for more, this time to see Octogenarian Lee 'Scratch' Perry close the fair with an hour of dub and political musings. Perry, hailed by Keith Richards as the 'Salvador Dali of music' ended the fair with his statement on creativity "Art is love."