There's nothing more frustrating than when your football team's playing and you can't for the life of you track down the latest score, the time on the clock or any of the highlights. I remember as a child we had to rely on reading newspapers hours after the final whistle to find out the result, or we had to have access to a television or radio, which wasn't always feasible. The tension during that nail biting wait until you could finally track down the score and find out 'have we won or lost?!' was unbearable.
But alas, that's all in the past now thanks to technology which, over the years, has given us more and more outlets to follow our team and keep up with the action. Over the last decade or so we've become less reliant on newspapers and televisions to keep us up-to-date with the score - and nowadays the knowledge is now in our hands 24/7 as computers, tablets and smartphones allow us to access anything we want - whenever we want.
Mobile technology has fundamentally changed the nature of how, when and where we can access the football news we crave. An interesting study earlier this year from Perform and Goal.com, said more and more of the UK's football fans are turning to their mobile to access news and video. It says they're spending an average of two hours each week watching content this way, and more than one and a half hours each week reading all about it on their smartphone or tablet.
Therein lies the beauty of this evolution for the football fan - no longer are we scrambling around searching for the score, it's with us wherever we go, in the palm of our hand and at the tips of our fingers. But it's not just news we have access to anymore. Social networks, such as Twitter, are also giving football players and fans a voice to share their views and opinions before, during and after the game, in real-time.
At THE Football App we've introduced a social-feature-rich Fan Zone on top of our news and live scores services in order to give our community easy access to these conversations and to let them join in. We've added user profiles, deep Twitter and Facebook integration, and a streamlined user interface meaning users across the world can interact with millions of fellow fans, leave comments on news stories, live matches and more. Of our 10m downloads, we see more than 4.5m monthly active users and up to 1.5m logging in on single match days, so it makes sense for us to give our community a platform where they can congregate and create a buzz about the game together.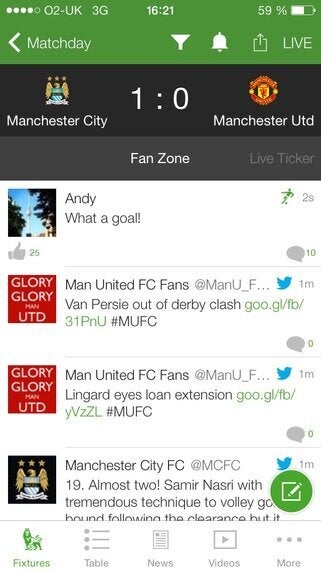 This is a shift in football news consumption that is becoming more and more popular, with the growing ubiquity of smartphones and tablets making it easier than ever to keep up-to-date. And with increased broadband and 4G connectivity, we're beginning to see video news become more in demand - especially from football fans who want to watch the latest wonder goal or crazy foul!
With the smart device revolution in full swing, the number of people looking for video news on-the-go is only going to escalate. An interesting report from the Associated Press in April this year said that 89% of tablet owners watch news video on the device, and the introduction of 4G and better screens mean smartphone users will be consuming news video in similar quantities soon.
The football season's fully underway and we're getting back into the thick of the action again. I'm just so thankful to technology that I now have the luxury of keeping up-to-date with every second of the game with news, stats, videos and more via the press of a button in the palm of my hand - as opposed to pulling my hair out waiting for the paperboy!