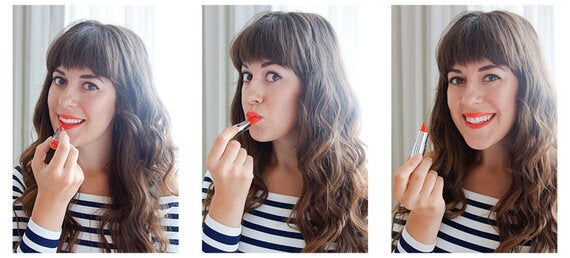 At university my friends used to call me Lipstick Lucy. Day or night, rain or shine, I wore bright red lipstick. It became my signature (literally, I would sign cards with it).
I love how glamourous it makes you feel. If you've only got minutes to get ready just throw on a pair of shades, a lick of red lipstick and you're already looking fabulous!
The thing about red lipstick is that it's pretty high maintenance. Did you ever see that meme, going to a party like Audrey Hepburn and coming home like Courtney Love? We've all been there. Occasionally I'll come across an old photo from a uni night out voguing on the dance floor with it smudged all over my face and I cringe. But we learn from our mistakes and I've pretty much perfected my red lipstick game over time.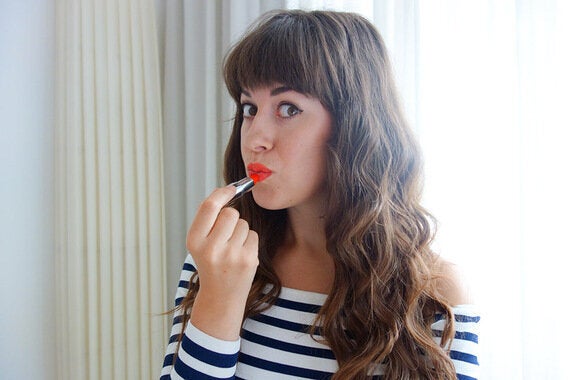 Here are my top tips to wearing ruby red lipstick like a pro without a single smudge in sight:
Preen your pout - Its a little like DIY, the smoother the surface the better the paint goes on. Moisturise your lips daily with a simple lip salve and use a gentle lip exfoliater such as the Bliss Fabulips Sugar Lip Scrub. A dry toothbrush is also an excellent way to exfoliate your lips.
Line and seal - Lipliner is compulsory if you are wearing a deep shade of lipstck. You can get a clear or nude pencil if you are worried about a 90's two toned look. If your lipstick is super oily or you know you're having a night where re-applying just isn't an option, then you can use a lip sealer. Most of them sting and feel incredibly chemical, like a coat of plastic! I doubt it is very good for you (one day we might look back and gasp that it was once legal) but it works, your lipstick will not budge.
Damage Control - Pop some make-up removal wipes and a compact mirror in your handbag just in case smudging occurs. If you try to neaten up your lipstick using tissues the colour will bleed and look messy. Remember to check your pout regularly and don't forget your teeth!
Pack in Preparation - Always remember to take your lipstick with you so you can top it up regularly. I hate it when I am wearing bright lipstick and forget to pack it.
Sip with a straw - To avoid losing your lippy on a glass.
Pick your product - Just like moisturisers and lotions, lipsticks sit differently on each skin type. A brand that works for one person may not work for everyone. I have tried everything from designer to drugstore. For day-wear my secret weapon is the Colour Crush by Body Shop range. Coral Cutle, my favourite shade is pictured in this post, is super light and comfortable to wear: it feels like a lip balm. For the evening I prefere a dramatic deep red. Mac Ruby WOO is the same shade that Dita Von Teese wears and while I find it very high maintenance the amazing colour is worth it.
This interview originally appeared on lifestyle, fashion and travel blog LedByLucy. If you enjoyed this post then you may want to have a nosy at the Fashion and Beauty section of LedByLucy where you will find regular tips, tutorials and outfit posts.