Christmas is just around the corner and temptation, in the form of tasty treats to snack on in the work place, is everywhere. Camouflaged in brightly coloured wrappers and beautifully decorated boxes: chocolates, biscuits and sweets flood our offices and break rooms in the name of the festive season. This combined with Christmas parties and celebratory drinking can result in our losing sight of healthy habits - including what I like to call sensible snacking.
Recent research by the Almond Board of California[1] showed that 63% of workers keep a snack drawer handy for when they're feeling peckish, and yet, snacking is commonly labelled as unhealthy and deemed a guilty pleasure. Almost a quarter of those surveyed said they felt embarrassed of their snacking habits, with around half (48%) even keeping it a secret from their friends, family or colleagues. Whether you have an office snack drawer, or you rely on your colleagues to ply you with festive treats, it is clear that many people feel remorseful after snacking during the working day.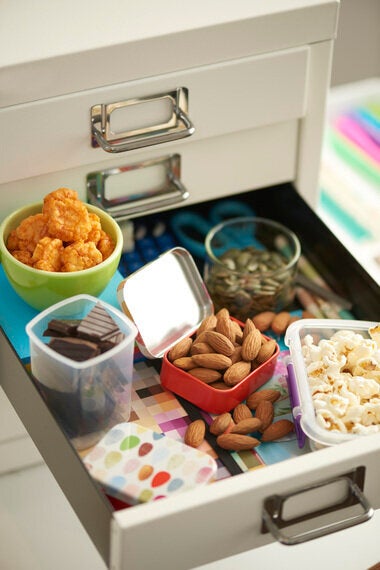 Photo credit: Howard Shooter for The Almond Board of California
But snacking shouldn't be labelled as a bad habit linked to piling on the pounds. Making informed decisions when it comes to your office snacking habits can make a big difference, especially at this time of year. Don't panic - I'm not suggesting that you cut out all festive indulgences, so don't start punishing yourself every time you crunch on a Christmas biscuit. As long as your snacking is balanced and your portion sizes are sensible, you should have no reason to feel guilty. In fact, sensible snacking is something that we should all see as an essential way of getting the nutrients that our bodies need. With the right choices, like a handful of protein and fibre packed almonds, a healthy snacking habit can actually help you beat that unwanted festive bloat and avoid having to use the same old 'we've heard it all before' New Year's resolution that you'll be more health conscious in January. Instead, why not start now as you mean to go on.
Below are my top tips for snacking sensibly in the work place during the festive season:
1. Be Snack Drawer Savvy. Snack organisation is key and a snack drawer can be a brilliant asset in helping you throughout the working day - especially if you're prone to hunger pangs or easily tempted by the sweet, indulgent treats that often take over the office in the run up to Christmas. By keeping a balance of snacks in a designated drawer, you will always have somewhere to turn for a healthier option if you find yourself reaching for another segment of chocolate orange.
2. Mix and Match. Ensure you have a variety of snacks in your drawer for every flavour craving. Whether you're hankering for a sweet treat or something spicy and savoury, there's plenty you can stock up on. Invest in a reliable snacking stable like some trusty almonds - not only do these nutritious nuts add a satisfying crunch, but they're really tasty and work in partnership with a range of flavours. If you're after a festive flavour, try adding a sprinkle of cinnamon powder. Having a versatile snack to hand means you'll stick to your snack drawer, without feeling tempted to stray for those mince pies.
3. Be a Selective Snacker. Snacking is an excellent way to keep our energy levels up, enabling us to take on the day, particularly during super busy times when fitting in three meals is a challenge - common in the hectic run up to Christmas! It is important to make sure your snacks are delivering all the nutrients your body needs - so look over your snack drawer contents and make sure all the boxes are ticked. Almonds deliver on fibre, protein and magnesium, for example.
4. Portion to Perfection. We've all been there - opening a packet of crisps or festive biscuits, only to realise we've gobbled the whole lot. Portion distortion is one of the biggest causes of obesity, so keeping an eye on how much we eat is the most sensible way to snack. Filling your snack drawer with multipacks and big bags is a fast track to temptation, so think about batch snaking. Plan ahead by pre-portion sizing your snacks in sandwich bags, small Tupperware boxes or even handy little tins. That way you'll become disciplined as to how much you should be eating. This is also a great way to prep your snacks for when you're on the go. A tin of crunchy almonds can make a great addition to your clutch bag this party season, providing a quick and easy alternative if you find yourself reaching for the less healthy options at the work Christmas party. Without leaving you with greasy fingers or leaving crumbs in your bag, almonds can be enjoyed anywhere. If you're not sure about snack servings - here's a good guide for daily portion sizes of food groups[2]:
1 handful of 23 almonds (28g)
1 medium slice of bread (40g)
3 tablespoons of breakfast cereal (30g)
3 tablespoons of porridge oats (50g)
3 tbsp or a small pot of yoghurt (125g)
A matchbox size piece of hard cheese (30g)
1 apple/pear/orange/banana (80g)
A handful (10-12) grapes/ berries (80g)
2 plums/apricots/kiwis/ satsumas 80g
1 small handful/ 1 tablespoon of dried fruit (30g)
1/2 pepper/1 medium tomato (80g)
----------------------------------------------------------------------------------------------------
[1] A survey of 2,013 Employed UK respondents, conducted by Censuswide on behalf of the Almond Board of California in October 2016
Lucy Jones is currently working with The Almond Board of California.