I was up in Edinburgh for the Fringe. I like Edinburgh at all times: it is far away enough that it feels like a proper trip, but you can use real money. (I suppose this is somewhat how those in the EU feel when they travel in continental Europe). I particularly like Edinburgh in the dead of winter, when it gets about the same number of hours of sunshine as Norway, and everyone is constantly eating deep-fried mars bars in a bid to stay warm. But this year I went up in Summer, because a friend of mine was back from Africa, and it was pointed out to me that if she could be bothered to come back from there, I could probably make it to Kings Cross to catch a train.
Which, writing it now, seems reasonably easy, but everyone always forgets that modern-day train travel is an exercise in physical and psychological warfare, with tens of savvy travellers seeking to hold on to their empty tables in the face of hordes of tourists and over-excited school children. Anyway, I made it up to Waverly unscathed, and was met by my friend. She is very much nicer than I am, and it was a tremendous pleasure to see her, but as we left the station I could not help but notice that there was something rather swollen about Edinburgh. 'Who are all these people?' I asked eventually, scowling at them so that they would know that I did not wish to enter into any sort of debate, about independence or the weather. 'It's Fringe,' my friend said happily. (My friend is one of those awful people who is perennially cheerful, and kind to strangers).
'Oh,' I replied, glaring at a woman who was asking my friend for directions. 'How charming.' Dutifully following my friend, I saw many things at the Fringe: lost American tourists, a very good play, a boy I once knew but now had to hide from, several instances of accidental and purposeful comedy, but on Tuesday I put my foot down. 'We're going for lunch,' I announced. 'A proper lunch, at a proper time, on a table that isn't shared.'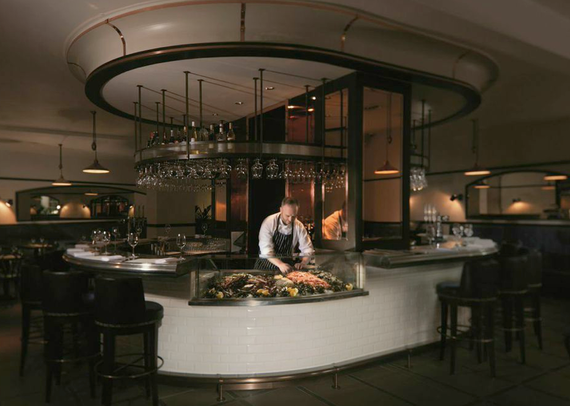 We went to Galvin Brasserie de Luxe, in Edinburgh's Waldorf Astoria. It's the second restaurant from the Michelin-starred brothers Chris and Jeff Galvin, whose productive and highly-lauded joint careers always make me wonder my little sister was so selfish and self-involved as to leave me and become a doctor. It's a French brasserie, meant to offer a 'slice of Paris in the heart of Edinburgh', presumably as a sanctuary to visiting Europeans, who are horrified at not being able to use the euro.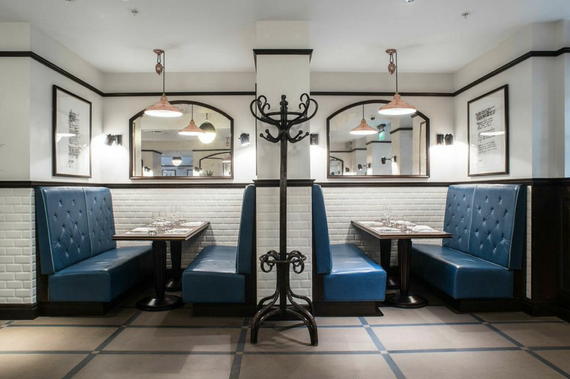 The restaurant is light, (we went for lunch) and elegantly decorated, with a blue-and-white colour scheme that did indeed make me think that I was in Paris, until the waiter asked me politely what I would like to drink, and if everything was alright. The wine list is imaginative and well-thought out, which I ought to mention now, because although I had a very good Galvin Bourgogne Blanc, what I remember from the lunch was the food.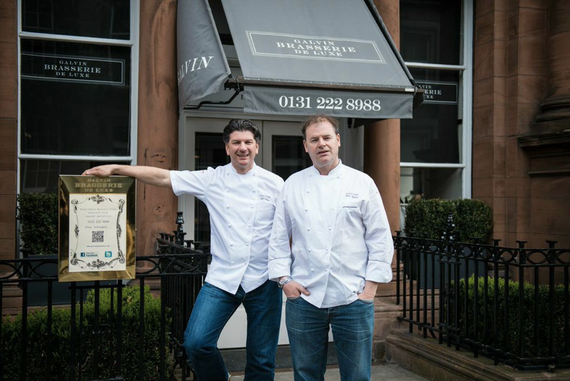 We started with oysters, which were excellent. I would like to talk more about them, but my friend, despite assuring me repeatedly that she didn't want her own portion, stole half of them whilst maintaining a cheery level of chatter that I can only assume she thought would distract me. It didn't. She then had the haggis, because she felt it 'wouldn't get ordered very much', which shows why her career as a food critic is where it is. (And also because she's a doctor, working in Africa). It came piping hot and full of flavor, and I stared at it enviously across my steak tartare. For mains, freshly-caught lobster, which was perfectly cooked, and lasagna of Berwick crab, which came as a little tower in the centre of the bowl, because everyone knows that the French like to play with their food. We were there for some time, mostly because I didn't want to leave a place with such good food and no-one pushing a leaflet for their 'unmissable' show into my hand, so I saw plates of duck leg and black pudding whizz past us, and their empty plates being returned not long after.
The puddings, too, are lovely: I pretended I was going to share my dark chocolate marquise with home-made mint ice-cream, but unfortunately I liked it too much to do so. To end (although this was sheer gluttony, and because I suspected it might be raining outside) a cheese board, which was wheeled ceremoniously out by the cheese boy (I'd like to call him a man, but I am feeling old at the moment, and he looked suspiciously as though he were younger than me), who looked so disappointed when I said we'd have a bit of everything that we let him present the cheeses to us anyway. Which reminded me that Scotland is a place obsessed with talking to their food - the address to the haggis is only the tip of the iceberg, I fear, and also, once I was finally given my cheese, that they're very good at making it.
We had to leave eventually, because my friend had bought tickets to something else, but as we walked out into the drizzle I felt heartened, because Galvin Brasserie de Luxe had reminded me of an altogether politer, more enjoyable Edinburgh, and this happiness lasted for a good few seconds, before someone else pushed a flyer into my hand.