"Can I go in there?" asked my taxi driver as we pulled into Al Serkal Avenue, an arty part of Dubai. "This is art, for anyone?" To know that there is such an interest amongst all sectors of the population must be of great encouragement to the government body that is Dubai Culture.
The inauguration of their 'art season' earlier this year proved further the commitment they have not only to drawing in great investment from abroad but in cultivating the local talent that the sands of Arabia have to offer.
For a city that has gone from fishing village to skyscraper central in under 100 years, Dubai has done pretty well to catapult itself into the 21st century. Known as the town that does everything big and bigger, it's normally seen as a destination that is everything as far away from an Arabian desert as one can imagine. Everything big and everything now. Even when it comes to art.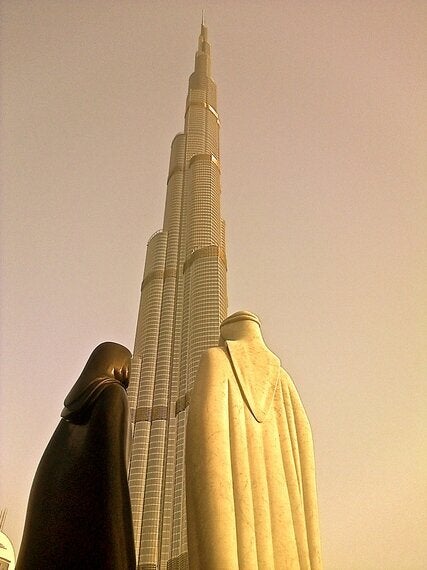 'Together' by Lutfi Romhein
Art Dubai, since 2006, has been attracting, annually, collectors and galleries from around the world, to expose, to buy, to sell, to mingle. Their Design Days Dubai, the Gulf Film Festival, and Comic Con have also occurred with massive attendance. There are even plans afoot to have the metro line hosting local art works in the stations and on the trains.
Once a sparkly metropolis deemed void of any type of culture, it seems that the town with the largest mall, largest building, and largest man made island is now on its way to hosting the largest art scene. Lets just hope that the taxi driver doesn't feel barred by any social mores....but that's another story.