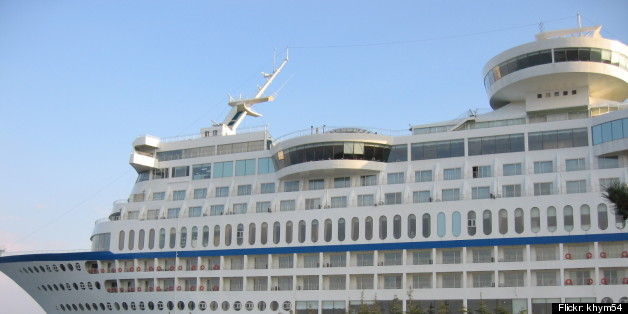 Flickr: khym54
Last Saturday my youngest son and I spent the day onboard the Royal Caribbean Cruise ship - "The Independence of Seas" for a fun-packed day of activities with some other parent bloggers and their kids as part of the Royal Caribbean's "Royal Mums & Dads" campaign, which allows parents to find out more about the onboard family holiday experience direct from other parents who have experienced it with their own kids. Sally Gunnell is one of their brand ambassador's and was onboard with us to enjoy the day.
She says that "as a busy mum, I'm always looking for opportunities to spend more time with my family. We have spent years looking for the perfect family holiday - one that combines quality family time, with complete relaxation for my husband and I, and wall to wall fun for the boys. A few years ago I discovered Royal Caribbean for the first time and, having never cruised before, now struggle to imagine us doing anything else".
Here we are waiting to board, in the departure lounge:-
Once onboard we were given the opportunity to explore the rock climbing wall, the sports area, play some mini golf and even see the FlowRider in action (a surf simulator guaranteed to give you hours of fun and memories that will last a lifetime).
Here is my son having ago. Next time he'll have to make an attempt to stand up, but for now he was just happy he managed to stay on!
Here is Englishmum having a go:-
and Littlemummy after she'd fallen off!:-
My son playing Crazy Golf:-
and basketball:-
After that we went off to do some cupcake decorating - not sure my son was up for that until he realised he would be making replicas of mini burgers which were amazing:-
and here I am looking ridiculous whilst taking photos:-
Then it was time to see some of the world-class entertainment onboard the ships. Our treat was an ice show - yes the ships have their own ice-rinks onboard, how amazing is that?! - and the spectacle enthralled kids and adults alike:-
All of that excitement had helped us to work up quite an appetite and lunch was a very grand affair - in one of their splendid restaurants. The ships have numerous restaurants and cafes to choose from onboard and flexible dining times for guests, which works really well if you have young children that need an early night or slightly older ones who can't wait to dash off to the teen disco, whilst you relax in the bar (or the spa)...
Me and Sally Gunnell:-
Me with the Captain:-
Back to briefly check out the other pool area:-
Wandered about the shops and restaurants:-
We thoroughly enjoyed our day out and certainly my son was hooked "when can we go back? It's all SO cool"....and it does make me think, particularly as a single mum that a holiday onboard a ship with many activities to suit each individual child (and myself) might be the perfect answer to a successful family holiday.
All photos by Lucy Campbell