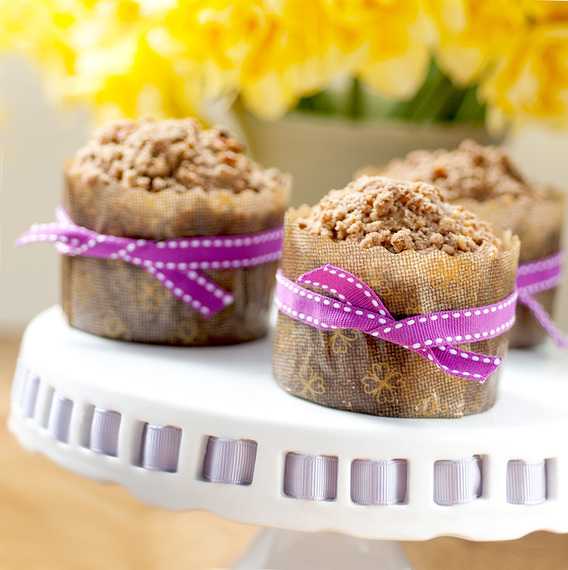 These muffins can be put together in a matter of minutes - they are incredibly easy and oh-so-tasty. The ground almonds and coconut make them very fluffy and moist, while the streusel topping provides crunch. Eat warm from the oven, as a tea time treat or grab one for breakfast on-the-go.
Ingredients
100g white spelt flour
100g ground almonds
150g soft light brown sugar
50g dessicated coconut
1 tsp baking powder
1/2 tsp bicarbonate of soda
1/4 tsp salt
1 tsp cinnamon
2 large ripe bananas
80ml coconut oil, melted (or vegetable oil)
2 large eggs
1/2 tsp almond extract (or vanilla if you prefer)
80g white chocolate, roughly chopped (optional)
50g pecans, roughly chopped
Streusel topping
60g white spelt flour
60g brown sugar
30g cold unsalted butter
50g pecans
1 tbsp cinnamon
1/2 tsp salt
Preheat your oven to 180 C/ 350 F. Line your tin with muffin cases.
To prepare the topping put all the ingredients in a food processor and pulse briefly until the mix resembles breadcrumbs.
Put the coconut oil, bananas, eggs and extract in a food processor or mini chopper and pulse until liquidised.
Put the ground almonds, flour, sugar, coconut, baking powder, bicarbonate of soda, cinnamon and salt in a large bowl and stir together with a fork.
Add the banana mixture and fold together with a spatula, making sure you scrape the bottom and sides of the bowl.
Add the chopped white chocolate and pecans and mix until just combined. Do not overmix - that's the secret to successful muffins.
Divide the batter evenly between the muffin cases filling 2/3 of the way. Sprinkle a couple of teaspoons of streusel on each.
Bake in the centre of the oven for 25-30 minutes. The muffins are ready when firm on top and a skewer inserted in the centre comes out clean.
More recipes from Lucy Parissi at Supergolden Bakes.
Photography ©Lucy Parissi