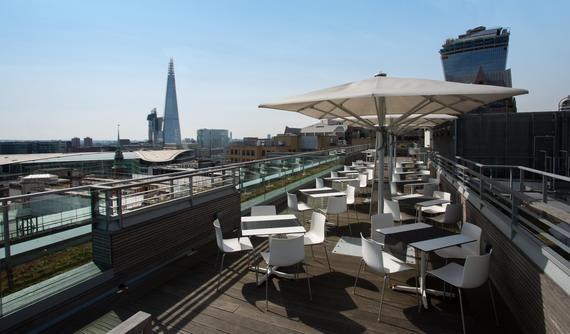 Don't know about anyone else, but once the mercury hits above 20 - I shed the skin of a (semi) responsible person and get utterly side tracked by the pursuit of pleasure. That dead area at the beginning of the week (I think they call it Sunday-Tuesday) becomes a gin-sodden round of boozy picnics, 'just the one' after work drinks/dins and pub garden pick me ups. With extra drinking (and eating) time to fill - I find its best to keep a few key sunning spots, dining dens and note-worthy dates on my summer to do list - lest those hazy days turn into a three month blur...
Park life and Stepping Up
Despite what many people think, London's parks at twilight are not just the toasting grounds for tramps wielding cans of Special Brew. In fact, with a bit of savvy and a resilient spirit when it comes to running at the first sign of trouble, there's a plethora of sundown picnic spots waiting for you. Lincoln Inn Fields is an ideal example (full of delightfully mannered dog walkers and students enjoying the last vestiges of daylight), particularly if you're coming via nearby Covent Garden to pick up a burger from Five Guys or Meat Market en route.
Brockwell Park is also a splendid spot to watch the sun go down (and surrounded by fancy housing to block out the undesirables). And there's the brilliant Lido Cafe next door once you get a bit peckish. Finally, nothing follows a few cans in Hackney Downs better than a trip to Hand of Glory for a pint of proper cider from an impressive array.
And its not just parks either, my friends and I have long been fans of a Friday night step-drinking fest. Nothing better than consuming a cold glass of vino perched on the golden-bathed steps of St Paul's pithily mocking tourists. Let. Me. Tell. You. Bring sustenance; either a retro sandwich adorably wrapped in greaseproof paper and string from newbie Ask For Janice or a burrito from Chilango's on Fleet Street.
The Feast Collective at Camp Bestival
Whilst I realise this puts me in the minority amongst my 'well cool' peers, I've never really cared for festivals. Food has always been my thing, until recently, they always seemed about as bothered about their catering as I was about them.
Then food got 'well cool' too and some of the best London street food started popping up at the likes of Bestival et al; quickly followed suit by restaurateurs I'd respected for ages doing elaborate dinners.
This year I've jumped on the bandwagon and got myself tickets to Camp Bestival. Whilst everyone else is there to watch Basement Jazz and taking advantage impressive line up of family-friendly attractions - I'll be fine dining courtesy of Dalston restaurant White Rabbit, stuffing my face with Smokestak ribs, before finishing off with a bit 'o' Crayfish Bob and a cocktail from Josie da Bank's Jam Jar Bar.
Alfresco Without The Fight
It's summer, so of course we all want to eat/drink/sit alfresco. You won't find any beef from me. But because London is packed with people, who, any sign of fair weather, are drawn to any outside table/roof terrace/garden options like vitamin D-starved moths to a flame, it can get a bit crowded. Still, we make a go of it, happily going elbow to elbow on pub benches, ten-body deep outside bars and cramming at least fifteen chairs around a tiny pavement bistro table.
There are, however, a few ways around this. Start by not picking pub gardens that have featured in every Evening Standard round up since the dawn of time (The Albion in Islington for example. Undoubtedly beautiful but, as a result, rammed). Go for something lesser known, like the recently re-furbed Alwyne Castle just down the road. You'll not only get an equal-sized garden, but sun beds, heated cabanas, an outside bar and a barbeque to boot.
Crazily, before people rocked up and prayed for a small queue, we used to do this thing called booking tables. Which, you'll be pleased as punch to know, you can still do at many of London's most exclusive roof top bars. The Sky Lounge at DoubleTree by Hilton hotel is a good shout. Or restaurants such as Stevie Parle's Dock Kitchen on Ladbrook Grove (huge outside terrace), classic French Mayfair spot Boulestin (adorable courtyard with heaters) and the rooftop at Caprice Holding's South East Asian stalwart Bam Bou at the bottom of Charlotte Street.
I hereby give you permission to go forth and be sozzled for the rest of summer. As long as you're smart about it.